We've been running epic mountain bike holidays in Morzine since 2012 and we've been living and shredding here for longer than that! There's not much about the summer in this town we don't have some experience in, dive into this Frequently Asked Questions, or FAQ to get some of our insight in Morzine MTB Holidays.
We also recently put together an Ultimate Guide to Morzine for Wide Open Magazine.
Drive, Fly or Train to Morzine?
SHOULD I TAKE CASH OUT BEFORE ARRIVING IN MORZINE? DO YOU NEED A CASH IN MORZINE?
Yes. Shop around in the UK or home for the best rate. Your bank will charge you for transactions in resort.
A Revolut card or similar also works well if you want to be cash free.
Do you need cash in Morzine? Not really, there will be the odd mountain hut that won't have card facilities and the odd shop or bar that will insist on a minimum fee for card use. Bring between €100 - €300+ depending on how much you tend to sink on a night out, or how much 'free cash' you have that you want to convert to Monopoly money.
Good luck finding the un-official secret tracks!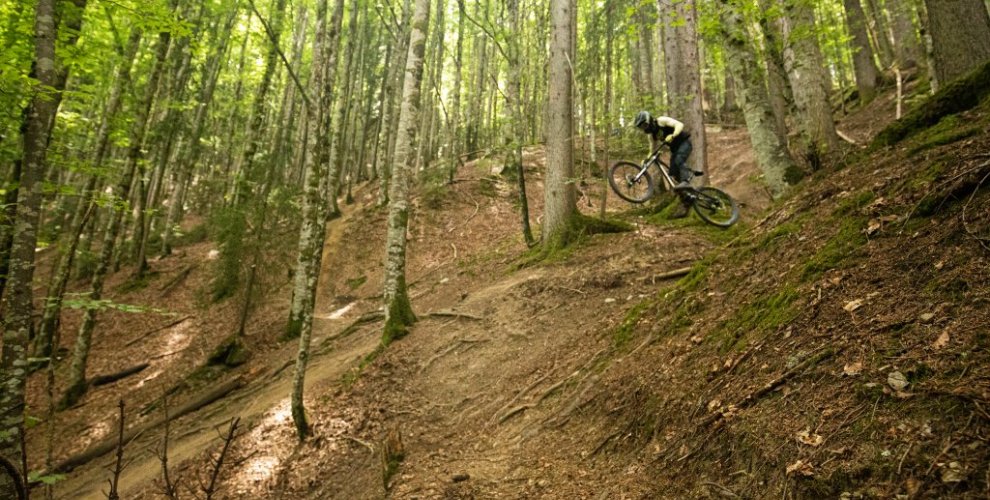 HOW MUCH IS A HIRE BIKE IN MORZINE?
We have a range of bikes we can hire to Atlas Ride clients. With prices starting at £70 for a day up to £380 for a week long hire.
In the shops, bikes start at around €85 per day for an enduro bike or €89 per day for a downhill bike, up to €119 for the most expensive downhill bike we've seen in resort.
KEY QUESTIONS
How much is bike hire in Morzine? Anywhere from £70 - £110
Can I hire an E-Bike in Morzine? Yes, many shops are renting E-Bikes, email us at info@mtbbeds.com and we can arrange a hire for you.
WHAT BIKE SHOULD I BRING TO MORZINE?
Check out our blog on the which is the best bike to bring to Morzine.
We believe a modern long travel enduro bike is the best bike to bring to Morzine.
A downhill bike is the obvious choice if you have one and don't intend leaving the bike park.
We ran the numbers over the last 3 seasons. It's been steadily increasing in favour of the enduro bike, from 60/40 in 2017, to around 50/50 in 2018 and last year, 2019 saw a massive increase in enduro bikes coming out, with nearly 65% of all bikes having single crown forks.
KEY QUESTIONS
Does an enduro bike have enough travel for the Morzine trails? Yes, anything over 150mm will work if it's modern and well maintained with solid components you will be fine.
Are 26 inch parts available in Morzine? Not anymore, bring what you think you may need.
Should I setup my bike tubeless? Yes, we strongly advise it. See our guide, here.
Can I bring an E-Bike to Morzine? Yes, many people do. You cannot fly with your battery. We can arrange E-bike battery hire for you, email us on info@mtbbeds.com.
Is an E-Bike allowed on the chairlifts in Morzine? There is a weight limit on the chairlifts meaning some may ask you to remove the battery before putting the bike on.
Are there charging points for E-Bikes? Yes,
Morgins bike park is a must do in the Portes du Soleil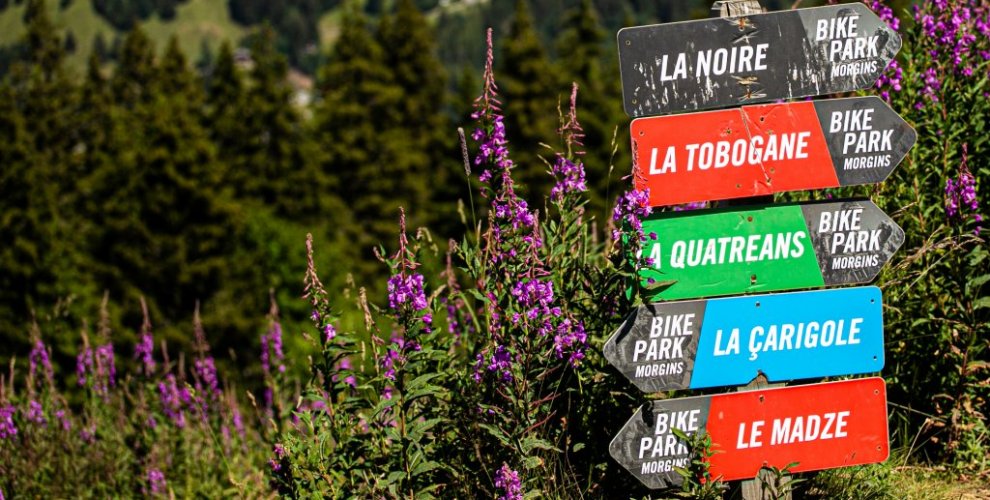 HOW MANY TRAILS ARE IN MORZINE?
Hundreds.
Official trails? In the main bike parks there are around 60!
KEY QUESTIONS
How many trails are there on Le Pleney? - There are 6 official trails on Le Pleney. 2 green, 2 blue 1 red and 1 black
How many trails are there on Super Morzine - There are 10 official trails on Super Morzine. 3 green, 4 blue, 2 red and 1 black
How many trails are there in Les Gets - There are 18 official trails in Les Gets. 3 greens. 8 blues, 5 reds and 2 blacks
How many trails are there in Chatel - There are 22 official trails in Chatel (including the 3 sections of Vink Line). 3 green, 5 blues, 4 reds and 10 blacks
How many trails are there in Champery/Morgins - There are 11 official trails in Champery/Morgins. 1 green, 2 blues, 5 reds and 3 blacks
But add in all the unofficial trails, the singletracks and epic loops and you are easily cracking 3 figures.
Want to see more, check out our Track Check videos!
Trail work in Morzine / Les Gets
WHERE ARE THE SECRET TRACKS IN MORZINE?
Haha! We're not going to put that online.
Book on with us and take one of the crew out for a beer and you might just land yourself afew hints. There's alot more to it than what you think you know....
Got anymore questions?
If it's not on one of our property FAQ's or in the Essential Guide, fire us an email and we'll get back to you as soon as we can!