Can you fly with your E-Bike battery? No, there are not any airlines that will allow you to fly with a Li-Ion battery, meaning if you want to travel with your E-Bike you're stuck without any means of power. Unless you drive or take the train out you will be restricted bringing your own E-Bike by the battery, it won't be allowed on the plane. Most airlines will allow batteries up to 100 watt-hours (Wh) onboard a plane in carry-on luggage, however most modern E-Bike batteries far exceed this.
We have you covered with a range of batteries for your own Specialized E-Bike should you want bring it with you.
Meaning not only do you save some substantial weight in your bag when travelling with your E-Bike, you'll also have the battery charged and ready to go, aswell as the charging equipment on hand to make taking your E-Bike on holiday hassle free.
The best bit? If you are staying at one of Atlas Ride Co Riders Weeks locations, IT'S INCLUDED. Yes, you can travel to Morzine with your Specialized E-Bike, and yes you can book a battery with us and there's no charge (pun intended). Batteries are 700wh, compatible with your Turbo Levo or Kenevo E-Bike.
Atlas Ride Co clients in self catered or partner accommodation have access to the batteries at a small fee, clients who have not booked with us can hire Specialized batteries from us at the hire rates below.
Not only that we can supply a fleet of E-Bikes from Specialized, the Turbo Levo and Levo SL, so if you wanted to save packing your E-Bike up and travelling with it, we got you there too.
Specialized Levo/Kenevo battery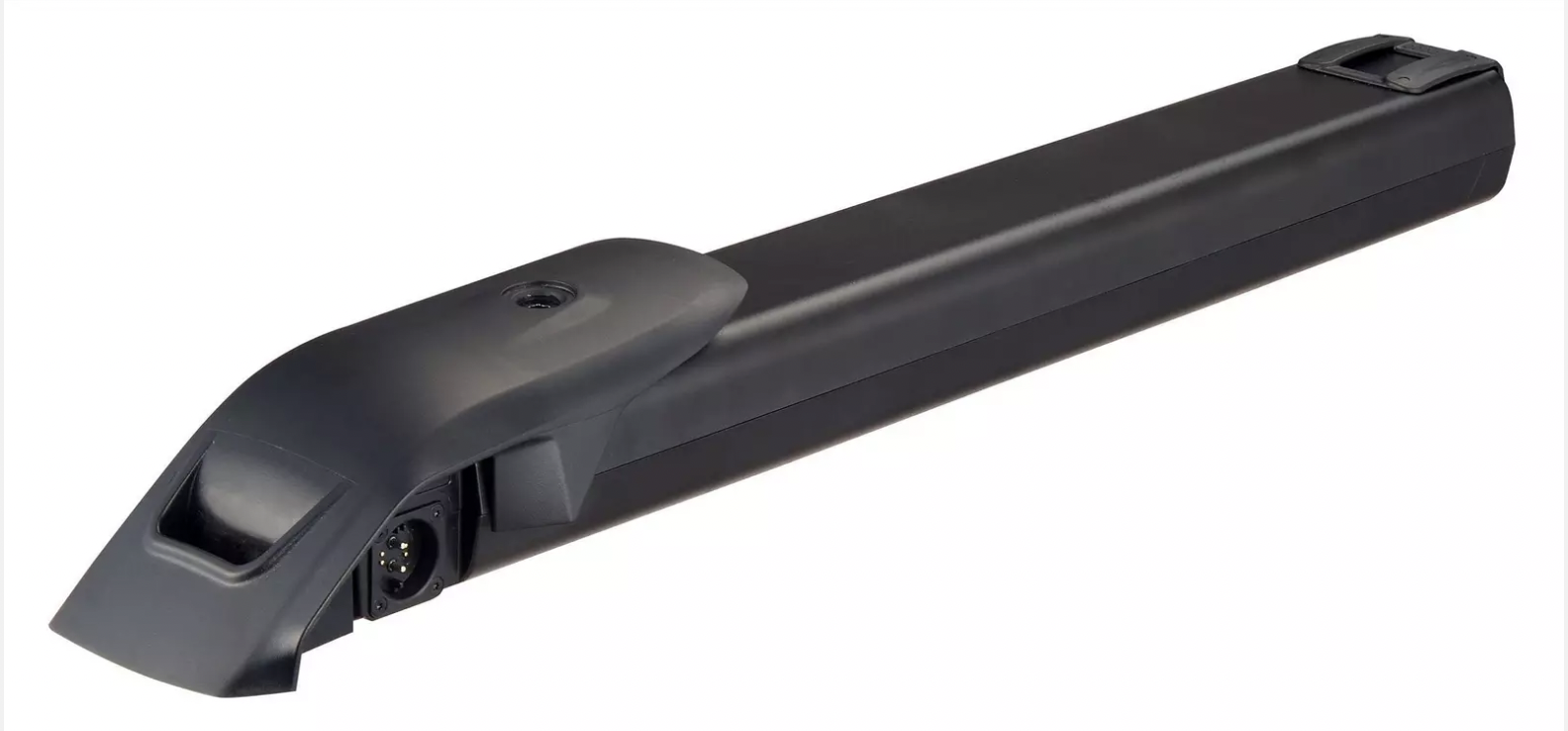 BATTERY HIRE PRICES
700w Levo/Kenevo compatible battery
Prices are for Non-Atlas Ride Co Clients
Full Price List at the bottom of the page
| Duration | Price |
| --- | --- |
| 1 Day | £20 |
| 2 Days | £40 |
| 3 Days | £60 |
| 4 Days | £75 |
| 5 Days | £90 |
| 6 Days | £100 |
| 1 Week | £100 |
| Extra day | £10 |
Specialized Turbo Levo Battery
There are an increasing number of riders who now only own an E-Bike, or who just prefer it after getting used to the increased weight and power these machines bring. Unfortunately you cannot fly with your E-Bike battery. No airline will allow you to carry a battery of this size. So unless you drive, the E-Bike is staying at home.
However with our battery rental solutions you can bring the bike, leave the battery at home and have a fully charged power source ready for you on arrival in Morzine or Finale Ligure. We have batteries to suit the Turbo Levo in stock, which come complete with the charger to get you on your way.
The jump Specialized have on the E-Bike industry is astounding, Tesla like in how far they are ahead of the game. There are many decent E-Bikes out there at the moment but there's one brand that are consistently breaking new ground. The Specialized motor and battery systems are class leading and make Specialized the go to brand.
We have the M2 700w battery available to hire, compatible with your Gen 2 Turbo Levo or Kenevo.
This battery will also function on the Gen 3 Levo (from 2022 onwards) but you must supply the bash guard section from the battery of your Gen 3 Levo, to attach to the M2 battery in stock here.
| | | | |
| --- | --- | --- | --- |
| Duration | Riders Week Client | Atlas Ride Co Client | Non Atlas Ride Co Client |
| 1 Day | £0 | £10 | £20 |
| 2 Days | £0 | £15 | £40 |
| 3 Days | £0 | £20 | £60 |
| 4 Days | £0 | £25 | £75 |
| 5 Days | £0 | £30 | £90 |
| 6 Days | £0 | £35 | £100 |
| 1 Week | £0 | £35 | £100 |
| Extra day | £0 | £5 | £10 |
BOOK YOUR SPECIALIZED E-BIKE BATTERY HERE
Info required for booking -
**We require a 25% booking deposit to secure the battery and the final balance is due on collection of the battery in resort, payment to be made via card, bank transfer or cash in the same currency as your initial deposit.
Atlas Ride Co accommodation name
Lead name on booking
Bike sizes
Travel dates
*Batteries are hired on a first come first served basis, you must ensure availability and book the battery with us prior to travel to avoid disappointment.
*We require a passport and credit card number which will be held for the duration of the hire.
*For clients using a battery as an inclusive part of their Riders Week Package, we require a passport and credit card number only.
*At this time we only offer E-Bike battery hire with Specialized, please contact us for information on other battery brands.
*You are required to have an insurance policy in place for the hire of the battery in the form of holiday insurance or a bike specific insurance policy, that will cover the battery unit. You are responsible for any damage caused, or theft of the battery and will be asked to pay for any damage before you receive your passport back. You will be issued a full receipt to claim on your holiday insurance.