Mountain Biking in Scotland and Scotland Mountain Bike Holidays and something truly special. We believe God did not rest on day 7, instead, he created Scotland for all the good mountain bike folk to go on an epic holiday across the highlands and island of this beautiful country! The landscapes that you find in Scotland are simply breathtaking, from mountains to glens, forests to hills, lochs to the sea you will find bike trails, tracks and bike parks around every corner! With world-famous mountain bike destinations such as Fort William, Torridon and Skye, the Cairngorms and Tweed Valley the choices are endless.
MTB destinations in Scotland
Scotland is host to the UCI World Cup Downhill race at Fort William, numerous National Downhill races at Glencoe and hundreds of local races and events. And this is for a very good reason, the natural terrain this incredible destination possesses. Coupling this incredible terrain and riding facilities with the local cultures, history, and whisky, the islands and highlands and Scotland start to become one of the most sought-after mountain bike holiday destinations on the planet. There is something for every rider in Scotland, rocky, steep and technical to smooth, loamy forests, Scotland is the complete MTB holiday destination.

What makes Scotland such a great mountain bike holiday destination
Scotland is blessed to have big mountains with 282 of those exceeding 3000 feet, these are called Munros. At 4,409 feet (1344m) Ben Nevis is the highest peak in Scotland and the whole of the UK. Located in the Nevis region, 7 miles southeast of the famous mountain bike destination that is Fort William. With both the lower forest trails and the three gondola-accessed downhill trails the Nevis range has some fantastic riding.
Due to these huge mountains that rise from the sea Scotland boasts several Chair lifts and gondolas like you would find in Alpine bike parks across Europe which provides such a huge draw for tourists and means it is a viable mountain bike holiday destination for those looking for some lift assistance and not to pedal all day.
Scotland is simply stunning from the trails to the landscape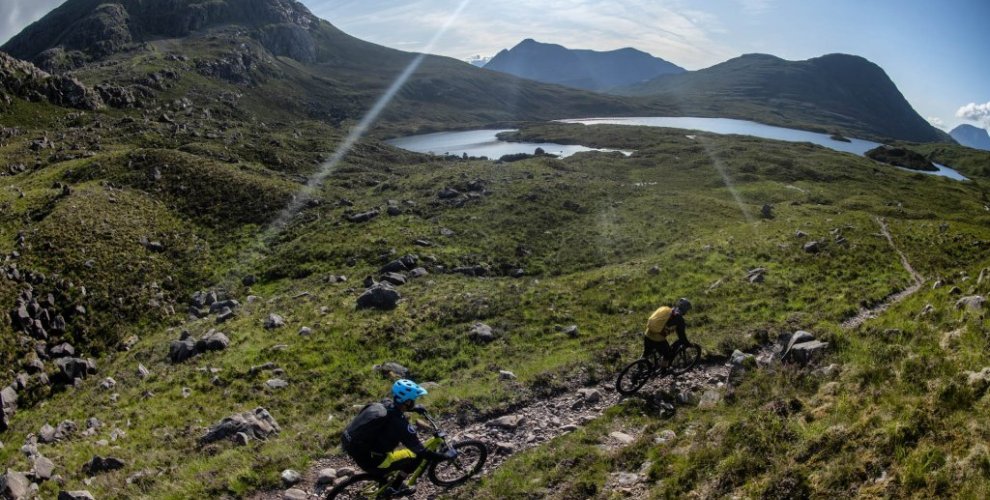 The reason why you should book your mtb holiday in Scotland
Then you have the other side of the coin, the remote highlands of Torridon and the Isle of Skye where you will not see a chairlift that's for sure. In fact, you are unlikely to see many other people at all and that's what makes a mountain bike holiday in Scotland so unique.
The different types of landscape and terrain in Scotland mean the options for all types of riding trips are there. From flat-out downhill mountain bike days at Fort William to epic highland hike a bike climbs with endless single-track descents down to the sea. Areas such as the seven staines, home to the Enduro world series and the Tweed Valley also provide a Mecca for Enduro mountain bike riders and tourists. The list just goes on and on
Where to visit on your Scotland mountain bike holiday
Scotland has some of the best downhill, enduro, cross country, ebike and gravel mountain bike trails in the world so the first question you need to ask yourself is what type of trails do you want to ride on your MTB trip to Scotland. This will have a huge influence on the locations you stay in and the destination you ride. The Tweed Valley is an Enduro rider's heaven with multiple trail centres, some boasting Enduro World Series trails and the best riding in Europe.

The second question is what are you looking for overall from your MTB holiday in Scotland, is it a mix of riding, scenery, food and culture with a town location and evening entertainment or is it a wilderness adventure focusing on riding bikes and downtime! Two completely contrasting options would be Fort William and the Isle of Skye. However, you can find the best of both worlds in Aviemore and the Cairngorms national park, bar the chairlift.
The third question is what is your budget and what time of year are you looking to travel as Scotland is a very popular place in the summer months with some locations' accommodation fully sold out months if not years in advance given the current circumstances. Also don't forget about the midges, September to late May is the time to avoid them or head to certain locations like the Cairngorms where they seem to be much less prevalent. If you are visiting between June and September the West Highlands can be treacherous. Mountain bikers have one advantage, speed, until you stop!
A taste of the Tweed Valley Enduro trails in Scotland
How do each of Scotland's mountain bike areas differ
The 7stanes are seven mountain biking centres spanning the South of Scotland, from the heart of the Scottish Borders to Dumfries and Galloway. The most famous trail centres within the 7stanes are Glentress, Innerliethen and the Golfie. Home to a vast network of official and unofficial enduro and downhill mountain bike trails with a variety of difficulties from blue to black and beyond.
This area is made up of many valleys with a vast amount of riding on offer with everything from steep, sharp ascents and very technical, natural, steep descents to man-made bike park trails that wind down the hillside forever. This is not big mountain country but what this area lacks in height it 100% makes up for in volume of trails and steep, technical terrain.
Aberdeenshire is located on the East side of the Cairngorms national park and in the heart of Royal Deeside. This area is full of Munros, huge loch's, moreland, ancient forests and feels like you are really exploring beyond the trail centres with endless views of rugged coasts and mountainous landscapes. There are several purpose-built bike parks across Aberdeenshire but this area is much more renowned for its natural trails with new riding spots popping up all the time Aberdeenshire is one to watch for sure.
Make your way West to the Deeside delights near Banchory, Aboyne and Ballater, with loamy corners, roots and rocky descents and fun trail features all surrounded by remarkable scenery. Hearth beak ridge is a firm favourite! As you start to creep further North past Aviemore and into the highlands you start to see the big mountains and begin to enjoy some huge, big day rides where you will not see another rider all day.

Heading north into the Scottish highlands
Aviemore - Cairngorms national park, this area has some huge mountains, in fact, it is home to the second highest peak in Scotland, Ben Macdui sitting at 1309 metres high, this is one of the descents on our Cairngorms Big Mountain Magic Tour we run also.
This area has everything from the low-lying Rothiemurchus Forest to the 1000 metre-high Cairngorms plateau and its arctic tundra-like landscape with vast granite hillsides and deep dark loch's. Aviemore is a busy buzzing town with a mountain bike trail for everyone, you will learn a lot here and be ready to tackle some much more technical terrain going forwards.
Torridon and the Isle of Skye in the west highlands is the most remote, spectacular, rugged and wild area of Scotland that sees a reasonable amount of Mountain biking. Torridon has become world famous over the past ten years with its huge descents and hike-a-bike climbs, it is a firm favourite with our clients who love our Torridon and Skye Epic Ride Tour. Torridon is one of those rare places where the mountains rise straight out of the sea. Jagged 1000m giants tower above a truly stunning coastline.
Torridon and the Isle of Skye could have been purpose-built for Mountain biking. Mile after mile of sinuous single track, predominantly rocky, with the odd section of sublime slick rock that takes your breath away. It is not for beginners, the glens here are wild. As you climb, you cross ever higher passes until eventually, it feels like someone has slammed a door behind you and it's just you, your bike, the mountains and the rivers. It's epic at the same time as being slightly haunting in its remoteness.
Mountain bike development in Scotland
There has been a huge push over recent years to develop mountain biking in Scotland alongside mountain bikers' right to roam freedoms and several organisations like DMBinS are leading the charge for mountain bike development.
See what they say here
Developing Mountain Biking in Scotland (DMBinS) is a project, hosted within Scottish Cycling, which is implementing the National Strategic Framework for Mountain Biking in Scotland. The project aims to aid co-ordination, spread good practice and sustainably increase the benefits which mountain biking brings to Scotland.
This will have a huge impact on locals, tourists and all visitors looking to enjoy the incredible scenery, trails and mountain bike facilities Scotland boasts. See what Scotborders.gov say below
Innerleithen Mountain Bike Innovation Centre / Tweed Valley Bike Park and Trail Lab
A key element of the Borderlands Inclusive Growth Deal for the Scottish Borders is the development of a new mountain bike innovation centre in Innerleithen that will support Scottish, UK and international businesses to develop innovative products and services within mountain biking and across the cycling sector.

In addition, a Tweed Valley Bike Park and Trail Lab will be created in what is thought to be a global first in terms of combining tourism and innovation. An adventure bike park will deliver infrastructure to attract and sustainably manage visitors to the Scottish Borders.

The Borderlands Inclusive Growth Deal will invest £19million in the project, which is predicted to contribute £141m in Gross Value Added (GVA) and over 400 new jobs in the south of Scotland.

The project partnership includes South of Scotland Enterprise as project sponsors, ourselves, Edinburgh Napier University and Scottish Cycling, through Developing Mountain Biking in Scotland (DMBinS).
So what are you waiting for, Scotland boasts some of the most incredible mountain biking in the world and it is waiting for you with open arms. If you have any questions please use the from below and one of our friendly team will get back to you asap.