Mountain Biking in France is some of the very best on the planet! From high alpine single track to some of the finest lift-assisted bike parks ever made. With such incredible MTB trails and bike-specific destinations, it's no wonder several former world-champion downhill mountain bikers hail from this epic country. If you are considering a mountain bike holiday in France, Morzine, Les Gets and Loudenvielle should be on your MTB bucket list.
MTB DESTINATIONS IN FRANCE
The French Alps are considered one of the best destinations for mountain biking in the world with several famous resorts including Morzine and Les Gets which have hosted the UCI DH World Cup and Enduro World Series events. Other destinations in France such as the Pyrenees and the resorts of Loudenvielle are also putting themselves on the MTB map with huge investments and amazing trail building.

The French Alps offer a vast variety of terrain for mountain biking that includes steep descents, rocky shutes, technical singletrack, and plenty of natural features such as drops, jumps, and berms. The terrain is suitable for all levels of riders, from beginners to experts and ranges from Green to Black grades.
Many of the resorts in the French Alps offer lift-accessed trails, which means that riders can easily access the top of the mountain and enjoy a long, adrenaline-fueled descent. This allows riders to spend more time on the trail and less time climbing uphill.
Mountain Biking in France is world class
The resorts in the French Alps have developed a strong infrastructure to support mountain biking, with plenty of bike rental shops, repair services, and guides available. This makes it easy for riders to access the trails and enjoy their time on the mountain. The French Alps offer stunning scenery, with majestic peaks, deep valleys, and panoramic views that are simply breathtaking. This makes the experience of downhill mountain biking in the French Alps even more memorable and enjoyable.
The trails in the French Alps are well-maintained and signposted, which makes it easy for riders to navigate and enjoy the trail without worrying about getting lost or encountering unexpected obstacles.
Overall, the French Alps offer a perfect combination of terrain, infrastructure, and scenery, making it one of the best destinations for downhill mountain biking in the world. Whether you're a beginner or an expert rider, the French Alps has something to offer for everyone who loves the thrill of downhill mountain biking.

High Pyrenees Mountain biking is something special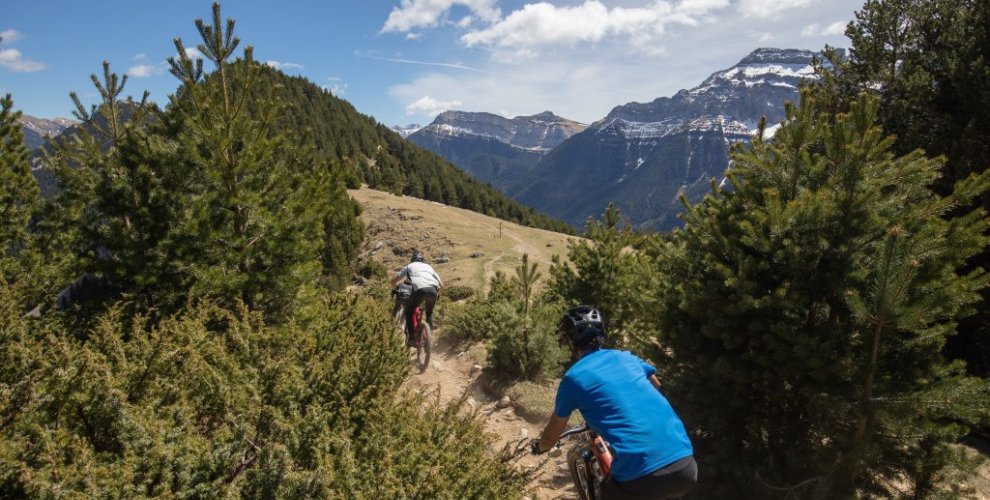 The High Pyrenees mountains of Southern France are truly stunning
The French Pyrenees boast an extensive network of mountain biking trails, from man-made bike parks to challenging singletracks, there are options for everyone. The trails often traverse through picturesque valleys, dense forests, and high mountain passes, providing riders with breathtaking views.
The Pyrenees offer a wide range of terrain, including rocky descents, technical singletracks, and epic bike parks. There are several well-established mountain biking trail centres in the French Pyrenees. These centres provide access to a variety of trails, along with amenities such as bike rentals, guided tours, and bike wash facilities. Popular bike parks in the Pyrenees include Loudenvielle, Les Angles Bike Park, Val d'Azun, and Vallée d'Aure Bike Park.
The French Pyrenees host various mountain biking events and competitions throughout the year. These events attract both amateur and professional riders from around the world. From endurance races to downhill competitions, Keep an eye out for events like the Enduro World Series UCI Downhill World Cup downhill races.
The mountain biking season in the French Pyrenees typically runs from late spring to early autumn (May to October). During this period, the weather is generally pleasant, with mild temperatures and lower chances of precipitation. However, it's essential to check the weather forecast and trail conditions before heading out, as mountain weather can change rapidly.
We hope that the above information has convinced you to book that MTB holiday of a lifetime in France, full of culture, adventure, local cuisine and epic mountain biking. If you have any questions please just ask.