Mountain Biking in Morzine provides the ultimate MTB holiday experiences with the trails and accommodation options expanding deep into the Portes du Soleil, Morzine is world-famous and for good reason. The area has hosted the UCI Mountain Bike World Cup and World Champs on multiple occasions, there are over 65 official Downhill tracks across the larger Morzine Bike Park area, countless singletrack descents and many Enduro trails as well. Morzine is the training ground for many of the fastest MTB racers on the planet during the World Cup downhill season, it's easy to access from the UK and all over the EU making it the undisputed hub of mountain biking in Europe.
Over the years the growth of the Morzine Bike Park has been impressive, once an untamed wilderness the areas of Super Morzine, Pre La Joux in Chatel, Les Gets and Morgins have become sculpted bike parks. With well-maintained jumps and berms, progressive features and trails, it's a mountain bike holiday destination for every type of rider. Areas such as Le Pleney are a downhill bike mecca and home to some of the steepest and most technical MTB trails found anywhere. Morzine is now one of the most popular mountain biking destinations in the world, second only to Whistler in Canada. With superb bike shops, restaurants, bars and a lively atmosphere Morzine creates the perfect MTB holiday destination.


Morzine MTB Holiday Extras
Why is Morzine the most popular MTB holiday destination in Europe
Over the past few years mountain biking in Morzine has seen a huge amount of development with the ultra-fast Pleney lift and the red trail seeing developments every year since its construction in 2017. Up on the Super Morzine side the Serrausaix chairlift opened up a new area for blue and green trails to complement the Zore riding zone. All this development means better biking facilities and more variety of trails catering to riders from beginners to professionals. The MTB terrain and lift system that surrounds Morzine and extends out into the vast Portes du Soleil is the second largest in the world and has allowed a mountain biking trail network to be developed unlike any other in the world.
There are many reasons why Morzine has grown into one of the biggest and best mountain bike destinations in the world and become such a popular destination for British MTB tourists in particular. Morzine is located only 1 hour 20 minutes from the nearest major airport, with flights departing most UK airports such as Manchester, Liverpool, Edinburgh, London, Bristol and many others, to Geneva airport year-round.
Transfers to Morzine that are quick and affordable make the trip even more straightforward, taking around 1 hour and 20 minutes to reach Morzine from Geneva Airport. This means you can make the door-to-door trip to Morzine from the UK in as little as five hours, making it not only the best European downhill mountain destination but also the easiest to reach.
For those of you that are not so fond of flying you can drive to Morzine. It's 8 hours from Calais to Morzine. With a reliable ferry service across the channel and the super quick channel tunnel. Driving can be more cost-efficient if there are a few of you and also means you are not restricted on baggage. There are €72 of tolls each way and fuel is around €1.50 per litre on the motorways.
What you can expect from the Mountain Bike trails in Morzine
Morzine is a buzzing town in the summer with a great local MTB scene
It's not just the ease of travel that brings people on mountain biking holidays to Morzine, it's the community of locals and ex-pats that make the resort something special in the summer season. Pick any lift line or Apres bike bar and you'll find like-minded mountain bikers always keen for a chat, more than likely the odd pro as well with many riders using Morzine as a home base for training during the season.
Morzine is a diverse town in the summer, full of bike hire shops as expected, but with loads of activities for non-riders and mountain bikers on a down day as well, from golf to white water rafting and canyoning. Of course, the families are looked after on the bike as well, with trails winding down the gradual pistes of Les Gets and Super Morzine and excellent guiding services and bike schools on offer, such as Season Guiding, as well as being close to amazing Day Trip locations like Bernex and Pila.
Morzine is located in the very centre of the Portes du Soleil which is one of the largest linked ski and MTB areas in the world, see some facts and figures regarding the summer below.
Mountain Biking in Morzine - The Facts and Figures
Over 650kms of mountain biking trails
Over 55 official Downhill MTB trails
24 mechanical chair and bubble lifts
2 countries (France and Switzerland) linked via 12 resorts
25 mountain bike schools
Over 20 bike shops
Hundreds of unofficial trails
Hundreds of km's of XC and Enduro trails
Awesome town with bars, shops and restaurants
Morzine in the Summer, perfect holiday destination for mountain bikers & families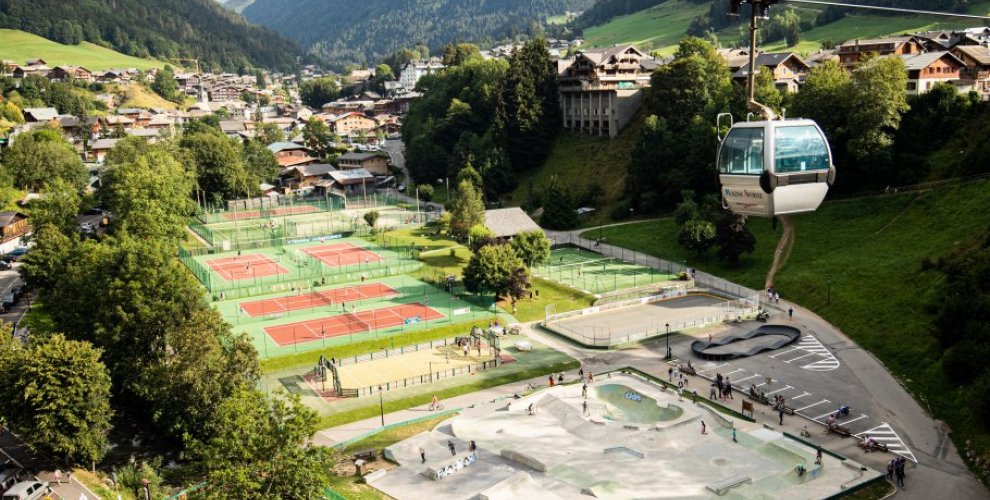 Morzine is the perfect destination for all abilities of Mountain biker
With this extensive lift and trail network it really does make Morzine a must for any level of mountain biker out there. Be it with the lads, the family or friends there is a track, a trail, an adventure and an activity for everyone. Morzine is well known for its super steep, fast and technical terrain and that is what initially put it on the map and is still what brings many of the world's best Downhill mountain bikers back to Morzine for training and party laps year after year, now with the growth of the trail network and the addition of many easier routes it's accessible to all.
Les Gets has some excellent Green and Blue family/coaching trails. On Super Morzine, an entire section of the hill is dedicated to the blue and green flow trails. The Passportes du Soleil is an excellent way to get to know the entire area, or if you want to check out the world's fastest racers doing their thing the World Cup and World Championships are in Les Gets!
The beauty of staying in Morzine accommodation is that you are in the middle of this huge MTB mecca and can pick and choose what terrain you want to ride depending on ability, weather, equipment and simple personal preference. If it rains, go to Les Gets, sliding around the Nauchettes in the wet is all-time fun! If the sun is blazing head out for the day over to Switzerland and up the Mossettes lift to the highest peak in the Portes du Soleil at 2400m.
Let us take you on a walk through tour of Morzine
We have the knowledge to provide the best mountain bike holiday in morzine
Our staff ride these trails every day and have done so for many years, we know them like the back of our hands, we've built several of the trails ourselves. What sets Atlas Ride Co. apart from the rest is that we are mountain bikers at our core, we just appreciate awesome food, great culture and want to share these epic destinations with our clients. We want you to be so stoked you tell your kids, they tell their kids and while you sip on an astro beer in the year 2080 your great-grandkids are hitting up Pleney on their hoverbikes. Maybe. So book that holiday now and let us take care of the rest.
Drop us an email on info@atlasrideco.com with any questions and be sure to follow us on Instagram & Facebook for the latest news, content and competitions!
Book that Morzine mountain biking holiday of a lifetime now
If this is your first venture into Mountain Biking in French Alps then Morzine is the perfect destination. With smooth progressive Green and Blue runs in Les Gets get to steeper more technical Red and Blacks in Morzine on the famous Le Pleney there is something to test all abilities. Take a look at our Track Check Videos!
Please use the contact form below if you have any questions and one of our friendly team will be in touch as soon as possible.