Finale Ligure, a mountain bike paradise! From World class mtb trails to the coffee and gelato, the fresh pasta and hand made wood fired pizzas, the aperitivo with that well-earned beer and the beaming smiles on the locals eager to share their Ligurian hospitality, all surrounded by some of the best enduro riding you'll ever do? Finale Ligure is the Ultimate Enduro MTB holiday destination. From our first holiday on the Italian Riviera and the resort of Finale Ligure, which we can now call our second home, we were addicted. The moment you peel off the highway and start winding down the road toward the Mediterranean Sea, the rest of the world becomes irrelevant. Finale Ligure is phenomenal, and hosts the Enduro World Series (EDR) and a buzzin' MTB community this is a piece of MTB heaven in Italy.
Our Finale Ligure MTB Holidays
What really kept us coming back for mountain bike holidays in Finale Ligure was the variation of trails they have down here. We have never seen anything like it anywhere else in the world. You have every type of singletrack terrain from sharp, jagged rocks to smooth winding forest descents with everything in between. The locals have been building trails down here for over 30 years now and the MTB trail network that Finale Ligure boasts is vast! See our Finale Ligure Mountain Bike Holidays below.
Our Finale Ligure Holiday Extras
Finale Ligure hosts the Enduro world series race events
The pedigree of the singletrack trails in Finale Ligure is backed up by the fact that the Enduro World Series has ended their season here more years than not. The final round of the series has morphed into the pseudo Enduro World Champs as the Trophy of Nations. The athletes love coming here, though they are often challenged by the sheer variety of the terrain and style of track offered up by the organisers, it's always a fun event, standing on that podium in the main square is awesome.
One of the main attraction to mountain biking in Finale Ligure is also the weather with the Mediterranean only a stone's throw away, the riding conditions are good all year round. The locals only seem to stop riding in July/August as it really does get too hot. Other than that, they are open for business all year. The trails are constantly evolving, with several groups of trail builders constantly moving around the hills to keep things fresh and in good shape. We are stoked to consistently support these actions through our paid membership to Finale Outdoor Resort
See what our Finale Ligure Mountain Bike holidays are all about!
The trails in Finale Ligure offer something for everyone
The trails out in Finale Ligure offer a challenge for every ability of mountain biker. Finale is separated into several riding zones that all differ in dirt, rock, trail speed, length and technicality. Our mission is to find the most fun and efficient way to explore these zones using our shuttle vans and some pedal power while monitoring the vibe and energy level of the group to keep the stoke high. We guide, we also use a mix of local professionals and qualified riders we've known and ridden with for years. The relationship between the client and the guide is crucial to us, they are your mountain host, your teacher your friend and our safety net and we never take the trust shown by you for granted.
Finale Ligure has every kind of trail you can throw at an enduro bike, it is not a bike park, and few berms and jumps exist. There are 5 - 8 minute flat-out trails at the Nato Base, always popular, the short and sweet janky gems in Ivoland, the famous Roller Coaster and super tech twins of Madonna Della Guardia and Cacciatore. The adventure of exploring Pietra Ligure and Mallare with their totally different flow and variety. The epic long descents are the jewels in the crown of Finale Ligure, Isallo Ecstacy, Crestino and Ingenere are perennial favourites and never fail to make even the most subdued of riders giggle like little kids at Christmas.
A Mountain Bike Holiday in Finale offers more than just amazing trails
These is so much more to finale ligure than just riding bikes
Finale Ligure is also not just about amazing mountain biking, it also has an incredible cultural experiences that make this a true holiday. Finalborgo is old Roman settlement that hides away some amazing restaurants and great bars, stopping for a drink or dinner here is a must. In Finale Ligure, the town square is where all the mountain bikers gather at the end of the day. From 5pm the bars start to fill up with riders and the beers start flowing. The bars all provide table service and their own aperitivo snacks that stave off the hunger, surrounded by produce providers and farmer markets with a view of the sea, it's the bustling hub of the town. Oddone Bici is where you will usually find us in the evening, a bike shop and bar, it's a home from home.
The square is in the centre of the new town and lined with bars, cafes, shops and restaurants that are open all day and night creating a great little buzz and holiday feeling. There really is something for everyone down in Finale Ligure and we have not even mentioned the beach yet...
Our guides and what you can expect from the riding in Finale Ligure
Our guides have been building and riding the Finale Ligure mountain biking trails for years and know exactly where to take you based on ability and weather conditions so you will have the best time on these trails. The trails range from anything between four minutes to one hour in length depending on the area you are riding and the day. We mix riding trails from one zone to another, sometimes focused on one style of riding and other times mixing it up, with a bit of exploration to keep the vibe fresh and excitement coming.
For the uplift we have VW T56's, depending on the group size, we have many options for transporting the uplifts and trails we ride. There is a proper bike trailer so no bashing about in the back of a van or box trailer. It's a professional set-up for our Finale Ligure mountain bike holidays. You're in safe hands.
Our Riding Program on a typical week
Monday - We head straight up the famous Nato Base for 'chairlift laps' touring the upper and lower Feglino trails with your guide and crew. We'll try to pack as many runs in here as we can. The riding here is considered the 'easiest' of Finale's trail network but is still super fast, technical and challenging single track of varying length from 5 - 20 minute runs if completed in one hit.
Tuesday - We'll make our way over to the Melogno area with a view to hitting up trails like Roller Coaster and Cacciatore. On the this side of the hill the flow remains but the technicality increases with more rock, longer runs and some steeper sections to get the blood pumping.
Wednesday - Adventure! We'll be doing some pedalling today, a couple of big uplifts to get as high as possible, from here depending on group level and experience we'll hit up the trails of Pietra Ligure, hike Monte Carmo or make our way across to Rocche Gianche and Men's DH. Expect to pedal for around an hour.
Thursday - A well-earned rest day to make the most of Finale town, the beach, or if you want to head up the hill for a blast there are some single uplift companies available.
Friday - Friday we aim to ease you back into it with a gentle lap in the morning followed by two monster trails throughout the day, depending on conditions these would be trails such as Isallo Exstacy or Super Groppo (from the very top of Monte Alto if you have the energy). There may be some effort required to get to these but they are well worth it! In between these trails will be some shorter laps dependent on the riding zone we are in.
Saturday - Greatest hits. We've been listening all week and now it's back to you guys. What do you want to ride, what do you need to tick off, where do you need that holiday snap. We'll make a plan based on what the group wants to do and blast Finale Ligure together for one more day!
The scenery is truly stunning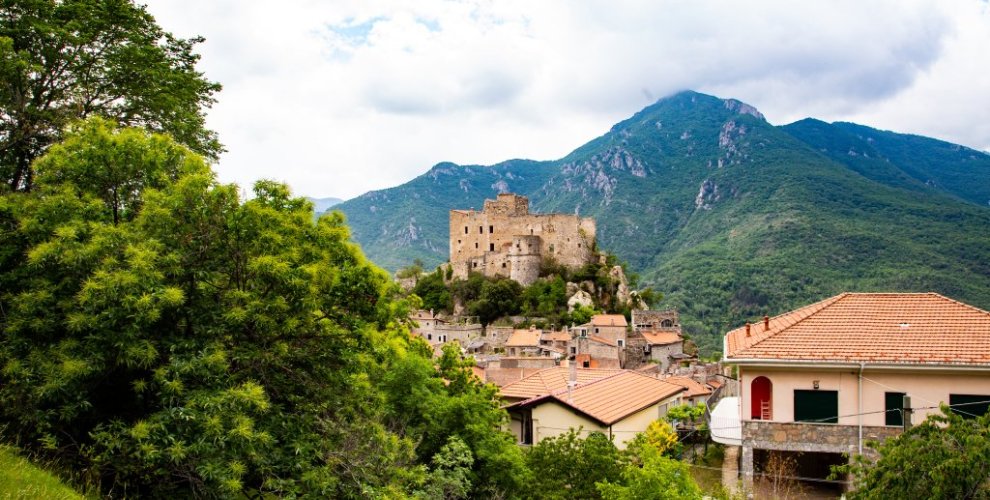 What's included in your MTB holiday in Finale Ligure
Regarding transfers for our Finale Ligure MTB holidays, we will collect you from Nice (for Genoa or Milan, please ask) airport on a Sunday. We have multiple vans operating transfers on the Sunday, so any delays are usually kept to a minimum.
Flights Nice is an international airport with flights available from across the world, there are several daily routes from most major UK airports.
The Finale Ligure MTB holiday package is designed for competent riders, available to individuals and groups alike. They are designed to provide you with everything you need for your week's mountain biking in Finale Ligure. So book those flights, bring some cash and let us take care of the rest.
Bike hire (Specialized Enduro's) and local shops with a great discount
Trail and guiding advice
Mechanical issues
Book that mountain bike holiday of a lifetime in Finale Ligure here
We hope that the above information has convinced you to book that holiday of a lifetime in Finale Ligure, full of culture, adventure, local cuisine and epic mountain biking. See below a link to book our holiday package and if you have any questions please just ask.