Mountain Biking in Spain is world-class with its extensive network of mountain biking trails, both natural and purpose-built. With famous MTB destinations including Ainsa, Sierra Nevada, the Pyrenees and Andalusia. From the rugged mountains of the Pyrenees to the rocky trails of Andalusia, the diverse terrain provides a mix of technical descents, fast-flowing singletracks, rocky sections, and challenging climbs. Whether you prefer lift-accessed bike parks, dedicated enduro trails, or remote backcountry routes, Spain has it all. We currently offer tours in Ainsa and the High Pyrenees with more to be added to the list soon.
Spain's Mediterranean climate contributes to a long mountain biking season, with mild winters and warm summers in many regions. This allows riders to enjoy mountain biking for a significant part of the year. Spain is also home to several man-made bike parks that cater to downhill and enduro riders. Areas such as Ainsa, Malaga, Sierra Nevada, La Molina, and La Fenasosa offer well-maintained trails. Add in the amazing food, relaxed culture and guaranteed sunshine and you have the ultimate Mountain bike holiday destination in Spain.
Spain has many incredible Mountain biking destinations but Spanish Pyrenees offers some of the most diverse trail networks for riders of all levels. The region is characterized by stunning landscapes, challenging and unique trails, and a vibrant mountain biking culture. Many trails are well-marked and maintained, offering a mix of natural and man-made trails. The trail options vary from exciting enduro routes to adrenaline-pumping downhill tracks.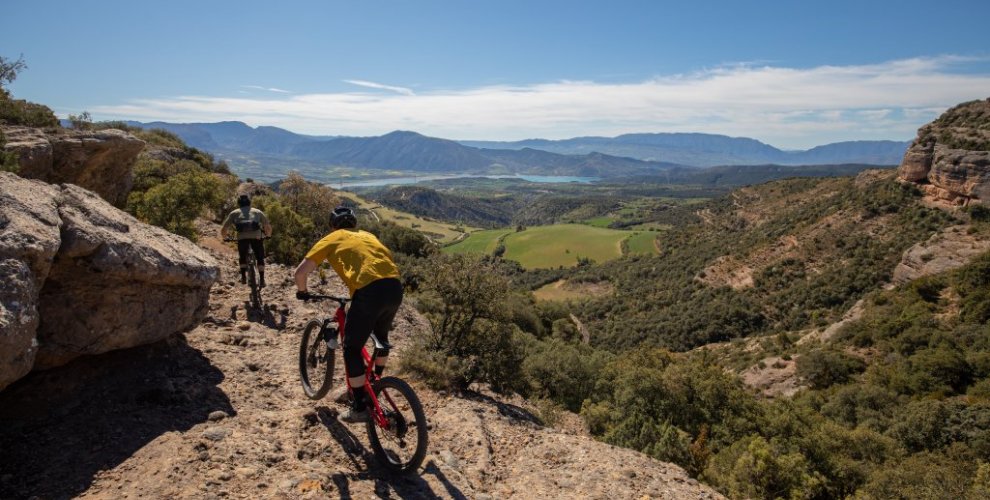 Ainsa, Zona Zero is a bucket list MTB destination
One of Spain's most famous MTB destinations is Aínsa, located in the Spanish Pyrenees, is a popular mountain biking destination known for its diverse and technical trails. You can expect to encounter rocky sections, roots, drops, berms, switchbacks, and technical descents. The trails often make use of the natural terrain, utilizing the mountains' contours and features to create exciting and challenging sections. Twice host to the Enduro World Series race events Ainsa and Zona Zero as the area is better known is well and truly stamps Spain on the global MTB holiday map.
The trails in Aínsa are generally well-maintained, ensuring optimal riding conditions. Local trail organizations and authorities work to maintain the trails, clear debris, and address any necessary repairs. Aínsa offers many bike services and facilities to cater to mountain bikers. These include bike rental shops, repair services, and bike wash stations. Additionally, the town has accommodation options that cater to riders, with bike storage facilities and access to trail information.
The High Pyrenees in Spain is also home to some stunning mountain biking
Another incredible MTB destination in Spain is Val d'Aran, again located in the Pyrenees of Catalonia, Val d'Aran is a picturesque region with excellent mountain biking opportunities. It offers a mix of enduro and downhill trails set amidst stunning alpine scenery. The trails in Val d'Aran range from natural singletracks to purpose-built bike parks, catering to riders of different skill levels and preferences.
With peaks reaching up to 3000m and over 100 trails in the area this high Pyrenees mtb destination is becoming much more popular with European riders. One of the most famous trails in the area is called Entecada, it is a 6.5km long trail with a drop of 1170m. The start of the trail is at 2045m but you have to work for it to get there with just over 500m of climbing from the uplift drop-off.
From the Sierra Nevada to Malaga on the coast spain has it all
The Sierra Nevada, located in the southern region of Andalusia is a top-notch mountain biking destination. It offers a vast network of trails suitable for enduro and downhill riding. The area is known for its high-altitude descents, technical sections, and diverse terrain. The bike park in Sierra Nevada provides lift access to a range of downhill trails, while the surrounding mountains offer epic enduro adventures.
The downhill trail known as the "El Río," is a highlight for downhill enthusiasts. It starts near the summit of Veleta at over 3,000 meters and descends approximately 1,200 meters over 15 kilometres. The trail features a mix of fast, flowing sections, technical rock gardens, jumps, and drops, providing an exhilarating ride with breathtaking views of the surrounding mountains. With easy transport links, superb trails and multiple companies offering guiding and uplift services the Sierra Nevada is a great option for a mountain bike holiday in Spain.
If you are considering a mountain bike holiday in Spain please get in touch with our friendly team via the contact form below and we will get back to you as soon as possible.