Italy offers a wide range of stunning mountain bike destinations, each with its own unique features, landscapes and history. Over the past decade mountain biking has really exploded in Italy due to many World class events taking place in destinations such as Finale Ligure in the North West where the Maritime Alps meet the crystal clear Mediterranian Sea and Canazai / Val di Fassa in the imposing Dolomites mountain range north of lake Como. If you are looking for a Downhill or Enduro-focused Mountain Bike holiday with incredible food, warm and welcoming hospitality and some of the world's finest MTB trails then head to Italy for your next MTB holiday.
MTB DESTINATIONS IN ITALY
Over the past decade, Altals Ride Co have been crafting and delivering some of the finest Italian Mountain Bike Holidays available in destinations that have to be seen to be believed. Our second home is Finale Ligure with a permanent base there for nearly 5 months of the year, we do love this mountain bike mecca tucked away in North Italy. When creating our Italian mountain bike holidays we ensure we use local, professional guides, mtb-specific accommodations and find the best restaurants so you experience that traditional Italian hospitality and culture. Mountain Biking in Italy is about more than just riding your bike, it is bucket list stuff.

Finale Ligure, the Enduro mtb mecca of Italy.
Finale Ligure is the complete package, the real deal in the world of Mountain Bike Holiday destinations. The first Enduro World Series (EDR) event in Finale Ligure took place on May 19, 2013. It marked the inaugural round of the Enduro World Series, a global championship for the discipline of enduro mountain biking. The Finale Ligure event served as a significant milestone in the history of the EWS (EDR) and helped solidify the reputation of Finale Ligure as a world-class destination for Enduro MTB racing.
Finale Ligure is known for its iconic and demanding trails that push riders to their limits. Some of the most renowned trails include Roller Coaster, Crestino, Mini Champery, Pino Morto and more! These trails feature a mix of technical descents, tight switchbacks, rock gardens, and exhilarating flow sections. Finale Ligure takes no prisoners and you have to be on top of your riding game to conquer the trails here. Another huge pull of Finale Ligure is the stunning coastal and mountainous scenery. Riders get to experience breathtaking views of the Ligurian Sea, rugged cliffs, and lush Mediterranean vegetation before heading into the new or old town and sipping on a few cold beers before a post-ride dip in the Sea.

The Aosta Valley, single track gold surrounded by ancient giants
Next on the Italian mountain bike holiday hit list should be the Aosta Valley, nestled in the Italian Alps, the Aosta Valley is a paradise for mountain bikers. The region is known for its breathtaking scenery, with towering peaks, glaciers, and lush valleys. There are numerous trails catering to different skill levels, including high-altitude routes and bike parks. Whether you are looking for high alpine, natural single-track trails or EWS (EDR) enduro trails and some bike park riding the Aosta Valley has it all!
The Bike Parks of Pila and La Thuile are located in the heart of the Aosta Valley with world-class Downhill and Enduro trails. Pila bike park is accessed via a gondola with departs from the centre of Aosta town itself. This lift takes you to the base of the bike park and then an additional lift take you to the top. Here you have the choice of multiple Black, Red and Blue Downhill trails and an incredible 3.3km descent back into Aosta it's self, the Ex Reintro trail is something special.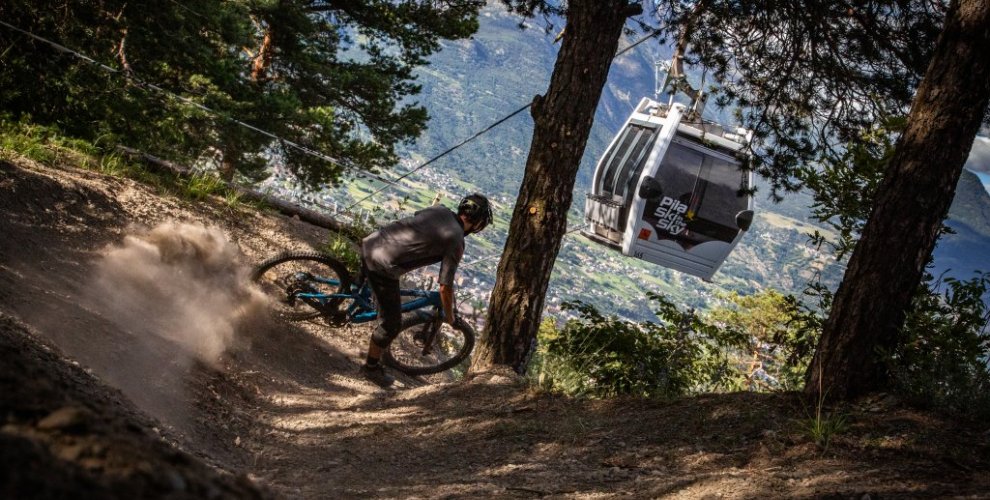 La Thuile Bike Park, another EWS host destination in the Aosta Valley.
La Thuile Bike Park is an incredible place to ride bikes, the trails are well maintained and the lift is usually quiet, host to the Enduro World Series multiple times this small destination tucked away in the North of the Aosta Valley packs a punch. Some of the very best mix of natural and bike park riding can be found here and it is a firm favourite of the Atlas Ride Co staff for a day trip from Morzine on their down days. Trails such as Lupin which test even the world's best riders!
It is best to combine a trip to the Aosta Valley with multiple destinations including some shuttle tours of the French/Swiss side of the mountain where the high altitude and high alpine trails can be found. There are no chair lifts on this side so it is pedal power only once the shuttle drops you off to reach the top but it is worth every single pedal stroke. Trails such as Becca France descend 1050M through incredible forests, ridge lines and gulleys. This trail leads into another trail called Bellon#9 which descends another 600M. You are dealing with huge descents in the Aosta Valley, this place is truly EPIC.

And now for the Dolomites, a truly stunning destination
Located in northeastern Italy, the Dolomites are a UNESCO World Heritage site known for their breathtaking peaks, alpine meadows, and picturesque valleys. The region offers a variety of trails suitable for all skill levels, ranging from easy rides through scenic landscapes to challenging downhill and Enduro World Series (EDR) descents.
Val di Fassa and Canazei have been host venues for the Enduro World Series (EWS), showcasing their exceptional mountain biking trails for the past several years. With incredible trails such as Tutti Frutti, one of the most iconic in the region and designated as the Queen of the EWS multiple times. Set high on the Rodella Ridge, Tutti Frutti is over six and a half kilometres and incorporates nears 1000m of descending.

If you have any questions regarding your Mountain Bike Holiday in Italy please use the contact form below and one of our friendly team will get back to you asap.