7
Our Ainsa E-MTB Enduro Tour​​​​​​ (Analogue option available) takes you to the famous Zona Zero, Tremp and La Pobla. Located in the Pyrenees/Catalonia. Ainsa has twice hosted the Enduro World Series with some truly incredible mountain bike trails, Ainsa has over 70 marked trails and our E-MTB tour includes the very best enduro tracks and ridgeline descents. Accommodation is in 3/4* hotels and lunches are taken in traditional Spanish Cantinas. Fideua, Paella, Tapas... You won't go hungry.
We explore beyond Ainsa on this E-MTB Enduro tour and discover Tremp and La Pobla, both with stunningly diverse landscapes with some mind-blowing riding described as the European Squamish by Killian Bron. You will fly into Barcelona, Sunshine and superb trails are guaranteed.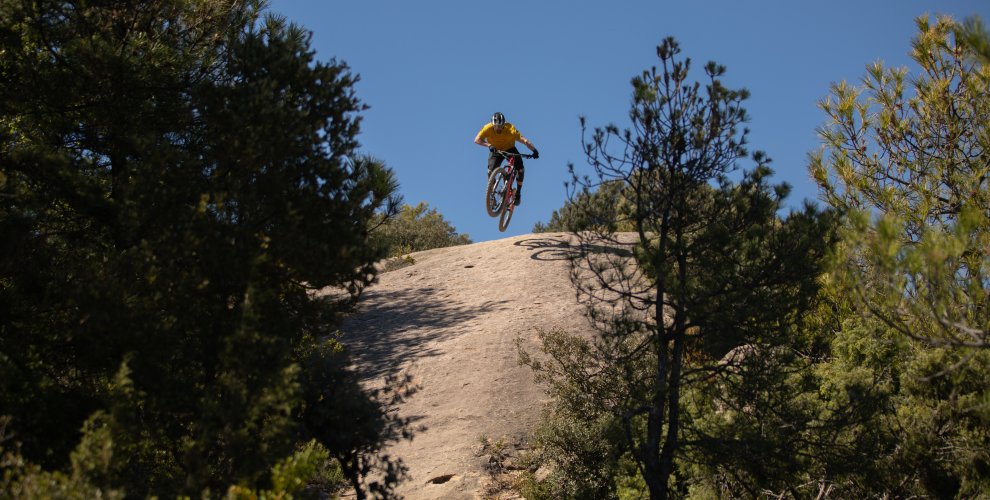 What's Included
4 Nights of 3/4* Hotel Accommodation
3.5 Days of Guided Riding with Shuttles
Mondraker E-Bike rental included - 2023 Crafty RR
All Lunches
Welcome Dinner
Airport Transfers to and from Barcelona
All internal transfers between destinations
Professional guides and a dedicated team on the ground
Trip Highlights
Ainsa's old town and famous EWS spine trails
Utah-style ridgelines and endless singletrack in Tremp
Squamish-esque rock slabs in La Pobla
Authentic Spanish food at secret spots
The two lesser-known spots on this tour are La Pobla and Tremp. La Pobla is a hidden gem, a tiny town in between Ainsa and Barcelona, its rock slabs and mountainous ridgeline trails make for a truly incredible day of adventure riding. Tremp is without doubt a name you'll wish you knew earlier, it's an up-and-coming zone that has incredible potential, which is being realised already with a superb network of singletrack trails amongst a stunning landscape that is 1 part Kamloops Canada, one part Utah USA and one part Spain, a truly memorable place to ride.
Why not fly into Barcelona a day or two early to soak up this incredible city, you'll be picked up at 15h on the arrival day so make sure you land in good time for the transfer. With your high-spec Mondraker E-Bikes included in the trip cost you are nearly baggage free to explore the city! This tour can be operated as a non E-MTB tour with analogue bikes. Expect between 500-1000m of climbing per day.
To secure your place on the trip a 30% per person, booking deposit is required. Deposits are non-refundable and the full balance is due 8 weeks before your arrival. Please take out adequate holiday insurance once you have paid your deposit for the full holiday amount. We recommend Yellow Jersey - We have a 10% discount code that will be sent out in your booking confirmation.
We also insure the full amount of your holiday's value once we receive your deposit which is a legal requirement under the Package Travel Requirements 2018. So, in the case we ever went into liquidation you would receive a full refund.
We are happy to offer date swaps within the original booking year free of charge if there is another tour with availability and we are informed before the 8-week final balance deadline.
We try to keep all groups together but sometimes when group numbers are odd you can be sharing with another party member.
If you would like your own room there is a £325 single occupancy supplement depending on availability. This is limited to 2 rooms maximum per week.
Barcelona Airport
Arriving
Our van will leave Barcelona Airport at 15h or earlier if all clients have arrived. You should book flights that land before 1330h. Your arrival time in Ainsa will be around 17h.
Departing
Our van will leave Tremp at 14h. Your arrival at Barcelona airport will by 18h. Departing Flights must be booked no earlier than 20h. This timetable may move up on the morning if we note potential delays.
It is possible for you to arrive in the days before your trip to Barcelona and spend a day or two exploring the city. Your e-bike hire is included in the price so you won't have to lug a bike around! We will then collect you from the airport on the 1st day of the trip.
A private transfer can be arranged at an extra cost if flights need to be booked earlier, later or from a different airport than Barcelona. If you choose to book flights outside of these times we cannot be held responsible for missed flights.
Toulouse Airport - £POA
Day 1 - Arrive in Barcelona, Travel to Ainsa, Build bikes and chill
Today we arrive, relax, build our bikes, have some food and a beer and get to know your guides and start to explore the program and trails for the days ahead via some maps.
Day 2 - Ride Ainsa, Stay Ainsa
Up and at them, breakfast is served in the hotel the we put the bikes onto the trailer and get one uplift up to one of the highest points to start the day. We will ride some classic Enduro World Series trails, some secret local trails and some of the most amazing slab tracks you have ever seen. Lunch is also special on day one, traditional, plentiful and so tasty. The afternoon will be spent riding more trails before finishing with a ride back into the old town for a beer! Iconic!
Day 3 - Travel to La Pobla, Ride La Pobla, Stay Tremp
The morning involves a drive to La Pobla, about 1.45 hours, time to let breakfast digest and that coffee work. La Pobla is a special place with views and rock slabs to die for with the terrain changing throughout the day. In the afternoon it gets a bit more wild and technical, hold tight here and let the bike do the work. You will be rewarded with smiles for miles.
Day 4 - Ride Tremp, Stay Tremp
The hidden gem of the trip, knife edge ridge lines, iconic red, purple and yellow landscapes, flow trails and fresh dirt make Tremp something very, very special indeed. More flow, less tech, more speed and more fun! Killian Bron has said Tremp is the European Squamish, we think it's even better!

Day 5 - Ride Tremp 1/2 day, Travel Barcelona
Topping up from the day before we ride a new zone, again with some of the finest trails in Spain, rocky, technical and in and out of the forest. An early lunch and departure to Barcelona for your flight or another night in this incredible city, the choice is yours.
Advised bike - 150mm - 170mm + enduro e-bike (included in price)
Fitness - 2/3
Skills and Technical Ability - 2/3
Riding Style - All Natural
The riding standard and fitness level required to ride the Ainsa-Spain E-MTB Tour is intermediate/advanced. You should be happy riding technical rocky terrain for prolonged periods. There are no gaps and jumps but there are exposed ridgelines and technical sections. We leave no one behind and sections can be walked if necessary but please consider your ability before booking this trip.
Can I book as an individual?
Yes, but we need a minimum of 5 people to run the tour.
My group is over 7? Can we still come?
Places are limited to 7 due to van requirements. Groups of 10 -12 can be accommodated if booked far enough in advance to secure extra transport, guides and accommodation.
Can I change the arrival and departure dates?
The departure and arrival dates are set but arriving a day early in Barcelona to enjoy the city is just fine. Though you can arrive earlier or later in the week it will not decrease the cost and it will not change the tour program.
Can I travel to a different airport?
Transfers can be arranged from Toulouse airport subject to availability.
What are the options for dinner?
On the first night of your arrival, we will eat together at a central Ainsa restaurant, where you will meet your guide(s) for the trip and talk about the plan and logistics for riding over a locally brewed beer. Throughout the week there is an array of amazing restaurants in all locations from fine dining to at the hotels to traditional restaurants in the town. Your guides will assist you all the way.
What are the options for lunch?
Lunch will be at a variety of spots throughout the trip. In the villages of Ainsa, Tremp and La Pobla itself and around the Valley. A mix of restaurants and cafes with amazing local food from tapas to speciality menus and dishes. lunches are included
I have a dietary requirement or choice?
Vegetarians or pescetarians are no problem, though please advise us on booking. Please contact us before booking if you are a vegan or have a medical dietary necessity to ensure your needs can be met.
How many trails will we ride each day?
Depending on the length of the trails and how long it takes to get to them between 6 and 10 roughly.
How hard are the trails we will be riding?
All of the trails present their challenges, there is a lot of technical riding, and rocks, and exposure are common. If you are very comfortable riding technical red runs in your local bike park you should be ok.
Is there any pushing or pedalling?
Yes, dependent on the day. For example, in Ainsa you may need to pedal some short uphill sections. In Tremp and La Pobla more so because we do not use the van as much. But we have the e-bikes and this has all been considered.
Recommended bike?
We would recommend an E-mtb enduro bike for this tour and that is included in the price. if you bring your own bike It should be well-maintained and modern so that parts can be sourced if they break. We suggest a minimum of 150mm/140mm travel and DH casing tyres setup tubeless.
What equipment should I bring?
Your bike and kit should be well prepared for long enduro rides away from bike shop support. You'll need to carry a pack with you at all times with hydration, a tube, pump, tyre levers and at least a basic multi-tool. Sun cream is essential.
You should bring an open-face helmet, a full face as well if you have the room, a hydration pack and the protective equipment you would feel comfortable wearing.
What is the average cost of a beer? An evening out?
A pint of Spanish Lager will set you back between €4 and €5 depending on where and when you buy it. Dinner in a decent restaurant will cost you around €12 - €20 per main course.
Will I need insurance?
Absolutely. With the UK's departure from the EU your EH111 card no longer covers medical care. You'll also want insurance against other circumstances such as bike theft, damage or cancellation for personal reasons. We recommend Yellow Jersey. Booking with us gets you a discount code for a 15% off.
You are required as part of your booking to have personal injury insurance and we also reccomend cancellation insurance.
If you are travelling from the UK please use - Yellow Jersey Cycle Insurance
Since 2017 we have partnered with Yellow Jersey Mountain Bike Insurance to provide professional mountain bike holiday and personal bike insurance policies to our clients. All our clients receive a 15% discount code in your booking confirmation.
If you are traveling from outside of the UK we can recommend World Nomads
Make sure you set your residence location using the flag icon top left
The currency in Spain is the Euro, and all major credit cards are accepted in all of the towns we visit but we do advise bringing some cash, even €100 for some tips and some of the more remote shops/bars in case your bank questions your spending abroad or your phone batteries dies and so on.
This tour can be operated as a non E-MTB tour with analogue bikes. Expect between 500-1000m of climbing per day.
We can include one day on the E-MTB's to take the sting out of the tour, but if you are fit and love to pedal it is an exceptional tour on analogue bikes.
Just email for all the info!
Property gallery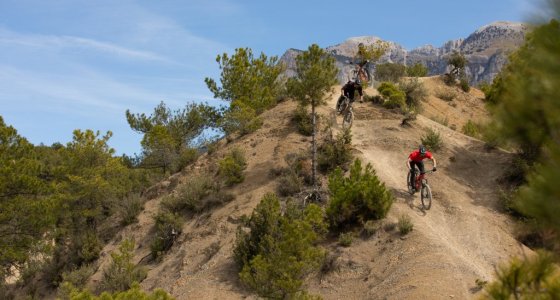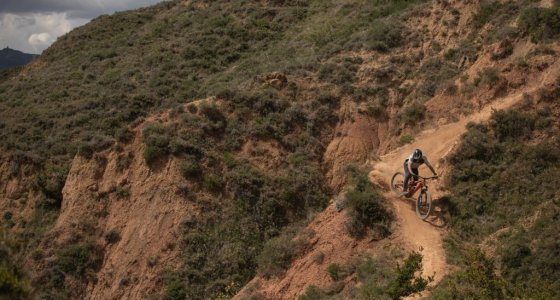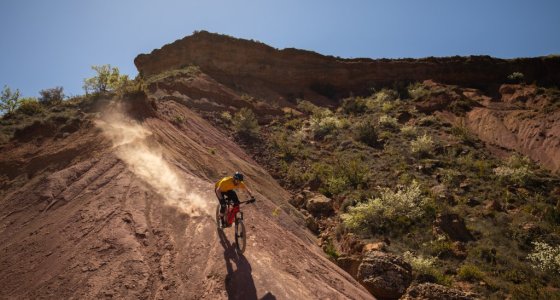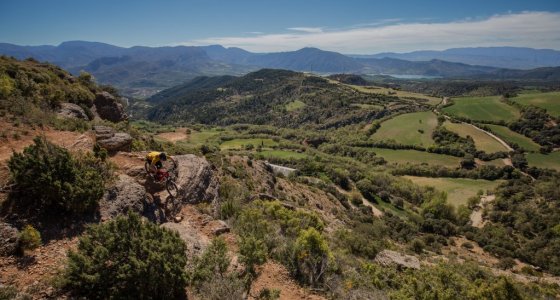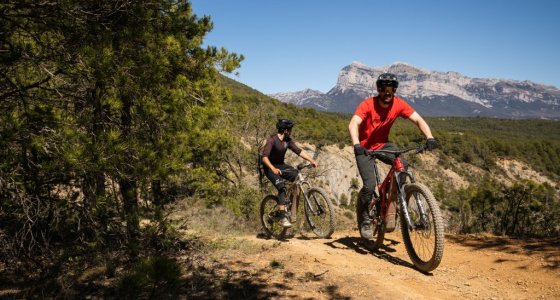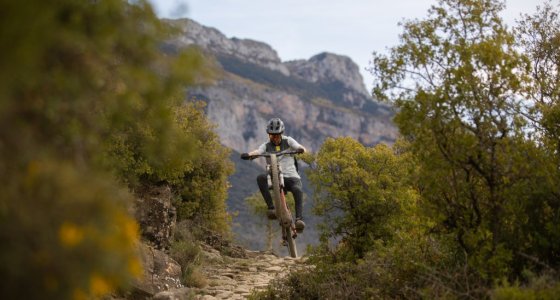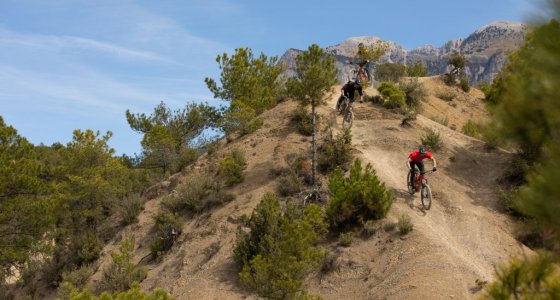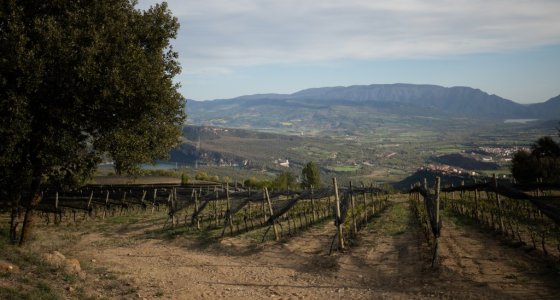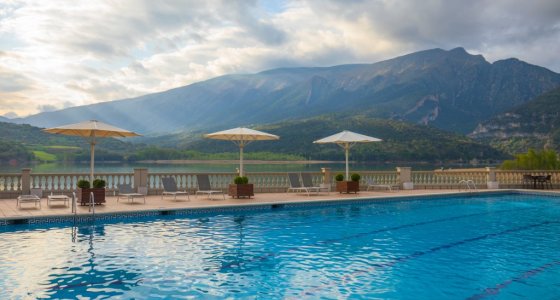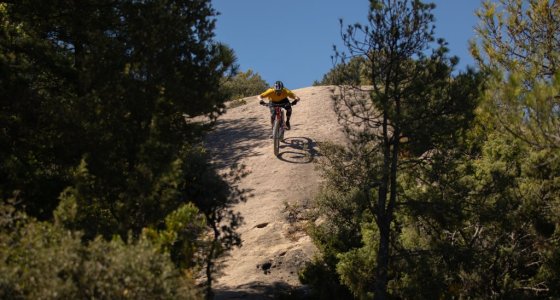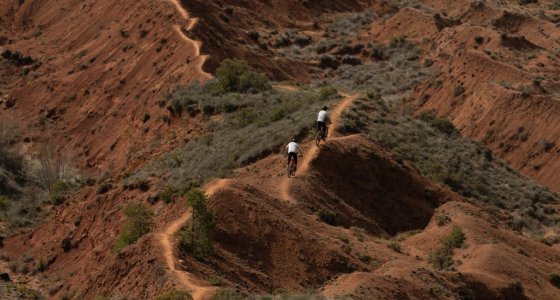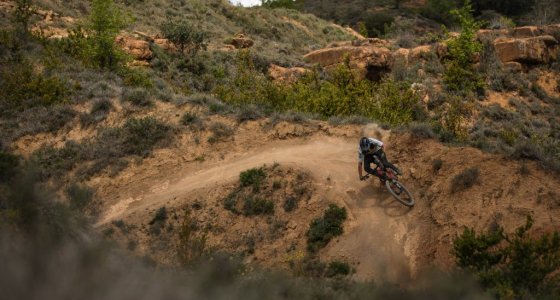 Booking and Availability
BOOKING AND AVAILABILITY
Please select your preferred date below or use the enquiry form to start the booking process. Please feel free to contact us to discuss any elements further before booking if you need to. Once your booking is made you can always make amendments at a later date if you so wish.
This tour can be operated as a non E-MTB tour with analogue bikes. Expect between 500-1000m of climbing per day.
E-Bike hire can be included - Mondraker 2023 Crafty RR, Add £280.
PRIVATE GROUPS - Please contact us for a custom tour on a specific date and one of our team will get back to you ASAP!
Adam Staton
Fri, 09/17/2021 - 12:18
Just home from the Tweed Valley Enduro Long Weekend with MTB Beds. Wow what a weekend. Epic riding, superb guides, great accommodation and some more epic riding. A superb intro to the Tweed Valley and the riding on offer at Glentress, The Golfie and Innerleithen. Rich and The MTB Beds team are superb - helpful, knowledgeable and responsive and Murray and the Team at Glentress Hotel were brilliant. Thoroughly recommended.

Gary T
Sat, 09/11/2021 - 11:33
Absolutely brilliant experience. The accommodation (Ravenscraig guest house) and food was spot on for both quality and the location. Bike security and facilities for wash and repair was excellent. Our guide, Mike Wilkes couldn't have done a better job of informing and including all the riders in our group. The routes ticked all the boxes and the trails and views will be memories to last a lifetime. Bought the ticket, had a great ride😁👍