After so many years riding Five Ten shoes ourselves, we could not be happier to partner with the benchmark MTB shoe. From the technical steeps of Morzine with its roots, berms and jumps to the rocky gnar of Finale Ligure and high alpine peaks of Aosta we've been putting these shoes to the test and now you can too. We'll be offering Five Ten impact pros for demo and hire in all Riders Weeks locations across Europe.
Five Ten was born in 1985 when Charles Cole creates the first Five Ten shoes the Five Tennie, this was a sweet looking sticky rubber sneaker. In 1986 Five Ten started to sell it's sticky rubber to other much better known climbing shoe companies for them to use on their own shoes, professional athletes were soon re rubbering their shoes with sneaky sticky Five Ten rubber.
In 2000 the first MTB specific Five Ten shoe is made for the Intense Cycles team, worn by the legends Sam Hill, Nathan Rennie and Chris Kovarik. Watch any Earthed movie from the mid 2000's and you'll notice that's it's these guys that look the wildest on the bike, yet totally in control.
In 2002 Sam Hill got his hands on his first pair of flat Five Ten and immediately goes out to win the Junior World Champs, Chris Kovarik also demolished the field at the first race of the MTB World Cup that year, by 14 seconds, on flat pedals with Five Ten shoes. This is still the biggest winning margin in any World Cup downhill final.
Fiveten Impact Pro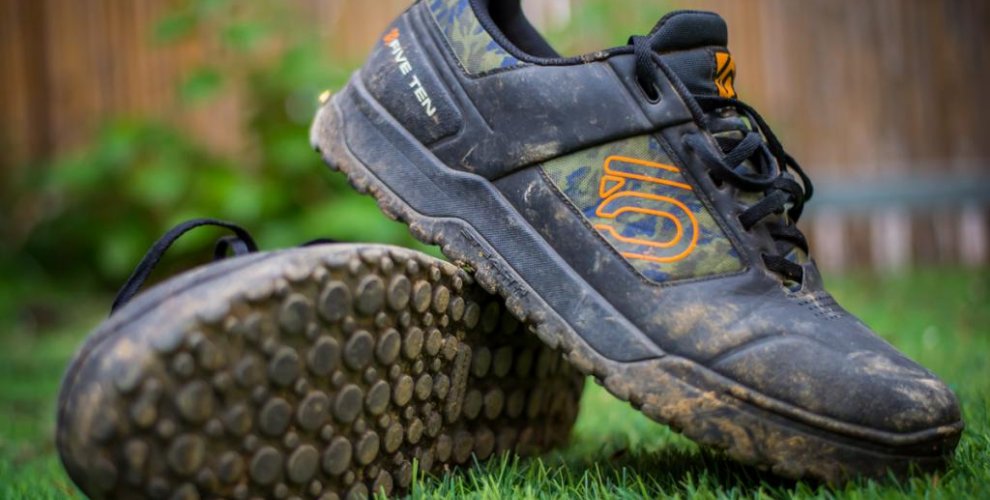 When Nathan Rennie won the World Cup overall in Five Ten flats with stealth rubber, it was obvious this was the only shoe worth riding. The rest of the podium was also full of stealth rubber, these bad boys worked. In 2006 Sam Hill won the UCI Downhill World Champs and overall, the first rider every to do both in one season.
The story just continues for Five Ten with the likes of Danny MacAskill releasing the "way back home" edit which has had 35million views and counting, Sam Hill winning the World Chaps again in 2010, Greg Minnaar winning in 2012, Brand of the Brave being created, and so on and on.
If there was ever a mountain bike shoe company you would want to partner with it's Five Ten and that's exactly what we have done. When riding bikes out in Morzine & Finale Ligure your shoes need to be tough, grippy as hell and solid, Five Ten provides this with their impact shoe in every way.
Impact Pro's on the beach in Finale Ligure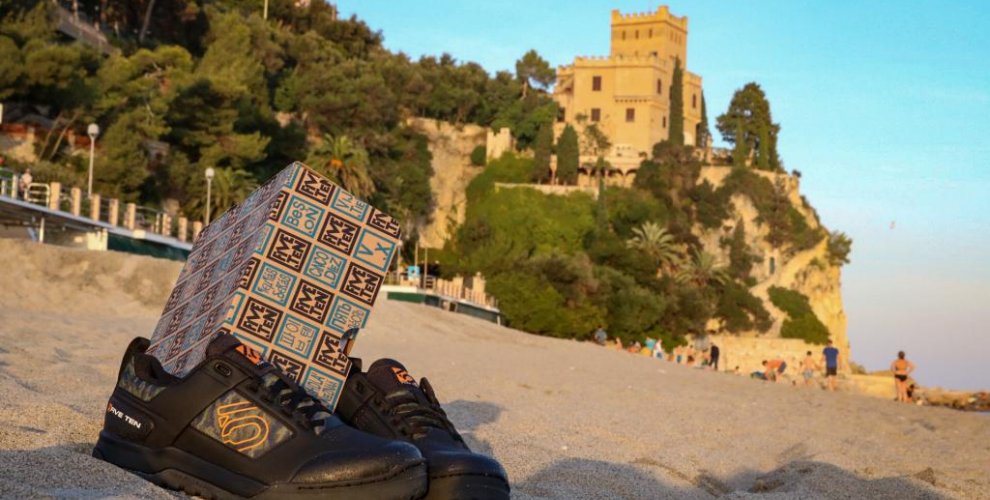 For the foreseeable future we have formed a partnership with Five Ten that will also provide our clients with many additional benefits. We will have a Five Ten test centre in our Riders Week chalets in Morzine and Finale Ligure.
The Riders Weeks are the best full package mountain bike holiday in Morzine including your lift pass, airport transfers, accommodation so why not also include the possibility to ride the best MTB shoes in the world also.
A huge thank you to Five Ten, now get over to the website to have a look at their shoes right now. Five Ten