Born from innovation, what started as a small company out of Squamish B.C has quickly become the go to brands in enduro, especially when it comes to tools.
Why OneUp
With 29 years of combined experience in the mountain bike world, the small team at OneUp set about creating some of mountain biking most worthy and desirable products, not only rescuing many rides but improving them aswell with a solid component range. Beginning in 2015 the team have always been committed to providing not only useful ride saving 'Every Day Carry' tools but also to getting more people away from work and out on their bikes, something they are continually working on.
When it comes to partnering with companies, we always look for those who share our values. starting out as a small business ourselves we can appreciate all the hard work and care that OneUp have put into developing such revolutionary products.
We also try our best to protect the trails that make our destinations what they are today as well as protecting the environment as much as possible, like us OneUp have committed 1% of their profits to go towards trail up keep and saving the rainforest.
EDC tool in Ben's Transition Patrol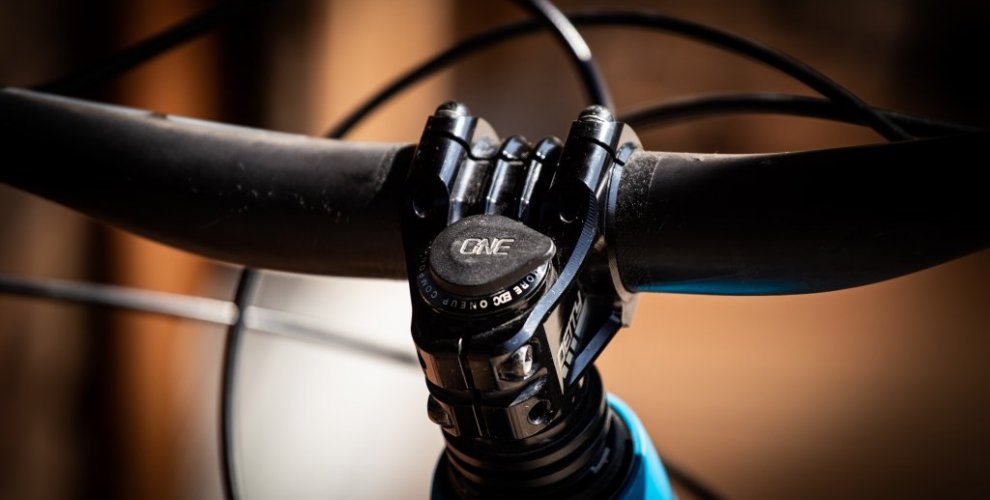 The EDC Tool
OneUps most recognisable product and arguably the tool that landed them on the map was their Everyday Carry Tool (EDC). This unique product is installed into your steerer tube and contains all the trailside assistance you need on a big day out. The system neatly tucks away and is easily accessible on any ride meaning you will never be left short on a ride again!
Featuring
10 function Multi-Tool - 2, 2.5, 3, 4, 5, 6, 8mm, T25 Torx, Flat Screwdriver.
Tire Lever, Chain Breaker, 0,1,2,3 Spoke Keys, Presta Valve Core Tool, Spare Rotor Bolt
Tubeless plug jabber cover (Small storage capsule)
Spare Quick Link Storage
12,16, 20g CO2 Cartridge Storage or 2 x Sealed Storage Capsules
All stored in your head tube or EDC Pump!
The OneUp Chainguide
By far one of the most undervalued components on any bike build the chain guide has always been a heavy, ugly but necessary addition to people's bikes. For a trail bike rider who is looking for a bike that can do it all, saving weight without compromising performance are a dream scenario and something which OneUp has addressed to perfection.
One Up also make a variety of other solutions to problems you've wanted to solve for years, and also some very neat parts to pimp up your ride.
Our EDC tools get alot of abuse and never let us down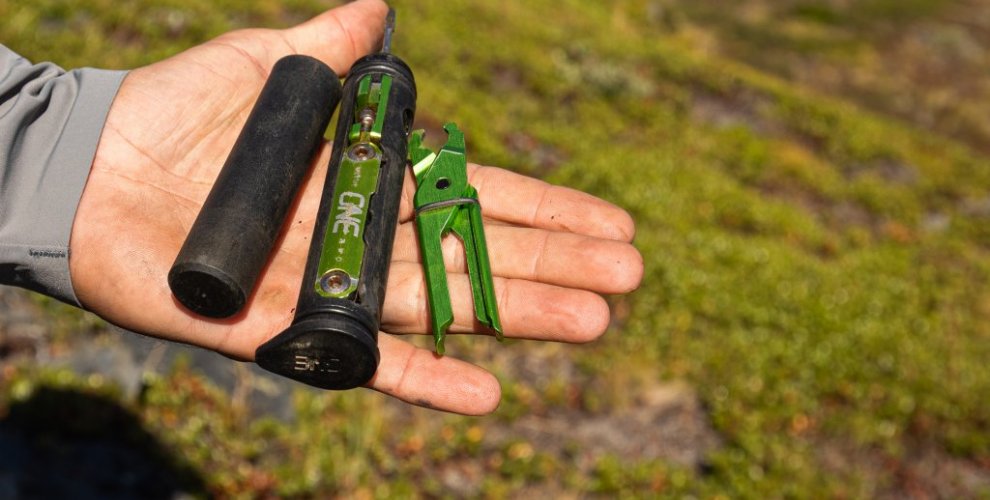 Out on the trails
Finale Ligure is home to the EWS and with it some of the roughest and most technical trails you can ride. This is home ground for our team, riding these types of trails day in day out takes a toll on yours and our clients bikes. Unlike Morzine where a bike shop is just a short chairlift away, the trails in Finale Ligure, and in any of our shuttled destinations such as Aosta can leave you with a long walk back to the van in the event of the inevitable mechanical.
When guiding clients this can waste valuable minutes or hours and of course means less time riding on the trails. With the OneUp tool installed problems are quicker and easier to solve, it gives us the confidence that if a mechanical happens to a client or team member, we have all the tools we need to fix it easily accessible on our bikes.
The trail tool range also extends to a class leading pump, that can also house the EDC tool, or other spares you may wish to carry, aswell as the nozzle providing a CO2 inflator. It's the little thoughts and innovations throughout the OneUp range that make them so unique and indispensable for any mountain biker.