There are many Airport transfer services now available in Morzine so it can become a slightly confusing task when you are trying to select one for your mountain bike holiday. We have been working with Skiidy Gonzales since 2012, even working for them ourselves many years ago when we were climbing the business ladder with skiseasonbeds.com.
The reasons we trust these guys are simple, they are professional, reliable, safe and and adaptable. All the things you'd need when looking to taxi from Geneva Airport to Morzine. If you keep reading you can make your mind up if you would trust them with you, your mountain bike and even your family in transit to Morzine from Geneva. In the winter months these guys run upwards of 70 vans in the Alps, they are a big operation with countless years of knowledge in the transport game.
In summer they provide MTB specific trailers, knowledgeable staff and comfortable vans. Shared transfers come in at around €40 per person each way, but with your Atlas Ride Co. discount code this is reduced even further. If you book your holiday accommodation with us there will be a discount code and direct link to book your Geneva to Morzine airport transfer in your booking confirmation, just another perk for your guys from us.
Of course if you have booked onto one of our catered Riders Weeks Packages then this will all be integrated into your booking once you input the flight details.
Look out for the Mexican hats, that's your driver.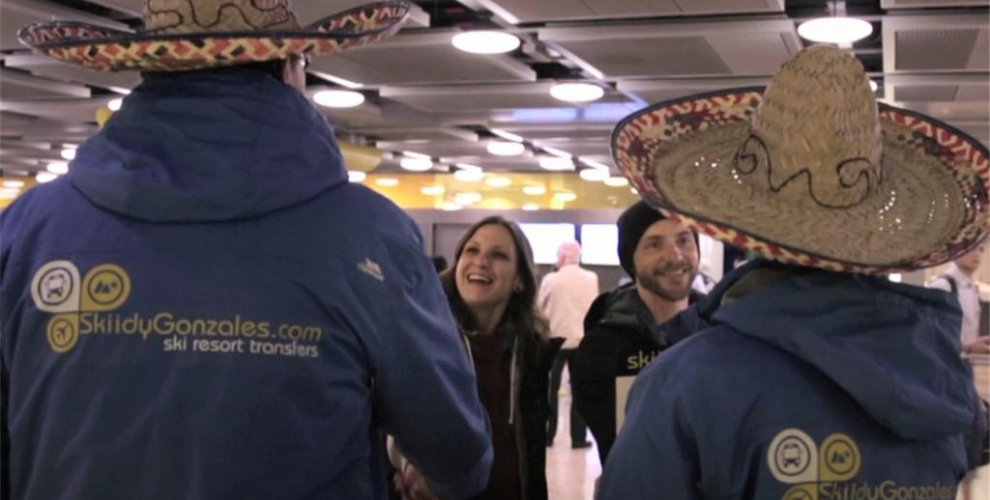 What Skiidy Gonzales say
Since our very first day we have pioneered a guaranteed shared service to the Portes Du Soleil. This service not only offers you great value but the best protection available for cases of flight disruption and has been the driving force behind our growth and market leadership. We still operate with exactly the same principles we had when we started but these days our increased operating volume provides you with even more options. This means even more protection for you.
We will never cancel for reasons of profitability and we will never abandon you. We always find a solution whatever happens during challenging winter travel conditions."
Secure online booking (travel vouchers can be printed at home)
Departure from airport within 90 minutes of scheduled flight time*
Door to door service
Flights monitored by operations team who manipulate schedules in real time as flight timings fluctuate
FREE transfer to next available seats when flights are delayed or cancelled
Transfers will NEVER be cancelled for reasons of profitability
Largest fleet of vehicles in the Alps
All addresses mapped in advance and GPS directions available on driver handsets.
Departure times sent by SMS the day before
24/7 support from operations team
Don't hang about and get over to the SkiidyGonzales website straight away and book those airport transfers from Geneva to Morzine
Summer Transfer Conditions
We will ensure that any clients landing at their scheduled time, on flights between 09.00 and 21.00, will leave the airport within 90 minutes of the scheduled time.
Delayed clients will be allocated the next available seats if their original vehicle needs to leave without them.
Delays of over 4 hours may need to rebook & pay again.
Flights landing before 09.00 or after 21.00 may have to wait longer than 90minutes to join a shared transfer.
Clients on the last vehicle of the day need to be prepared to wait until all passengers have arrived, particularly in the event of delays.
Departures are generally picked up between 3.5 and 4.5 hours before their flight.
Special arrangements exist for the Tel Aviv flight, where pax need to be at GVA 3 hours before departure: where clients depart on this flight the vehicle will be scheduled to depart resort at approximately 02:30 in order to drop off clients at 04:00 for their 07:05 flight.
These timings may impact on shared passengers on other early flights.
We will confirm pick up times by SMS as usual the afternoon before travel.
We need to be informed when clients are travelling with bikes and notified when the packed dimensions exceed 160cm x 80cm x 30cm, the maximum length we can accommodate is 190cm. Unexpected sports equipment may cause delays to the client's transfer.
It is always helpful for us to know if the bike is packed in a bag or a box in order to estimate the luggage space required, so please add any info you have to the notes