8
If you have followed the UCI Mountain Bike World Cup over the last 15 years the resorts of Schladming and Leogang should be very familiar to you, they are home to two of the most talked-about tracks of the era.
Though these two legendary trails are what put these destinations on the map but there's much more to these mountain bike destinations than what you'll see on a Pinkbike race report and we have made this Epic Tour to show you exactly that. You choose what you ride, be it the DH World Cup tracks all day or the HUGE BIG5 adventure ride with 5,000 meters of DH trails, breathtaking views, and epic peaks!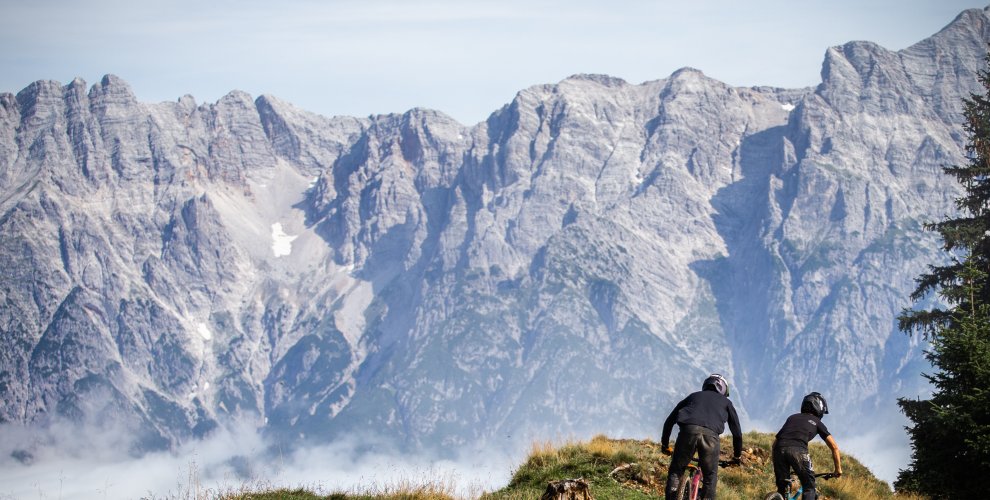 What's included
Return Transfers

to Salzburg or Munich* airports to Leogang and from Schladming (

*Subject to availability and an increased charge)

3 nights half-board

hotel accommodation in Leogang

Transfer

from Leogang to Schladming

4 nights bed and breakfast

accommodation in Schladming with Half Board option*

6 days lift pass

(3 in Leogang and 3 in Schladming)

Atlas Ride Co swag bag

stuffed full of goodies

Local knowledge and advice

from MTB Beds on the ground

World Cup tracks, jump lines, and Enduro heaven!
This tour will take you from legend to legend with the very best of these epic Austrian resorts thrown in along the way! Supported through the week by your driver, vehicle, and our people on the ground you are in safe hands to explore this MTB wonderland! Bring your jumping shoes as Schladming has just built the A-Line of Europe at the top of its bike park!
This trip maybe built around riding famous tracks you've seen the likes of Sam Hill and Aaron Gwin tear apart in race runs, but you'll find in both Schladming and Leogang / Saalbach resorts offer an incredible mountain bike holiday experience.
To secure your place on the World Cup Legends Tour A 30% per person, booking deposit is required. Deposits are non refundable and the full balance is due 8 weeks before your arrival in Austria.
We try to keep all groups together but sometimes when numbers are odd you might be sharing a room with a member of another party. We will however ensure the rooms are the same sex unless we specifically ask you before mixing it up!
If this could present potential issues for your trip please ask about our Single Supplement above.
If you snore, prefer your own privacy or simply want to spread out and would like your own room there is a single occupancy option! for your own room. This depends on availability and is limited to a certain number of rooms per property per week.
What is the trip in a nutshell?
Based on 7 nights Saturday - Saturday in twin room accommodation with half board & bed & breakfast in central Leogang and Schladming hotels, at the base of the lift stations. Including transfers to and from Salzburg airport and lift pass for 6 days, Sunday - Friday
Saturday - Arrival
You'll be picked up from Salzburg airport* and driven to Bad Leogang, a trip of around an hour to your hotel at the base of the Leogang lift station. You'll have your lift passes ready to go for the morning, with dinner provided at the hotel. You'll also find Europe's best pump track built by Velosolutions and a couple of dedicated jump lines directly in front of the hotels terrace. to and your hotel at the base of the Leogang lift station. You'll have your lift passes ready to go for the morning, with dinner provided at the hotel.
Sunday / Monday / Tuesday
Shredding Leogang bike park. You can also use you lift pass to access the trails in Saalbach and Hinterglemm. For a detailed idea of what you could be riding, check out this link. The accommodation in Leogang is on a half board basis, so breakfast and dinner are provided for you. Check out Mama Thersl for a post ride beer, dip in the hotel pool, lap the pump track!
Tuesday Post Riding
You'll finish riding and will have shower facilities at the hotel to get yourself cleaned up, bike kit packed up and ready to make the trip to schladming. You'll take 1 1/2 hours to make the trip, so the van will aim to leave at 18h to get you there, checked in and ready to go for 20h. The hotel in Schladming is on a bed & breakfast basis, so it's time to get out and explore the bright lights of town.
Wednesday / Thursday / Friday
Take on Schladming, one of the worlds greatest downhills tracks, one of Europe's best jump lines and some of the wildest bike park runs you'll ever do. There's the option to get to Rieteralm aswell, an enduro zone that is covered on your lift pass and a short drive from Schladming. For more information on Schladmings riding, click here.
Saturday
Departure, it's time to pack up and take the transfer back to Salzburg airport.
Can I change the arrival and departure dates?
The tour does need to run Saturday - Saturday. However if group numbers allow it maybe possible to adjust this, subject to availability and an increased charge.
Can I book a group larger than 8?
Yes, we can accommodate up to 16, though it will be subject to availability.
Can I travel as an individual?
Yes, though each week will require a minimum number of 4 clients to run.
Can I travel to a different airport?
Transfers can be arranged from Munich airport subject to availability and an increased cost of £200 per person.
What is the cost without transfers as I want to make my own way to Austria?
If transfers are not required the total cost of the trip is reduced by £100 per person.
Is Half Board an option in Schladming aswell?
Half Board option is an extra £20 per person per night.
Can I stay in just one resort?
If you wish to stay in Schladming or Leogang for the duration of the week the cost is £849 based on bed & breakfast and transfers to and from Salzburg airport, with a 6 day lift pass included.
How many trails are in Schladming & Leogang?
For more information on the trail network, check out our Schladming and Leogang resort guides
Recommended bike?
We would recommend a downhill bike for Schladming. It's a gnarly place to ride and to make the most out of the downhill tracks there a big rig would be ideal. That being said we have shredded all the trails here on long travel 27'5 and 29ers so you will be able to have an amazing time on your sturdy enduro bike aswell, we'd say a minimum travel requirement of 150mm front and rear. In Leogang either bike is appropriate, though we would not recommend taking the downhill bike across the Saalbach, the trails there are good but it will be hard work getting there.
If you ride in Reiteralm an enduro bike is recommended.
You should bring a full face helmet and all the protective equipment you would feel comfortable wearing.
Can I hire a bike?
There is a well stocked bike shop at the base of the Planai & Leogang lifts that have downhill and enduro bikes for rent. They are confirming brands and pricing with us at the time of writing.
How far away is Reiteralm?
It's around 15 minutes by van. Though technically in Schladming the trails start quite far up the hill one valley from the main riding area. You can easily ride back to Schladming from Rieteralm however. a private transfer there costs €12 per person for a minimum of 4 people, and a public bus service will be running from 2020 that can take bikes, to be included with your lift pass.
How far way is Saalbach?
As the crow flies not far at all, one valley, however to ride there takes around 1 - 2 hours depending on fitness, the trail linking the two resorts is flat and quite challenging, there will be alot of pushing!
Do you need a guide?
No, not in Schladming. However in Reiteralm you will access the better trails more quickly with one. A half day with a guide costs €30 per person based on a minimum of 4 people, and is all you'll need to get your bearings quickly.
Schladming is an excellent place to get some coaching. The bike school run by Austrian World cup legend Markus Pekoll would be a great addition to this trip. Prices TBC.
If you want to get some proper back country in around Saalbach a guide is good idea, contact us if you do. You will find all of the trails very well sign posted.
Is Schladming a big town? Bike Shops, Bar and Restaurants easy to find?
Schladming is a big mountain town. It has a couple of supermarkets, many bars and restaurants of all types. There is a good supermarket 30 seconds from your hotel, and a good bike shop even closer, it's even got it's own brewery making the refreshing Schladminger Pilsner , and a very modern and well equipped hospital, which you hopefully won't need!
Is Leogang a big town? Bike Shops, Bar and Restaurants easy to find?
Bad Leogang, where the riding and hotel is, is tiny, there are a collection of hotels, a couple of cool bars and one huge bike shop. There is a small store selling essentials. The main hub of Leogang is marginally bigger, 15 miuntes ride away
What is the average cost of a beer? An evening out?
A pint of Austrian pilsner will set you back between €4.50 and €6 depending on where and when you buy it. Dinner in a decent restaurant will cost you around €12 - €20 per main course.
Will I need insurance?
Absolutely. With the UK's departure from the EU your EH111 card no longer covers medical care. You'll also want insurance against other circumstances such as bike theft, damage or cancellation for personal reasons. We recommend Yellow Jersey. Booking with us gets you a discount code for a 10% off.
Property gallery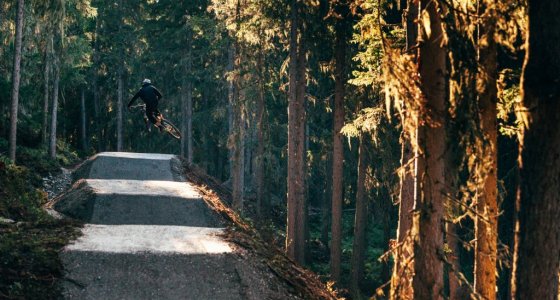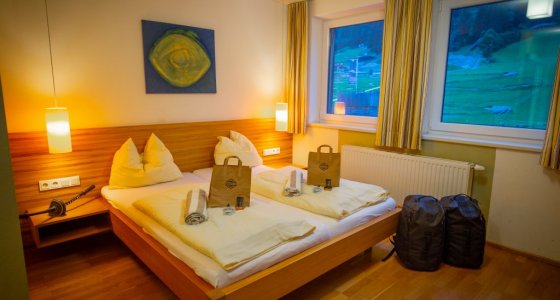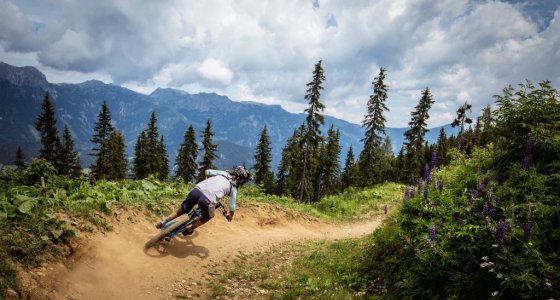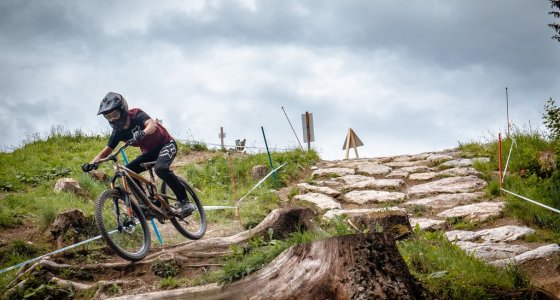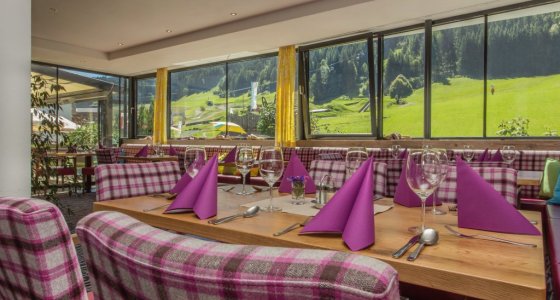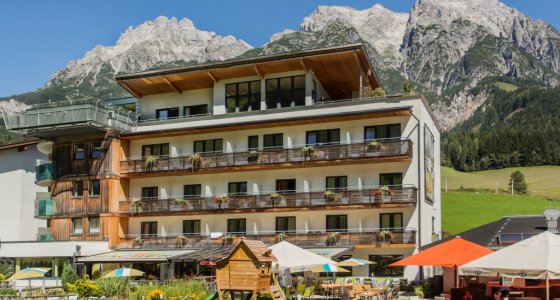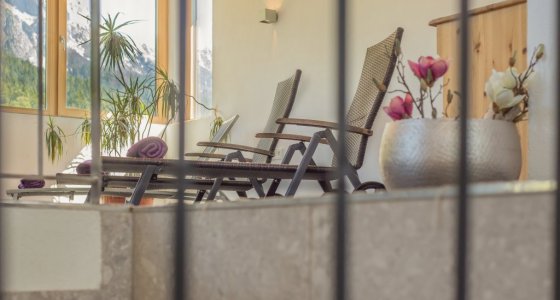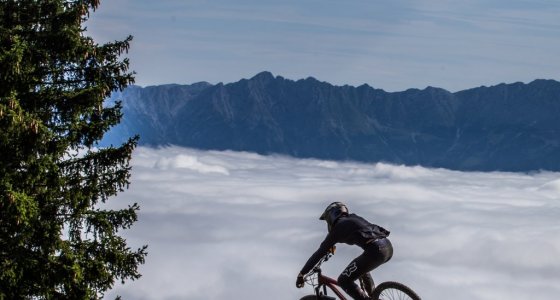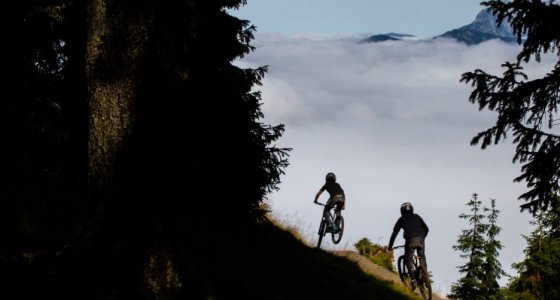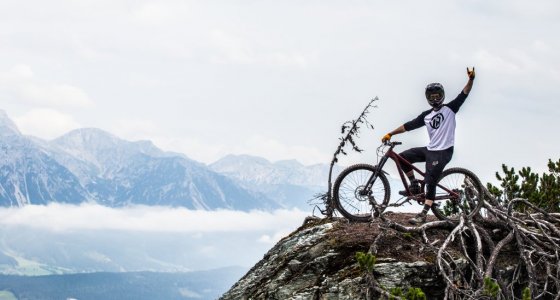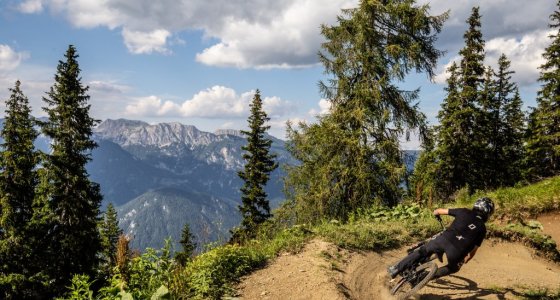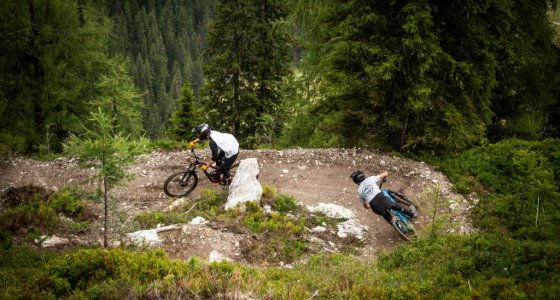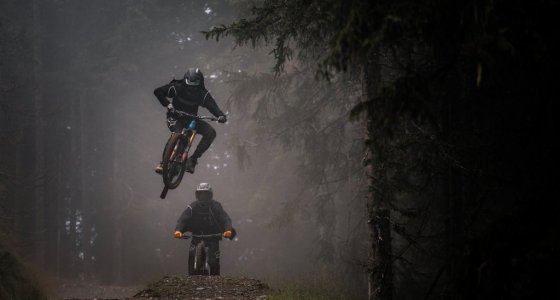 Booking and Availability
Please select your preferred date below or use the enquiry form to start the booking process. Please feel free to contact us to discuss any elements further before booking if you need to. Once your booking is made you can always make amendments at a later date if you so wish.
PRIVATE GROUPS - please contact us for a custom tour on a specific date and one of our team will get back to you ASAP!
Rob Brown
Mon, 09/13/2021 - 17:29
Amazing trip in the Tweed Valley, 4 days of brilliant trails and expertly guided by Craig. Great location as well based from the Glentress Hotel.

Ben Plenge
Mon, 08/30/2021 - 13:54
I have just got back from a week at Chalet Chappelle in Morzine and I was blown away by the MTB Beds experience and their team. It is insane value for money when you consider the quality of accommodation, food and facilities. Everybody there was super friendly and full of useful local knowledge and positive energy. The whole holiday was very slick and well run and it helped us all to have an awesome time. I will certainly be coming back to MTB Beds for my next trip. Ben