Looking for the best catered MTB chalet in Morzine? The Riders Weeks Mountain Bike Holidays offer the most complete MTB package you will find in the Alps. With a dedicated staff to provide all the local knowledge, professional mechanics on site and chefs that blow the local restaurants away you simply can not go wrong. Bigger and better than ever before and continually growing and evolving to meet the expectations of our clients old as well as new.
We have over 50 spaces available per week over the four properties running from Saturday to Saturday over the summer mountain bike season in Morzine. That's when the trails open in June to when the lifts close in September. From our flagship properties in Chalet Chapelle or the newest addition, Five25, which is available to book for groups and families, we have your Morzine Mountain Bike holiday covered.
Everyone is welcome, and here is what's included
Single travellers, mixed groups, lads groups, girls groups, small groups, mates, couples, families and kids. We have had everyone from every kind of background through our doors at some point. Our experienced team are well versed in meeting your needs whoever you are, because like you we all just love riding our bikes. We aim to know what you need before you do, keeping us #ONEPEDALAHEAD
Accommodation in the centre of Morzine with Hot-Tub and Sauna
Full Portes du Soleil lift pass for 6 days
Amazing two-course meal served 5 nights of the week and continental breakfast with eggs 6 mornings a week
Airport transfers from Geneva with bike carriage included
Bee Kind Toiletries with fresh, crisp cotton linen and towels
SWAG BAG with legit goodies from our partners such as Peaty's, OneUp Components, Granite straps and FOX Racing.
Custom Bike Wash down area, tools, pumps and bike work stands
FREE Peaty's cleaning and lubricating products
Mechanic and workshop onsite
Kit washing facilities
Passionate, knowledgeable staff always on hand to help.
Our Catered Chalets in More detail
Chalet Chapelle, this property is a large chalet sleeping up to 20 people over 10 ensuite bedrooms covering 2 floors with a huge balcony, hot tub, steam room and much more! Chalet Chapelle has been our flagship chalet in Morzine due to its abundance of essential facilities we believe are needed for our clients to have the best Morzine mountain bike holiday possible.
Apartment Chapelle is the penthouse, self-contained portion of Chalet Chapelle, with access to all the same features as the main chalet with the added bonus of a private sauna and lounge area and a separate chef and host team.
Chalet Five25 is a twist on the Riders Week program. Best suited to exclusive group bookings and ideal for families, we've set it up for you and up to 13 others with your own host, chef and private garden in the centre of Morzine. For more information on this chalet setup for exclusive bookings, click here.
Morzine Riders Week MTB holiday video
Chalet Chapelle - The flag ship Morzine MTB chalet
Chalet Chapelle is the largest in the Atlas Ride Co offering, sleeping 20+ people over its 10 bedrooms. The chalet also benefits from a large and very sociable 'Peaty's lounge' area on the 1st floor with several big sofas placed in front of the flat-screen TV, perfect for some down time after a hard day riding in the Portes du Soleil. This area also has direct access onto the balcony with tables and chairs and stunning views of the mountain peaks that surround Morzine, Nyon and up to Avoriaz.
Bedrooms have balcony access looking out towards the Pleney Mountain or from the back of the property looking out towards Avoriaz and the stunning cliffs. With a hot tub, sauna, the in house mechanic on site and outside pit area with Park Tool setup and Peaty's bike wash, it's a massive joint that feels like a big boys club house, dedicated to mountain biking.
The apartment is located on the top floor and sleeps 8-10 people across the 4 bedrooms, with your own chef, host and access to all the same great features of the main chalet.
Rider owner and rider run
The Riders Weeks are fully catered and the quality of the food is something we have always been hot on, we love eating as much as riding. We have had our professional chef Tiffany for the past 4 years and she will be training our future chefs so you can expect great food once again. Breakfast is a continental affair with the option of poached/scrambled eggs.
Sample menu
Mains
Rolled beef short rib with red wine jus, crushed potato and shoestring fries, broccoli with a vinaigrette dressing
Roast Supreme Chicken with lemon and thyme, pesto new potatoes and a salad of sugar snap peas and caramelised onion
Asian marinated roast pork belly with a chilli caramel glaze and fried rice
Deserts 
Vanilla pannacotta poached berries and biscuit crumble
Peach tart Tatin with vanilla ice cream
Homemade chocolate brownie, salted caramel ice cream and peanut, popcorn praline
Anyone and everyone is welcome, from pro to weekend hero
The Riders Weeks are designed for any level of rider and are available to individuals and groups alike. They are designed to provide you with everything you need for your week of mountain biking in Morzine. Children Under 16 must be accompanied by an adult. 
The Chalet also has free Peaty's products for everyone to use, a fridge full off beers and wine, spare parts including pads, tyres, tubes etc available for purchase. You can also expect top advice on the local mountain biking area and the best trails and a mechanic for serious mechanical failures.
What you need to bring
Yourself and your mountain bike | Spending money for lunch, nights out and bike parts | Your trunks.
 
What we can help with
All our Riders Weeks chalets are located in the very centre of Morzine and about a two-minute ride to the Super Morzine or Pleney mountain bike lifts giving you access to the vast Portes du Soleil mountain bike area and trails. The location of the Riders Week chalet is the best in Morzine, you have to see it to believe just how good these locations are. Super Market, Shops, Bars, lifts etc all on the doorstep yet at night you have a quiet street and time to relax! Morzine at its finest. 
With everything you could need onsite
Our Riders Weeks chalets are equipped with all the facilities you could need for your MTB holiday in Morzine. You have an outside space where you can tinker with your mountain bikes before locking them away in our secure storage units. If your skills are not up to the job, our mechanic will be there to help. This is not a free service but it's a very good value one. With ParkTool work-stands, track pumps and cleaning brushes on hand with Peaty's Products we offer all our customers including oils and cleaner. 
Our Staff are hand-picked from hundreds of applications each year. They join our year round team, these guys have the knowledge and passion to make sure your holiday is one to remember, talk to them, ask them questions, we train them to make sure they always have the time to chat with you. They love riding their bike as much as you and will be just as happy talking bikes as they will be shredding on the trails.
Our staff make Atlas Ride Co. what it is, they are awesome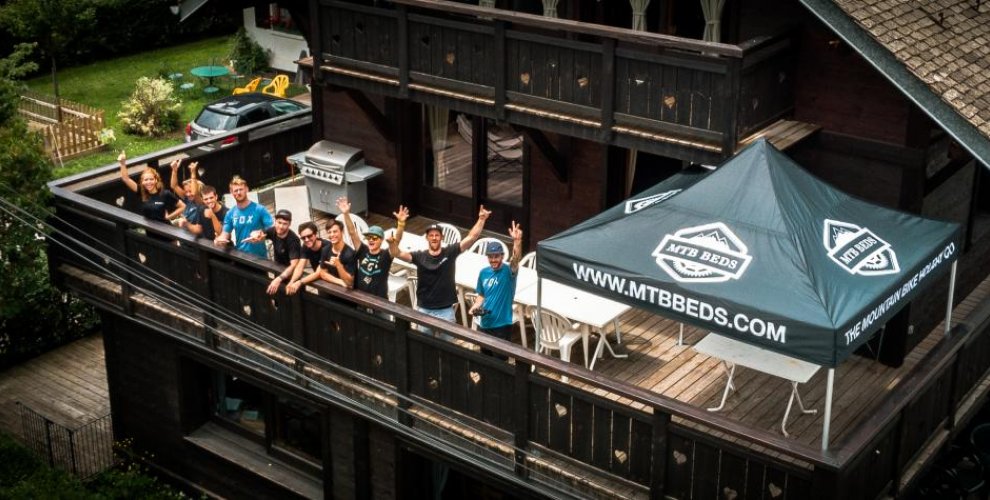 Amazing value and extensive knowledge
A 30% per person, non-refundable booking deposit is required to secure your place on the Riders Week, the full balance is due 8 weeks before your arrival in Morzine.
We look forward to seeing you in Morzine and showing you some of the amazing trails and riding that this fantastic resort has to offer. Our changeover day is Saturday, so please choose dates that start and finish on a Saturday, also consider this for flights.
For more Information click on your chalet below for FAQ's, single supplement options and more details on what we offer for your mountain bike holiday in Morzine.
Chalet Chapelle, the ultimate Morzine MTB Chalet