Road Cycling in Morzine is steeped in history and has been visited 21 times by the Tour de France. Road cycling in Morzine is simply unforgettable. From the Col de Joux Plane to the Col de Joux Verte and many more these epic road bike rides in Morzine are just minutes from your accommodation making Morzine the perfect spot for quick road bike trips or long-stay road and triathlon training camps.
Morzine is known for its abundance of road bike climbs and tough, daunting mountain roads. It is also perfectly suited to less challenging routes, which is part of why it's so popular with summer holidaymakers and road cyclists throughout the summer season. Whether you're a professional road cyclist chasing miles, or just want to enjoy the scenery followed by a coffee and pastry, Morzine has something for everyone on two wheels.
Road cycling in Morzine provides some truly stunning view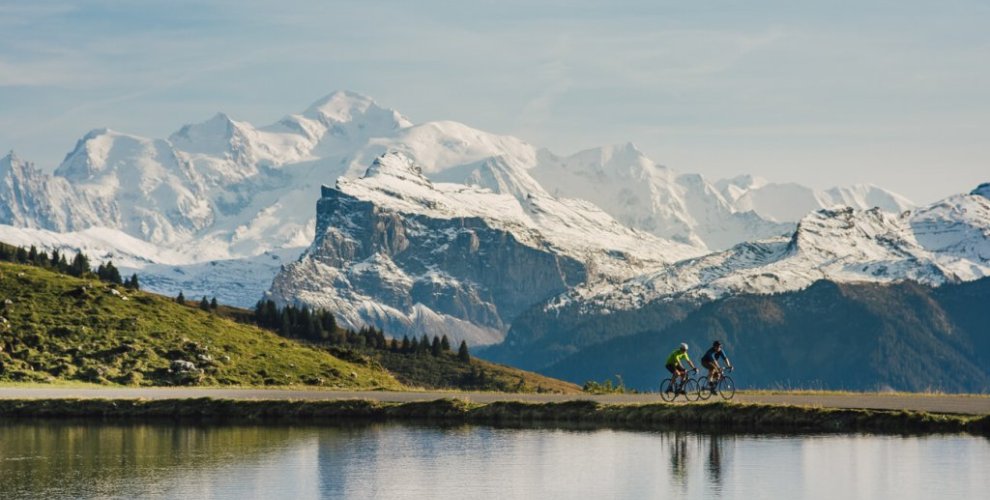 Why choose to road cycle in Morzine
Two of the most famous Cols in the area, Col de Joux Plane & Col de Joux Verte, are accessible right from the heart of Morzine, and there is the Montee d'Avoriaz (AKA Col d'Avoriaz) climb which starts at the Morzine church. Montee d'Avoriaz first appeared in the 1975 Tour de France, and the best time of 33 minutes still belongs to Bernard Hinault - there is a clocking in and out machine available all summer to see if you can get close!
The Tour de France returns to Morzine in 2022 on 11th July for a rest day, before starting Stage 10 on the 12th July from Morzine, setting off on a 148km hill stage to Megeve.

Watch the 2022 Tour de France in Morzine
The Tour de France returns to Morzine in 2022 on 11th July for a rest day, before starting Stage 10 on the 12th July from Morzine, setting off on a 148km hill stage to Megeve. Stage 10 of the 2022 Tour de France mostly sticks to the valleys, so is classed as hilly. Stage 10 starts from Morzine and heads for Thonon-Les-Bains, on the shore of Lac Léman, before heading south towards Cluses and Sallanches. To finish the stage, the riders are faced with a climb to the line at Megève Altiport, a 19.2km climb at 4.1% gradient.
Col de Joux Plane
Although there are several ways to ride the Col de Joux Plane, either in a 52km loop from Morzine, in an up and straight back down fashion from Morzine, or in its more traditional route from Samoens. All of which are equally worthy and tough on the legs, so it's really just about finding the one that best fits your needs.
From Samoens, the average overall gradient is 8.5% over the 11.6km climb to the summit. The erratic nature of the climb prevents any cyclist from ever truly getting into a rhythm (part of why it's so fierce). At its steepest, the gradient is 12.5% (around halfway through), and the final 5.5km averages out at 9.5%, meaning you need to save some energy in the tank for the second half. After climbing 998m, you're greeted with the descent. However, after 2km of glorious downhill, you have another short, steep climb to Col du Ranfolly, then it's 12km descending to the valley floor where you'll be greeted by the Morzine coffee shops and bars.
It's worth bearing in mind that there is very little shelter on the Col de Joux Plane, combined with it being south facing, heat exhaustion and dehydration are common if you don't properly look after yourself and take on plenty of fluids.

Take on the sweeping hairpins of Morzine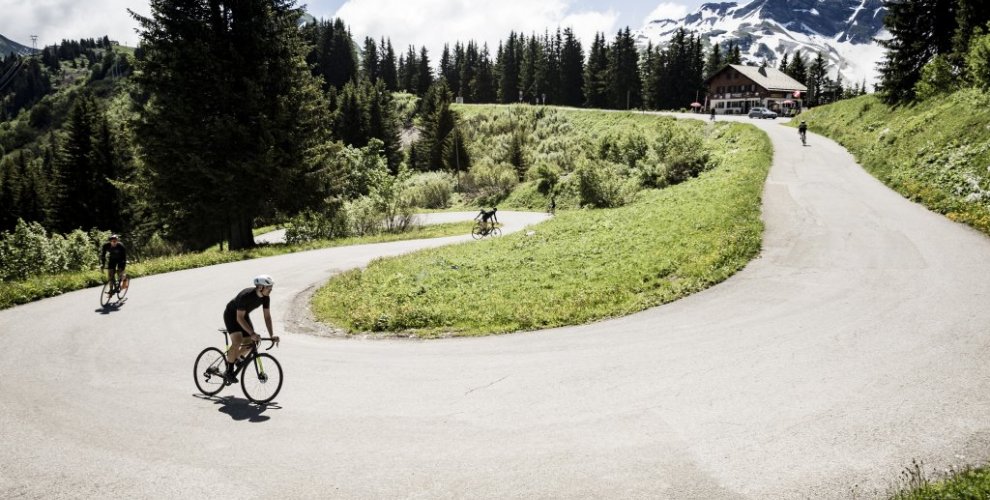 Col de Joux Verte
Col de Joux Verte is one of the more scenic rides in the area and is full of features. Rideable in a loop and in either direction, both starting and finishing right in Morzine, you'll enjoy a waterfall, a goatherd, 19 hairpins, an alpine lake and stunning scenery (and possible views of Mont Blanc on clear days), so definitely one to tick off.
Either head along Route d'Avoriaz and tackle the 19 hairpins in a tough climb right off the bat. From there, ride through alpine pastures with stunning views, swing by the goats and Ardent waterfall before passing Lac Montriond, where you'll have earned a quick dip if you wish.
In reverse, you'll head towards Lac Montriond and Ardent waterfall, then after the goats, you'll be faced with a steady climb to the summit before enjoying the epic descent through the 19 hairpins on your way back to the village of Morzine.
In either direction, it's one of the best rides in the area, albeit not as famous or steeped in racing history as others nearby.

Montee d'Avoriaz
Montee d'Avoriaz (AKA Col d'Avoriaz) is 14km long and with 20 hairpins, this climb averages a 6% gradient, but with some sections at 10%. Popular as a test when you arrive in Morzine and again before departing, or sometimes tagged on to the end of longer rides for people that like punishment. The beauty of this climb is you can enjoy the Col de Joux Verte descent from the top to take you back to Morzine. With a clocking in and out machine available all summer, you can challenge the record set by Bernard Hinault of 33 minutes!

Your Stay in Morzine
With a total of 25 cols within 50kms of Morzine, including Col de Joux Verte, Col de la Ramaz, there's plenty of challenging routes to tackle during your stay in Morzine. Our partners Season Guiding will cater a trip around what you want to tick off, as well as offer their expert advice from years of living and riding in the Morzine area.
MTB Beds have a number of bike-friendly accommodation options; fully-catered chalets, hotels and self-catered apartments so we can arrange any bike holiday you dream of. And with plenty of amazing food options around, either in town or prepared in house by our professional chefs, you won't run short of calories to burn!
Where to Hire Road Bikes in Morzine
For guests that aren't able to travel with their road bikes to Morzine, or maybe you just fancy trying the latest model, we've partnered with two local shops, Torico in Morzine and Evasion in Les Gets. Both shops offer the latest model road bikes available for hire across multiple brands, including from our partners Specialized, as well as from Cervelo and Scott.
How to Travel to Morzine with a Road Bike - Plane, Train or Drive?
A common question we're asked is "How should we travel to Morzine with a bike?" Morzine is one of the most easily accessible alpine resorts in Europe. If you're travelling in a group, driving is easily doable, taking about 8 hours from Calais by car. Morzine is approximately an hour and a half from Geneva airport, with flights costing around £100 in summer, including a bike. Geneva airport is serviced by most UK airports, and you can get flights by BA, Swiss Air, EasyJet and others. Possibly the most relaxing route, travelling by train is becoming increasingly popular, allowing bikes on board for free. Catch the Eurostar from London to Paris Gare de Nord and then get a direct train to Geneva to catch one of the private transfer options run by our partners Skiidy Gonzales (Geneva transfers are included in Riders Week packages). An alternative station is Cluses, which is closer to Morzine, but a longer train ride with a change at Annecy.