Morzine is one of the most accessible and well sign posted trail networks in Europe, this brings riders from all over the world to the Portes du Soleil for a mountain bike holiday from first time beginners to world class athletes. The beauty of mountain biking in Morzine is that it really can do it all. Even with the hundreds of kilometers of riding on offer, there is still scope for more. Some of the best trails in the area are hidden away or hard to find and the best way to unlock them is with a professional guide.
We are excited to be working with Season Guiding, bringing the collective expertise and trail knowledge of some of the best guides, coaches and riders in the area. Not only in Morzine and Les Gets, Season work from Chamonix aswell, enabling some awesome riding opportunities in this part of the alps. From coaching beginners on jumping technique to epic tours of our valley and beyond, Season Guiding and Atlas Ride Co can ensure you make the most of your time in the alps.
To find our what a session with guys will cost and what they can offer, scroll down to the bottom of the page.
We went for a ride with the whole in summer 2021 and sat down with owners Antoine and Benji to find out more about Season Guiding
What is Season Guiding?
Season Guiding was born from a group of friends gathered round sharing the ride. We offer our clients different experiences, from 2 hours tuition to improve their bike skills, to an all inclusive riding week around the Mont Blanc and even further!
How many guides work for Season?
We are actually 7 guides, based in Morzine and Chamonix but riding in many places!
What bikes do you ride?
Specialized only! We mostly ride FSR Enduro and our E-ride choice is the Levo. We make no secret of having good times riding Stumpjumper, Diverge or even Pbike when the spot and conditions are made for it.
How long have you each been riding?
Antoine: Started when i was 7, riding downhill within the Velo Club Des Gets. I also compete in Downhill for few years at à national level. But my goal was to discover the Mountains on my bike, and share my passion with friends!
Benji: Not a long time since I didn't want to use stabilizer wheels when I was kid. The first pictures of me on a bike are dated 1992 in les Arcs. I competed in dowhill between 2004 and 2015 up to the world cup serie. In 2015 the birth of my first son made me focus on my family and also to start sharing my bike passion with family, friends and clients.
hitting up some fresh lines in Morzine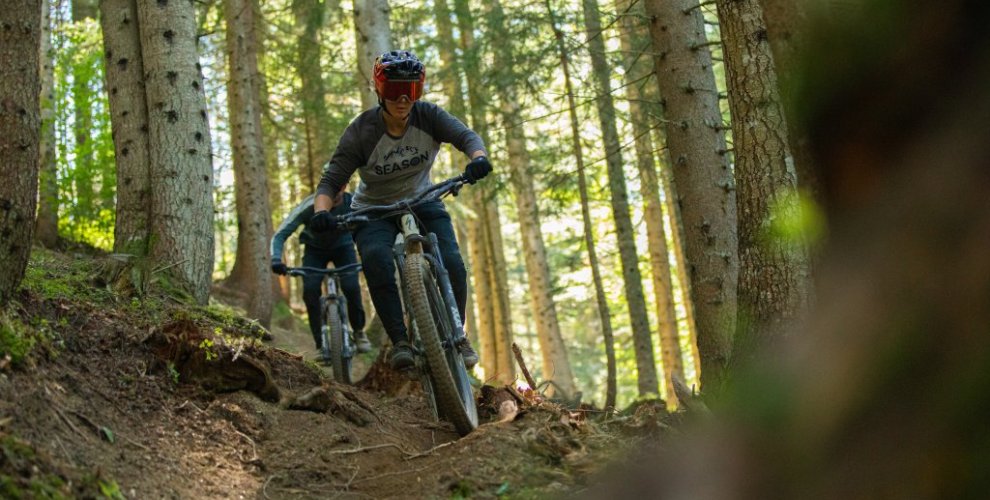 What is the best part of being a mountain bike guide in France?
We are really lucky to live in the Alps, so as a mountain bike guide we have tons of amazing trails to make you discover! So the toughest is maybe to make a choice between all the trails.
What's different about guiding between Morzine and Chamonix?
Two places really close, but with 2 different types of trails! Morzine is THE place for bikeparks, to shred big trails all day long, with the lifts! 2 amazing sides, Super Morzine which is the place to shralp the berms, and the Pleney, the place to ride the roots and the steep! Chamonix is more adventure, with lots of amazing mountain et tech trails, an amazing atmosphere at the feet of the biggest mountains in Europe! But also tons of flowy trails all around the Chamonix Valley!
Steep chutes on Le Pleney? Check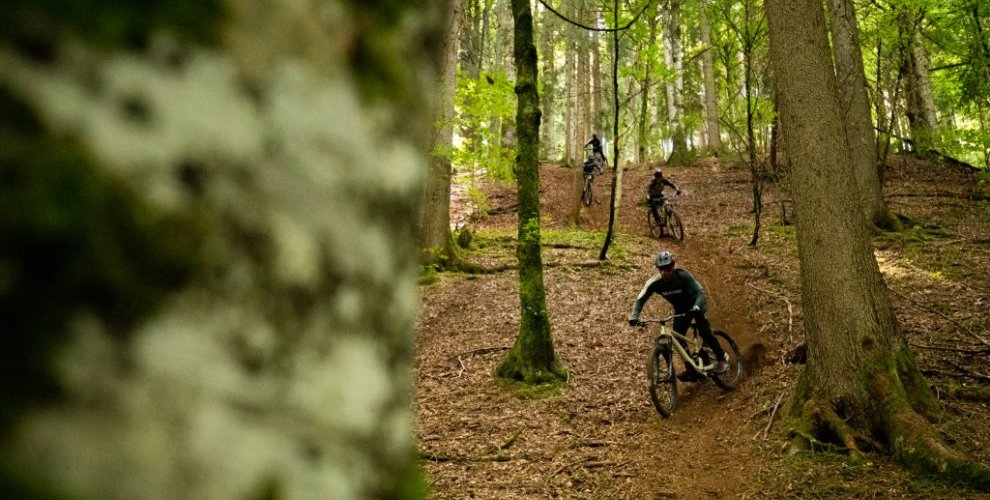 You've got one trail left to ride, anywhere in the world before satan makes you hand in your bikes forever, what trail?
A sunset ride from the top of the Môle? Posettes Sunset? Loriaz early morning? Invergneux during a late October sunny day, Varigotti fall sunset, Whistler "dirt merchant" early morning laps. It's impossible!
These guys know where to find the good stuff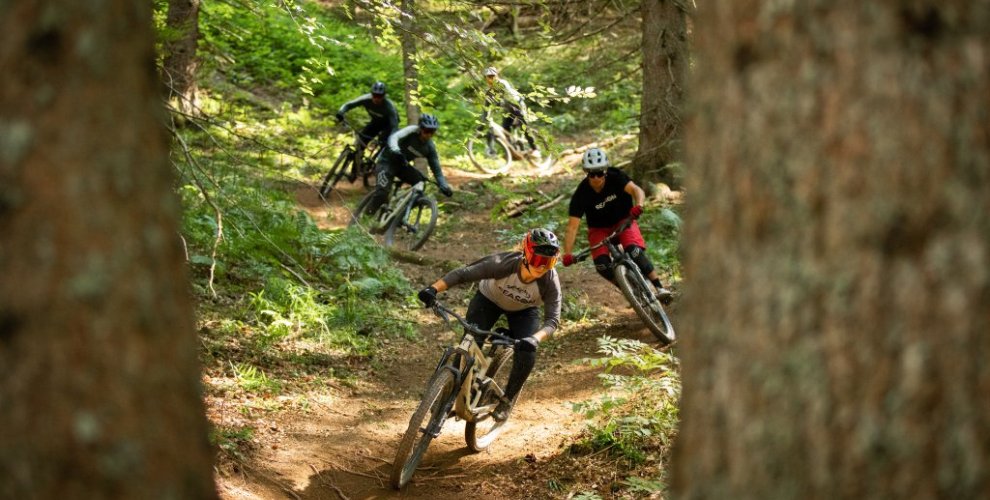 How important is having a mountain bike guide in Chamonix? Are many of the trails there illegal and others disputed with walkers?
Benji: We have been talking about this ban in the tough parts about guiding in France. It makes it harder for any biker coming to Chamonix to enjoy his stay during July and August. There is an official text banning bikes on almost every trail of the valley and lift access on the Brevent area is super restricted for bikes. Being local, it's annoying but this ban is not new (after 20 years of riding in the area we always had to deal with it). Now we learnt to live with it and we focus more on backcountry itineraries and secret runs where we don't encounter walkers. We also move to the close Italy and Swiss Valais which are great mountain bike places. What do you think is the most important skill a mountain biker can master? Versatile! Being fit not only the legs (let's talk about arm strength at the bottom of Pleney!) Being technical but not only at high speed. It's not only one skill!
Tom, Benji, Antoine and Juliette ready to get started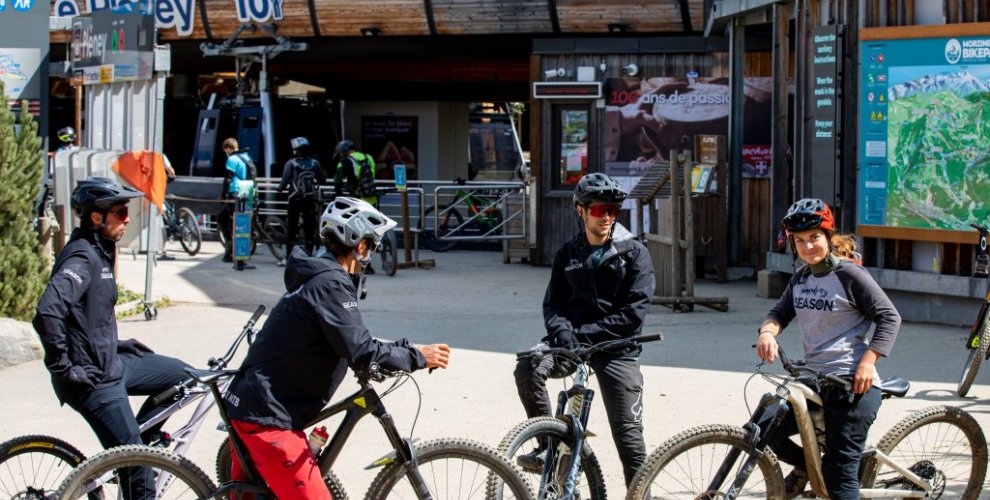 If you were asked to take an expert group riding anywhere in the Portes Du Soleil, where would you go?
Antoine: Maybe the hardest is to make a choice ahah! You want to break the berms as Kade Edwards? Just go to Morgins! You want to jump as Vinny T? Just go to Chatel! You want to shred the roots as Paulhette? Stay at Morzine!
If you were asked to take an expert group riding anywhere in Chamonix, where would you go?
Benji: Les Houches for proper loam BC inspired runs. Or the top of the Aiguillette for the unique scenery or even Vallorcine DH track for World Cup suspension and arms tuning.
Give us a good reason why clients would call you in to show them around Morzine when everything is already so well laid out?
You know trails change throughout the season, and because we are riding everyday here, we know exactly where and when to go! But we are also all locals guides, so we have our little secrets! So we turn off Strava, and follow us, but stay quiet please, you have to remain discreet!
Days out with a guide are always memorable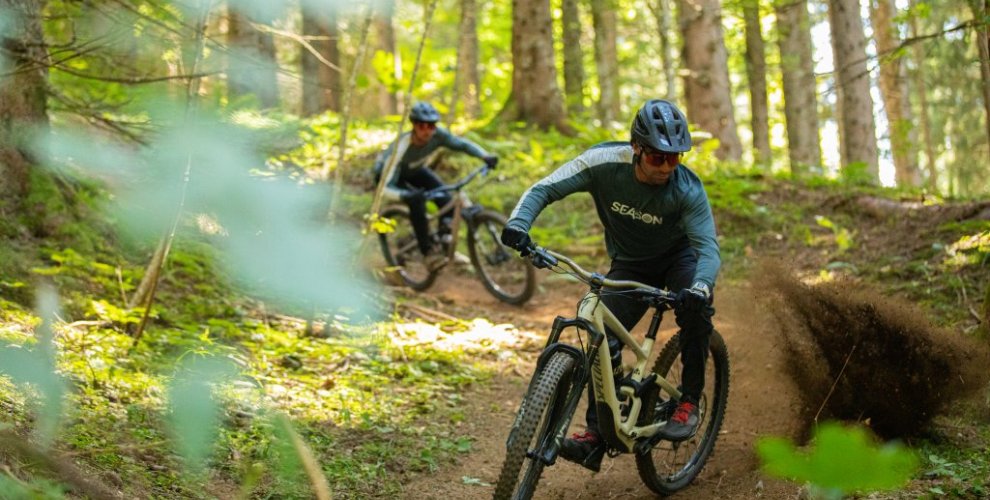 How much does a day with Season Guiding Cost
It's worth noting that you never really understand the true value of a guide until you've ridden with a good one. The guys at Season are awesome to work with, all completely bi-lingual and all ride for the love of riding, not as a business, you are going to have a great time.
| | | | | | | |
| --- | --- | --- | --- | --- | --- | --- |
| DURATION | 1 - 3 PAX | 4 PAX | 5 PAX | 6 PAX | 7 PAX | 8 PAX |
| 2 HOURS | €110 | €120 | €130 | €140 | €150 | €160 |
| HALF DAY | €180 | €195 | €210 | €225 | €240 | €255 |
| FULL DAY | €300 | €320 | €340 | €360 | €380 | €400 |
We have also teamed up with Season Guiding to offer exclusive trips to Atlas Ride Co clients, designed to show you as an individual or as a small group the incredible riding in our area.
Jumping & Bike Park Skills €40pp half day / €75 full day
Always wanted to get over that table top without casing, want to learn afew tips to keep you safe in the air or even learn some basic tricks, this session will get you up to speed and flying in just afew hours. It;s great way to make the most of your trip and can be catered to beginners just learning how to get air up to intermediate + riders who want to get their technique dialled. The session will run in Les Gets or Super Morzine.
Bourgeoise Early Evening Descent €40pp
Want to find the perfect way to end a perfect day or maybe you just want to get out of Morzine for afew hours, this ride starts at 16h sharp from the bottom of the Chavannes lift in Les Gets, and after a couple of lifts a bike park lap and a short traverse and climb, will take you all the way the way down into Samoens via some epic singletrack with incredible views. The price includes the transfer back from Samoens and you will usually return to Morzine by 19h.
To get booked on to one of these sessions drop us an email on info@atlasrideco.com
#ONEPEDALAHEAD