You're about to book, your Morzine trip, but you don't know if your bike is the right one for the task or, you have a choice of bikes to bring....If you are in a rush and don't want to read the long version, it's fairly simple.
If it's your first visit to Morzine, we'd probably plump for the downhill bike. You'll be giddy to hit up those gnarly bike park laps and you don't need to stray far from the lifts to have a blast. Does it limit the trails I can ride if I only have a downhill bike? Yes, the downhill bike will be hard work on the enduro trails.
If you've been a couple of time before, you maybe itching to get beyond the park and that's where a burly enduro really comes into it's own. Does it matter if I bring an enduro bike on my first trip to Morzine? No! You can shred everything! But it'll take a fairly decent whack of abuse and you'll need to be on your game when hitting up the gnarlier downhill trails.
So not so simple.
Fundamentally, the best bike to bring to Morzine is the one you have. As the industry churns out lighter and more capable downhill rigs and more capable enduro's, lighter and stronger E-Bikes, we give our opinion on what bike to bring to make the most out of Morzine, and what you may miss out on if you bring the wrong bike to Morzine....if such a thing exists.
THE TEST
Choosing which bike to bring to Morzine? Apply this test to decide, straightforward and based on the experience of our clients and what we like to ride on some of the most demanding trails on the planet.
Only have one bike? It does not matter what bike you bring to Morzine, E-Bike, gravel bike, XC, trail, enduro or downhill, you can have fun on all of them and people do all summer long. The best bike to ride is the one you have.
If you have multiple bikes and can only bring one, the real question is what do you want to ride in Morzine? If your dream is to top the Pleney GoPro Hot Lap then you are going to be turning out laps on one of the gnarliest hills open to mountain bike tourism. You're going to need a downhill bike or something very close to it. If you want to explore the hidden singletrack around the Portes du Soleil, a downhill bike is going to be a bit of a drag.
If you are driving to Morzine, and have the space you may have the option to bring a couple of bikes with you. You should check storage options with your accommodation provider before travel, but this does give you the best of all worlds! We've had clients arrive with 4 bikes in the past, downhill bike, enduro, E-Bike and one for the skate park!
It's worth noting the global bike market has changed, pre-2015 the only real choice was a downhill bike. Now the rise of rugged, aggressive enduro bikes has changed the way trails are built and allowed access to land that would be a struggle to get to on a heavy rig.
Before you make a decision on the best bike to bring to Morzine, What's on offer in each resort an which bike suits it best?
We have left wheel size alone, that's all preference. That debate is done.
MORZINE
The home of downhill mountain biking in Europe. It may only have 5 official trails but the entire hillside is littered with some of the rowdiest riding in the world. There is a reason pro's use the Pleney gondola as a training and testing ground for the World Cup season.
PLENEY - DOWNHILL BIKE
No question. Though a long travel enduro will get you down the hill, and fast, it'll suffer for it. 10% is downright dangerous when hit at full speed, Pleney mainline is flat out top to bottom. The secret trails across the hill are steep, unrelenting and sketchy. As with anything, ride any bike you want, but this is where a downhill bike really matters.
SUPER MORZINE - LONG TRAVEL ENDURO / TRAIL BIKE / DOWNHILL BIKE
Jury is out. It's an opinion. The trails on Super Morzine are some of the best maintained and designed in Europe. Sculpted berms and jumps that get a constant rework to make sure they are predictable and safe. Any of the above bikes are fine, but on Hattock, a trail bike will be a handful on the road gaps and root sections, a downhill bike will be a bit sluggish in the turns of Tutti Frutti. So if we had to pick, a long travel enduro is the best all round machine to make the most out of a day on the Zore chairlift.
MORZINE BACK COUNTRY - LONG TRAVEL ENDURO / TRAIL BIKE / E-BIKE
There's not much in the way of back country singletrack in Morzine, unless you know where to look. But you'll nee to put afew pedals in to get to it. A trail bike is good, and an E-Bike will allow you to smash out afew laps when the lifts are shut. But overall, it's still Morzine, still steep. The enduro bike wins.
BEST BIKE FOR MORZINE? - LONG TRAVEL ENDURO
It's get you down, and up everything. It's a compromise no doubt and though we don't actually ride downhill bikes all that much anymore (maybe our age showing) we definitely miss the downhill laps on the big bike on Pleney. Close run thing.
The Surrey Hills boys hitting up Mt Chery on downhill and enduro setups
LES GETS
Home to the UCI World Cup, Les Gets has some real downhill pedigree. Though you cannot ride the majority of the World cup track during the season, Mont Chery, where the track is based, has a couple of solid downhill tracks.
MONT CHERY - DH BIKE / LONG TRAVEL ENDURO
With 2 dedicated downhill tracks and some steep secret options, Mont Chery is pretty demanding on the bike and it's fast, real fast. You'll be thankful of all that travel and support in those berms at the bottom of Dans Le Gas!
CHAVANNES - DOWNHILL BIKE / LONG TRAVEL ENDURO
Several blue, red and black runs litter the Chavannes hillside. The decision is alot closer here due to the bike park nature of many of the tracks, with tirght berms and tabletops the long travel enduro works really well here, keeping speed where DH bike may not.
NAUCHETTES - LONG TRAVEL ENDURO
It's tight on the Nauchettes, on the back of Chavannes. There's new black jump line which presents the biggest challenge, and requires the odd panic pedal to keep your speed to make the gaps. The trails here aren't serious, they are fun, nimble and don't work aswell trying to charge flat out on a downhill bike.
LES GETS BACK COUNTRY - TRAIL BIKE / LONG TRAVEL ENDURO / E-BIKE
There are 2 (loosely) marked back country routes in Les Gets you can access using some of the lift system and some pedal power, aswell as afew lesser known routes that can really get you on the adventure off into different resorts and mountain ranges, if you don't know it, get a guide. Bike wise, take something you can pedal for afew hours, but robust enough to handle long alpine descents.
BEST BIKE FOR LES GETS? - LONG TRAVEL ENDURO
The downhill bike will be missed every now and then, but a bike with aggressive, modern geometry and 160mm travel or more won't hold you back. Just be careful of those braking bumps on repeated laps taking their toll, check your bolts!
CHATEL
Jumps, so many jumps, transfers, gaps and hucks. Pre La Joux has been sculpted by the likes of Vinny-T and Nico Vink, where even the green runs have sends that put most resorts to shame.
PRE LA JOUX - DOWNHILL BIKE
It's fast here, and it can get rough. Being in the shade for the majority of the day braking bumps can form quickly after rainfall. The bike takes a battering. Runs like Vink Line and Air Voltage are downhill bike territory, the G-forces you can pull in some of the berms are no joke!
If you're handy on the tricks you may find an enduro bike more suitable, but riders just look a little under biked when pressing send in Chatel.
BEST BIKE FOR CHATEL? - DOWNHILL BIKE
There is no real need to compromise. Get it all done with a big rig.
CHAMPERY / LES CROSETS
Part of Bike Park Champery Morgins, which we have split into 2 sections. Runs like Swiss National and the infamous World Cup track in Champery are serious, legit trails that will scare any rider when hit at speed. Mixed up with some flow trails that are fun to lap for an afternoon or two.
CHAMPERY - DOWNHILL BIKE
Of course it is. there are really only 2 runs in Champery, the World Cup track and a red trail riders right from the start of the official downhill track. Yes, you'll make it down just fine on an enduro bike, infact we once rode with trail builder Ben Walker here and he was on a mullet trail bike with 130mm rear wheel travel, with a plus size 27.5 rear tyre and standard 29er front, and he shredded that thing on the same turns Danny Hart made famous. but the question is what's the best bike, it's serious in Champery, bring a serious bike.
LES CROSETS - DOWNHILL BIKE / LONG TRAVEL ENDURO
Swiss National merits a big bike, but the other runs in Les Crosets less so. Jumps, tight turns and flatter sections make the enduro bike alot of fun on Les Crosets fast and open trails. You'll still prefer the big bike, but a smaller travel bike set up well wouldn't hold you back if you've got the guts to use it.
CHAMPERY / LES CROSETS BACKCOUNTRY - LONG TRAVEL ENDURO
There's not much we can talk about here, the Swiss take illegal trail access very seriously. Get a guide to make sure you know where you are going, to avoid fines and dangerous encounters with other trail users.
MORGINS
Morgins is wild. GoPro footage from this resort never fails to impress as do the edits that get churned out by the worlds best every summer. The gaps are big and the berms are some of the best you'll ever ride, anywhere.
MORGINS - DOWNHILL BIKE
Like Chatel, it's time to get wild. It's definitely a place where the stability and confidence a big bike brings does make a difference. While a burly enduro bike will be an absolute hoot in Morgins, you'll need to be that much more on your game to make everything happen, Morgins is a big boys (or girls) park that requires respect, or you'll be grabbing a face full of dirt in no time.
BEST BIKE FOR BIKE PARK CHAMPERY / MORGINS - DOWNHILL BIKE
It's close, but the downhill bike is at home over there. Some of the steep chutes in Champery and gaps in Morgins twitch the bum just a little less when you have that extra bit of travel to see you through.
PORTES DU SOLEIL BACK COUNTRY EPICS
There's quite afew. Again, unless you know where you are going or are very handy with a map and GPS, you'll want a guide. It's pretty easy end up on the wrong side of the valley when getting into the mountains, meaning a big old pedal or taxi back. MTB Beds x Fox Racing enduro ride.
BEST BIKE FOR BACK COUNTRY IN THE PORTES DU SOLEIL? - E-BIKE
An E-Bike is not a bad shout at all for hiking yourself around the back country. Yep, we said it. If you want full nature any bike you can pedal will work, down country is probably not enough so aim for around 130mm/150mm travel minimum. But if you want to explore further, the E-Bike is the tool for the job. Now, that DOES NOT mean use the E-Bike to get to places you could not on an enduro bike. If you can't pedal there yourself, don't go, you're not fit enough, sorry. The E-Bike is there to get 2 laps in where before you could only get in 1, to get you up to that ridgeline by sunset instead of risking light running out.
No matter the bike, don't let it hold you back!
If Tom Wheeler can ride Pleney mainline with one arm...your bike isn't the excuse!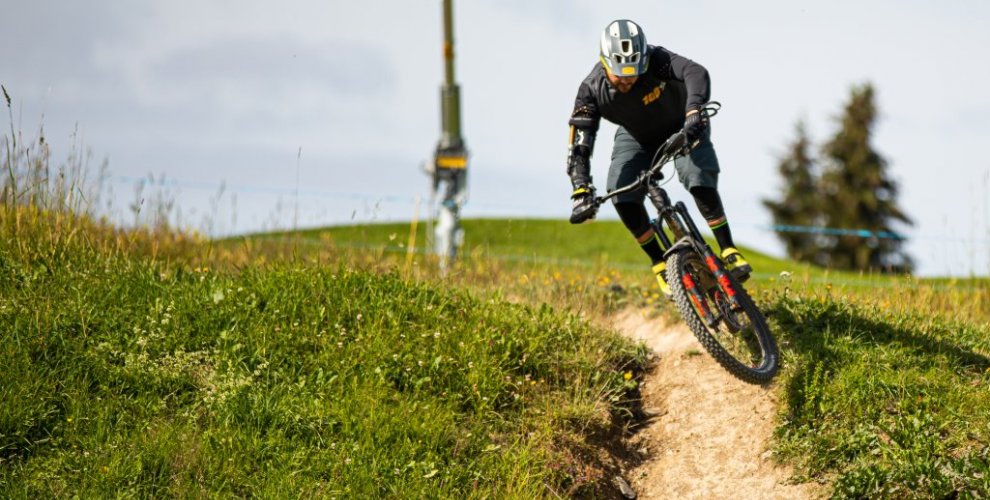 WHAT IS THE BEST BIKE TO BRING TO MORZINE?
ANSWER - LONG TRAVEL ENDURO BIKE
In conclusion, though the best bike to take on holiday is always the one you have, the rise of the long travel enduro bike as the do it all machine make it a winner in our eyes. You can shred the park, hit up the off-piste and still go for a pedal to the back country or even to the lake. It will handle it all and while there maybe better tools for specific parks or trails, this gives the most options.
Most people coming to Morzine will not have steep, lift assisted downhill runs like this at home so may not have a dh bike. We have witnessed over the last 10 years as the ratio has shifted dramatically to around 60% enduro to 40% downhill bikes coming on holiday to Morzine on most weeks.
Now, if you own a downhill bike you're probably itching to bring it. So stick in the van and get it to Morzine, you'll be sending it hard all day and won't feel like you've missed a holiday. There is no better place to ride one. Next trip however you may wonder what back country adventures you left behind, of course you can always pick a decent hire bike for a demo day...
Overall, the do it all machine is the pick because it does just that, everything.