Peaty is the man. He was winning races when you were in nappies, or he was winning races when you were in the woods pretending to be him, or he was winning races while you cheered on from the sidelines. Regardless, you know Steve, he is the reason the UK downhill scene is what it is today. Always up for a chat, a ride, a beer, he's not only a mountain bike legend but a top bloke, When one of the most successful downhill racers the sport has ever seen brings out his own line of products you know the quality is high.
We could not be more stoked to be working with the legend himself, his team and the great products.
Spraying the loam foam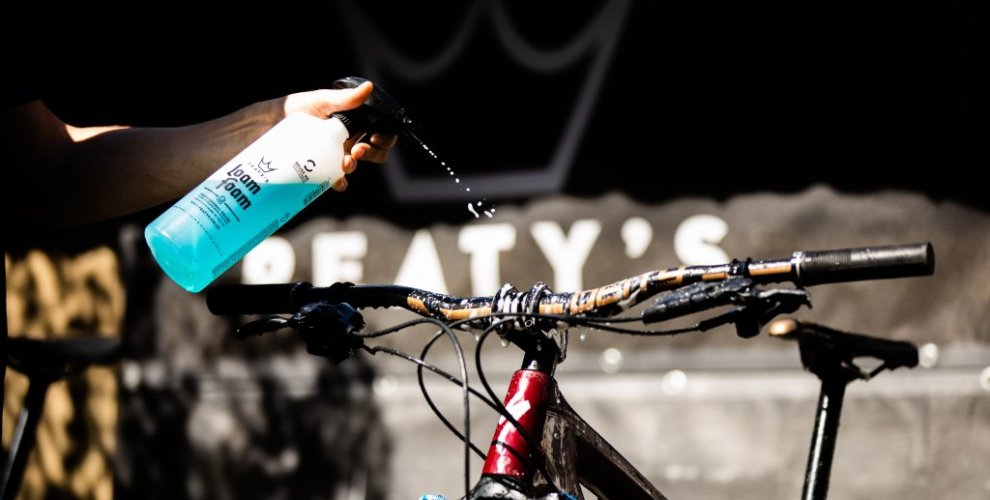 Atlas Ride Co are really excited to be involved in the growth and development of this new brand and the exciting new products it is producing. With the signature unicorn themed design and clean branding we feel this lines up perfectly with our values. Peaty's are focussed on bringing high quality products to the table designed by mountain bikers and driven through a passion for the sport in the exact same way we at Atlas Ride Co look to develop our products.
Peaty's Sealant
Peaty worked closely with a team of scientists and product developers to develop a revolutionary tubeless tyre sealant that will not readily dry out or 'ball up' within the tyre unlike most tubeless sealants currently available on the market. Yes it took afew goes but it's now in some of the worlds fastest racers setups so the proof is in the pudding!
The non-hazardous, non-toxic and completely biodegradable formula has been tried and tested by Peaty and a motley crew of the world's best Downhill and Enduro mountain bike racers on the UCI Downhill World Cup, British Downhill and the Enduro World Series circuits.
The biodegradable 'nano-platelets' in Peaty's Tubeless Sealant perform like platelets do in the blood and assist with the repair of larger holes and tears in the internal tyre. The 'nano-platelets' are completely biodegradable but look like blue glitter so if you do happen to blow a tyre off the rim, it looks spectacular!
The Peaty's Lounge in Chalet Chapelle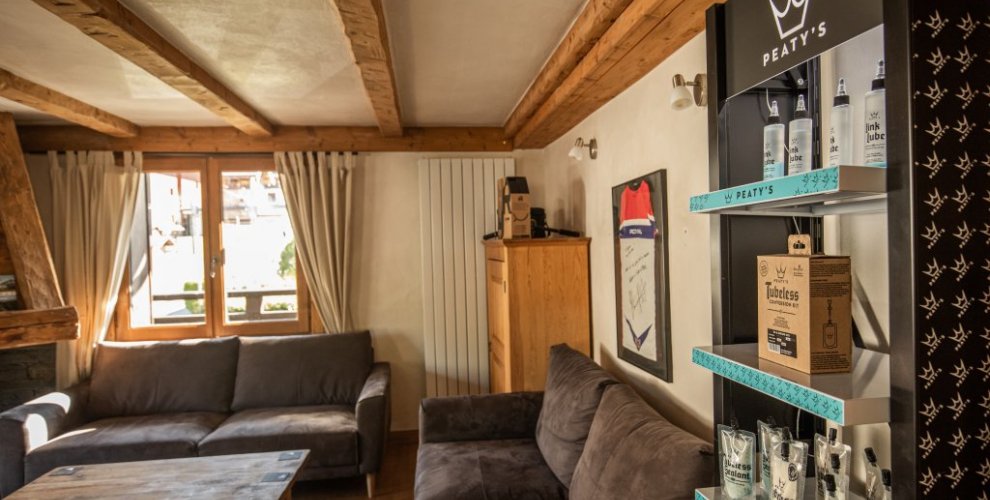 Loam Foam
Peaty's Loam Foam is a professional grade, biodegradable cleaner that is tough on dirt yet safe to use on all bike surfaces including carbon, brake pads and discs.
Loam Foam's unique cleaning formulation is blended with organic gelling agents, allowing the active cleaning compounds to cling to your bike for longer. The result is a shiny clean steed with minimal effort.
Maintenance Products
Peaty's have a wide range of products specifically deigned to help your bike stay minty fresh.
An all weather and dry chain lube which we've been putting to the test all over Europe, we wouldn't leave home without a bottle! The unique two part formula keeps the lube on the chain and not in the wet dirt! The waxy dry lube is the best we've ever used when you follow the instructions!
If the foaming degreaser doesn't clean up your drive train then nothing will. It's the best way to get your chain back to new again and also works wonders on stains all over the house!
Four spray products complete the workshop line-up;
PT-17 Maintenance spray
XXXX Solvent degreaser
Protect & Shine
Disc Brake cleaner
Peatys have a solution for everything, even their patented tubeless valves have an integral spoke key with a lifetime guarantee, if you're thirsty then there is a fidlock water bottle in 2 sizes to keep you hydrated.
Not sure why anyone would bother using anyone else!
Every client on our Riders Weeks catered packages will receive a loaded goodie bag which will have treats from Peaty's included!
Also, Peaty's Tubeless Sealant, loam foam and maintenance products will be available on our Riders Weeks destination Holiday packagesm where our on site mechanic will be able to sort you out with a full tubeless set up.
Be it the flat out hard packed berms on Morzine, Europe's biggest bike park, or the technical, rocky terrain of Finale Ligure, home to the Enduro World Series, Peaty's Tubeless Sealant will keep you rolling, all the way to the bar!