We have spent a long time searching for the right insurance provider for our bike & travel insurance needs and we are happy to say we have found them in Yellow Jersey.These guys provide bike specific insurance and include cover for elements such as race cancellation entry, crash damage, wheel cover and theft from inside vehicles.
But most importantly they provide excellent holiday cover for our clients travelling with us. From bikes not arriving at the airport to personal injury they've been there to offer excellent service and cover over the years of our partnership.
Yellow Jersey also offer a 60% discount on your second bike when insuring two and who doesn't have more than one bike these days with road, enduro, and downhill cycling all becoming so popular, this is a serious bonus!
For example, we just insured two of our bikes, one worth around £4500 and the other £3500, this cost a total of £355 for the year and comes with a free DNA kit worth £36 so you can identify your bike if stolen. This came in at about £200 less than any other provider we have found so far and that was for TWO bikes!
See below a short summary of their Ultimate bike insurance cover and what it includes:
Yellow Jersey Travel Insurance in brief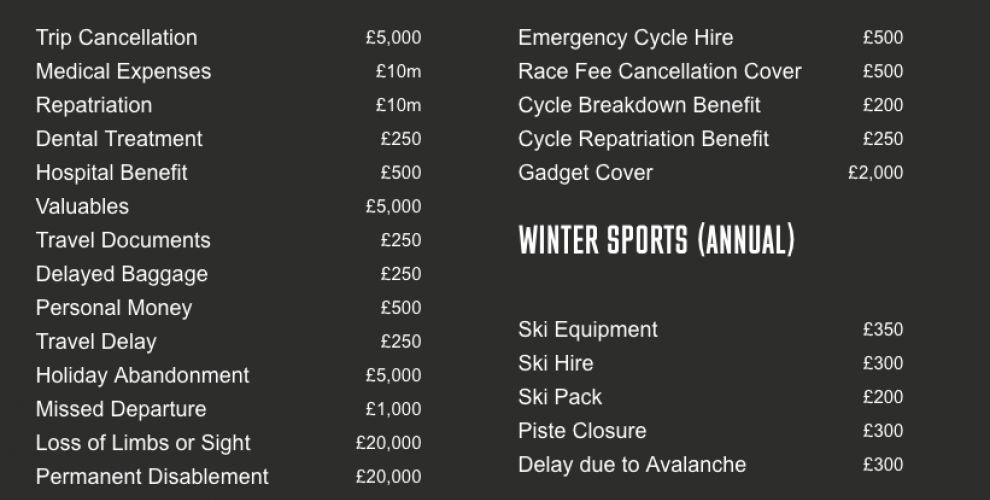 Bike specific insurance features essential for your holiday to Morzine
Worldwide Cover as standard
Theft cover even if you are away or have lent the bike to a family member
Zero depreciation on your bikes value
No increase in premiums if you make a claim
Free DNA+ marking kit
Vandalism cover
Race wheel, pothole protection
Race fee cancellation
Crash damage while training and racing
Theft (including from vehicles)
48hr transition cover
Damage Cover in transit to bike or box
£1000 Bike box cover as standard
£250 Accessories cover as standard
£750 of physio and dental cover
£2,000,000 public liability cover
25% Renewal discount
60% "multi bike" discount
Each bike on a policy can be valued up to £15,000
Optional clothing, helmet and wetsuit cover
Roadside recovery
Family cover
Available as short term or annual policies
We believe this is a comprehensive and very competitive policy from Yellow Jersey, if you claim it will not affect your home insurance, they do not increase your premium and they actually give you an automatic 15% renewal discount. Finally the policy even includes getting you home from any event or accident on your bike! It's a no brainer.
Insure Yourself
Now you have your bikes covered its time to cover yourself as we all know the dangers involves in downhill mountain biking and enduro alike. If you are intending to come and visit us in Morzine in the French Alps or Finale Ligure and ride some of the best mountain bike trails in the world you need to be covered. Some people believe that your EHIC card will cover you but this is only the case in state hospitals whereas most hospitals and medical centres in the Alps are private!
Travel Insurance Features
Worldwide cycling and racing
£10,000,000 Emergency medical expenses
Repatriation to the UK
Cancelled trips
Lost luggage
Cash, passports and documents
Race fee cancellation cover
Emergency dental treatment
Personal Liability up to £2,000,000
£5,000 Trip Cancellations
Lost baggage and delays
Cost of bicycle rental if yours is late to an event
Taxi fares if you have a breakdown
Gadget and personal possessions
FREE Winter Sports cover on Annual Polices
Optional Short-term Bicycle Cover​​​​​
Get Insured Now
To purchase your bicycle or travel insurance policy head over to the YellowJersey Website and use this link