You have booked your mountain bike holiday to Morzine, accomodation, lift pass, food, bike prepped and spending money saved, now you are trying to work out the logistics. If you have decided to stay with Atlas Ride Co at one of our Riders Weeks properties you're covered, we organise the transfers.
If you haven't, you'll need to decide how to get here. Whether you have booked with us or not, don't worry we got your back, having tried each different route personally we can tell you the best ways to get here depending on what you need, give this a read, it is a real time-saver. If you have booked self catered accommodation in Morzine with Atlas Ride Co, add any questions or requests to your booking area and we'll figure it with you.
Home from Home for many mountain bikers, the Rue de Bourg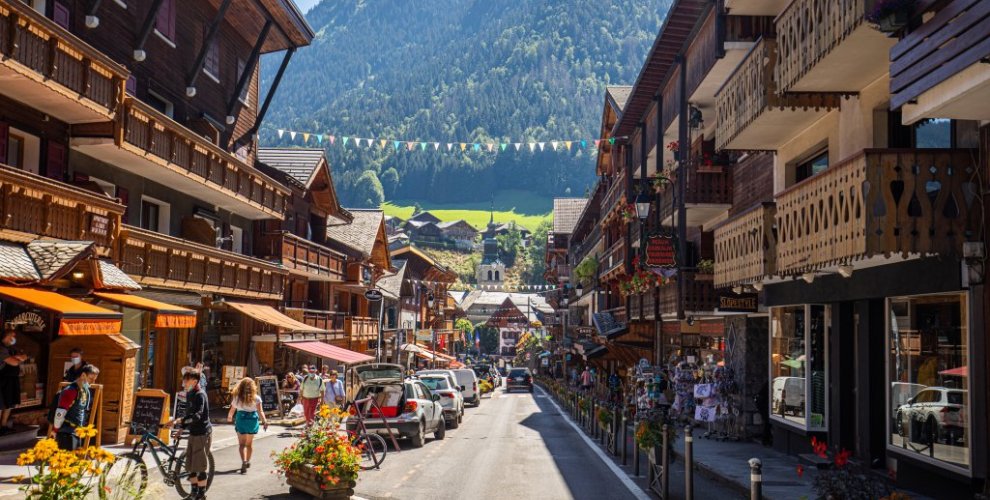 So what is the best way to travel to Morzine?
We have been receiving a lot of emails regarding the best way to travel to Morzine for the Summer MTB season. Hopefully we can help you make a decision! 

FERRY OR TUNNEL?
FERRY
If you are driving to Morzine by car and you live in the South of the country, your best bet is to head over to Dover and jump on one of the many ferries that travel from Dover to Calais each hour. 
Prices can be from as little as £17 each way, averaging out at around £50 per crossing.
EUROTUNNEL
The Eurotunnel from Folkstone takes 45 minutes and is 100% the best way to cross the Channel to Morzine. You can arrive 2hrs either side of your departure time so if you are early or late you can get on the next train and they go every 30 minutes! 
Prices for the tunnel are around £70 - £100 per journey for a large estate car or van, prices can increase slightly for larger vehicles.
THE DRIVE
When you've hit the ground in Calais it's around 9 hours to Morzine with the obligatory coffee pit stops.
The tolls will cost you 75€ and are well worth it, with the limit 130 kph most of the way and you'll rarely need to slow down for anything other than the tolls themselves or a truck drivers strike. Grabbing an ATMB toll beeper makes life easier aswell.
Fuel is approximately 80€ to 100€ in a decent diesel car, at 868 kms. We've driven this in our vans, pick up trucks, cars and a very thirsty Subaru, which cost quite a bit more! Between 4 people it can be a cheaper option to flying.

FLYING TO GENEVA
Though you can consider flights to Lyon in the summer, Geneva is by far the closest and best serviced airport of the two, located just over an hour away from Morzine. Flying to Morzine can be a hassle free way to travel. It is serviced by the likes of Swiss Air, BA, Easy Jet and Jet2. These suppliers fly out from most UK airports. The flight times vary but are around 1.5hrs from most UK Airports to Geneva.
TRANSFERS TO MORZINE
Finding a transfer up to Morzine is easy. Of course your bike makes taking a taxi impossible, so we recommend booking your transfer from Geneva Airport with Skiidy Gonzales. If you book with Atlas Ride you will receive a discount code making it even more economical. No other company has as many vans as Skiidy Gonzales in the summer, which means your transfer to Morzine will be quick and straight forward.
Important note; You cannot book a cheap transfer at the airport and expect a quick departure. There are some budget companies that can take your money at the airport, You'll be lucky to leave within afew hours of arrival, if at all during the quieter summer months. The reliable, efficient companies must have a pre-booking due to Swiss transport law.
Flying is straight forward, usually hassle free and you can be in resort within 6hrs of leaving your home if all goes well but the costs can add up. See below for information on flight costs and baggage allowances.

Travelling to Morzine via Train is easier than you think and fairly cost effective if you live in the South of the UK. Leave London at lunchtime and be in Morzine the same evening without setting foot on a plane.
EUROSTAR TO PARIS THEN GENEVA
Take a Euro Star train from London to Paris (2h20) from £39, and then a high-speed TGV-Lyria from just £21 from Paris to Geneva (3h05). It's free to take your bike as long as it is in a box or legitimate bike bag, you can sit back and relax the whole way with one changeover in Paris the biggest hurdle. Remember to book your transfer from Geneva to Morzine before you arrive.
EUROSTAR TO PARIS THEN CLUSES
It's the same deal as taking to train to Geneva, except your final destination is Cluses. It take a little longer to get here, but the transfer to Morzine will take less time, around 30 minutes. However the transfer will have to be private, as Cluses train station is not a regular service for Morzine transfer operators.
SUMMARY OF TRAVEL OPTIONS

| | | | |
| --- | --- | --- | --- |
| METHOD | APPROX RETURN COST | APPROX TIME EACH WAY | NOTE |
| DRIVE | £350 (total) | 12hrs | Bring loads of kit, split costs, road trip! |
| FLY | £250 (each) | 6hrs | Easy, can enjoy a beer |
| TRAIN | £180 | 6hrs | Something different, environmentally friendly, cheap |
*All prices are estimates generated from the website of the service provider at the time of writing Jan 2021.
However you get to Morzine, we will make sure there's someone to meet you and a beer in the fridge!
Mountain Bike Holidays have never been so good and so easy! Book below!