Peaty's Products has been one of our official partners since 2017, the relationship came about through several avenues including riding in Morzine, Peaty's Bike Bonanza and mutual friends. Our ideas aligned and that was that stat of what is not a partnership completing its 6th year and we hope there are many more to come!
The Challenge - In 2019 Martin Murray, Commercial Director at Peaty's contacted me looking to host their 2019/2020 annual sales and strategy meeting in Morzine, they needed accommodation for 5 people, a meeting room and food and drink for the day. This is not a hard task and anyone could have jumbled something together for them, but we were able to provide the perfect option for all requirements.
The big dog on the clean up operation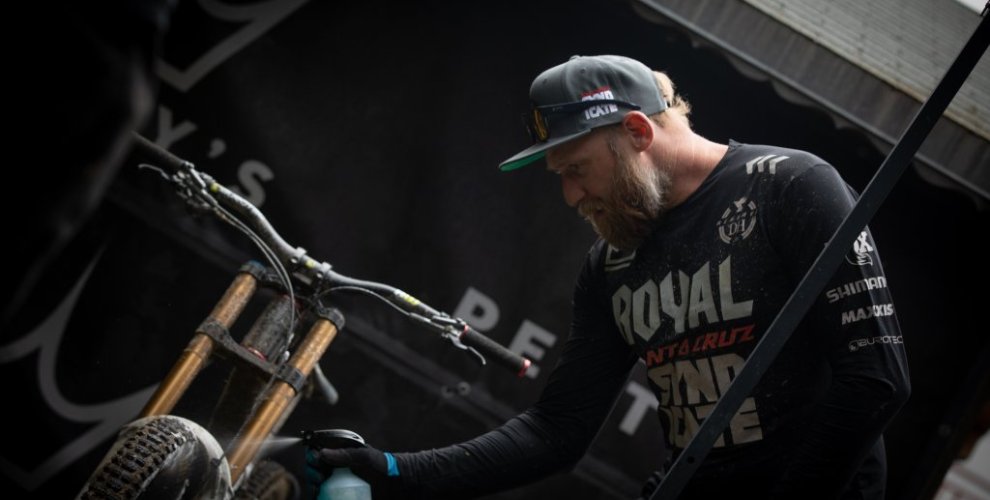 Testimonial
"The guys at Atlas provided us with the perfect location and facilities to host our annual sales and strategy meeting. Nothing was too much trouble from being picked up at the airport and transferred to the resort, to the luxury accommodation and meeting rooms they provided. All this in the backdrop of one of the world's best mountain bike resorts! I couldn't think of a better place to host any form of meeting, product launch or get-together and the Atlas guys always go above and beyond to ensure everything and more is catered for."
Martin Murray - Commercial Director, Peaty's Products.
Allowing time to focus on the task in hand
Location was key for this one, the trip was short and people were flying in from different locations. Morzine was chosen due to its location only 90m minutes from Geneva Airport and some of the best mountain biking in the world accessible directly from the centre of the resort. With our own vehicles, we were able to collect the guys from the airport just after they arrived, this eliminated any waiting time and maximised their time in the resort so the business and play elements were easily combined into their trip.
Arriving at our accommodation in the centre of Morzine their rooms were ready and our onsite mechanic set about building up their bikes whilst the guys were welcomed into the chalet, handed an ice-cold welcome drink and shown to their rooms. Staying in one of our catered chalets dinner was served, the hot tub used and a good night kip had by all, a few tins were consumed before however!
What we provided for Peaty's
This was an easy one for us at Atlas Ride Co in terms of logistics, everything was in place and the boys were super chilled, all the same, we always make sure we go above and beyond in everything we do. We ensure the I's are dotted and the T crossed. This is one of the luxuries we have with multiple destinations across Europe where we have full-time staff based we can provide these turn key services on request.
What we provided
Accommodation suitable to the group dynamics
Airport transfers at flexible times
Meeting room with Screen and super fast Starlink Wifi
Food and drink during their working day including a Chef prepared traditional Sunday Roast.
Ride routes
Videographer to document the trip

We set up the Peatys Lounge with products and merchandise providing a familiar setting to their UK office and with products on hand engaging the brain with familiar surroundings to crack on with the sales and strategy meeting at hand.
Adding fuel to the fire
Catering is one point that can be overlooked and when it is the result is a lot of wasted time. Searching around town for a restaurant or cafe which has space and then it's potluck if you know the restaurant is good quality or a tourist serving. Luckily we know which is which but in this case the guys opted for lunch in the meeting room. With our professional chefs on hand to cook up a storm before their evening service we have a decent meal delivered up to their room along with a few drinks to get them through the afternoon.
Identifying opportunities
With our extensive relationships in resorts, we are always looking at how we can add value to our partnership and to our partners. An idea we presented to the Peaty's crew was that they could sponsor a bike wash at the bottom of the main Morzine trails, the Pleney, in town! After some planning and meetings with the main man at the Pleney lift office and the Morzine tourist board, we made it happen. Santa Cruz bikes also jumped on the waggon as they say the potential for brand exposure and potential to support the riders and resort.
All in all, this was a very successful activation with much more achieved than originally planned, the sales meeting took place, content was created for marketing and promo, new relationships were established and a deeper legacy for the Petys brand was established in Morzine with the bike wash.