Chris, we'll be in touch through your Insta DM's. Everyone else, stay tuned for some awesome giveaways in the New Year!
Founded in 2002, the GoPro brand has become the go to household name for small camera and Point of View media. Originally, the idea of the 'Hero' camera was to get close up shots of owner and founder Nick Woodman and his surfing buddies while they were trying to make it to the pro ranks of surfing (Go - Pro). Amateur photographers couldn't get close enough and the equipment to shoot underwater was too expensive or in the hands of professional photographers too busy or also too expensive.
To date there have been 14 Hero cameras produced by GoPro, including the different Session and + models. We're now up to the Hero 9 and it's an amazing piece of equipment. With 5 video modes including a 5k option and live streaming up to 1080p, touchscreen front and back, waterproof housing up to 10m and proprietary technology such as Hypersmooth 2.0 stabilisation and RAW photo capture, it's the go to equipment for amateurs and pros and is indispensable for capturing those memories on your Morzine or Finale Ligure mountain bike holiday.
We've been using the GoPro platforms since our snowboarding days at in 2009 and more recently have been using the Session series to document all the tracks and trails in our resorts for our Track Check series across all our resorts, Morzine, Finle Ligure, Aosta & Schladming.
They are user friendly, dependable and have been proven to last in tough conditions while our helmets and for all sorts of media generated by our man behind the lens Scott, who also uses the 7 & 8 in his media kit. Upgrading to the 9 series this year is going to give our guys the best possible avenues to produce media to get everyone stoked on shredding bikes across Europe.
Accessories
There is a huge range of Accessories available from GoPro, another reason they are an innovative market leader. With everything from extra protection, selfie sticks, mounts, straps and mods to increase lighting and display functionality Gopro has your need covered.
There's a reason these things are used across the world beyond action sports, they've found a way to shoot pretty much anything from a Hollywood movie to a summer backyard BBQ on a camera that fits in the palm of your hand. The quality of the footage and still shots is awesome and with added features such as 8 x slow motion and time lapse these cameras can be used in pretty much every situation to capture high quality content.
Chest mount with gimbal out in the wild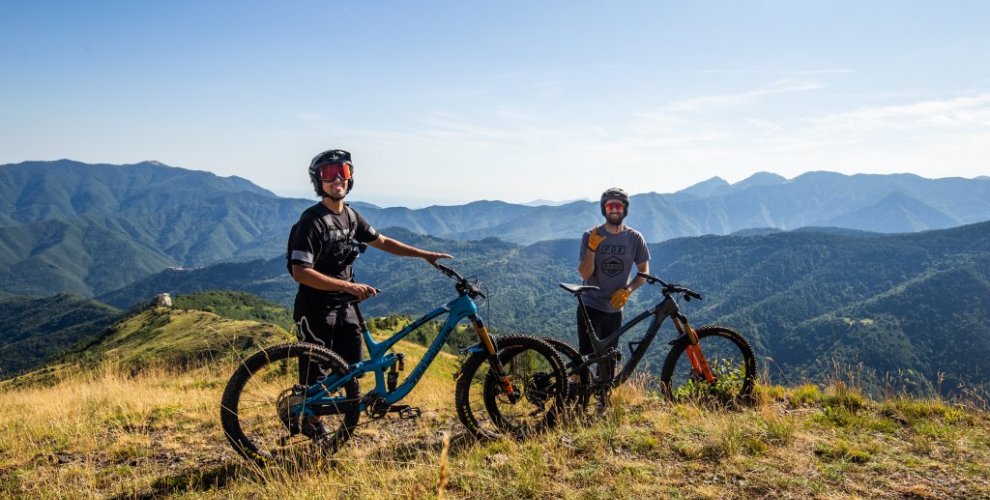 Editing software and Apps
GoPro have also come to the party with a range of apps and editing programs to make your movies ready to go even quicker and with greater ease. Being super user friendly, with the ability to download straight to your phone via bluetooth and edit on the fly, it's no wonder they are the best action camera in the business.
There's also useful memory saving with Plus subscription with unlimited cloud storage. Plus membership also gets you 50% from accessories and damaged camera replacement.
Mount your GoPro almost anywhere!
The GoPro x MTB Beds partnership brings more than just fresh cameras to our kit bag. It gives all clients of MTB Beds exclusive discounts and offers across their range of equipment, with our staff in Morzine and Finale Ligure fully trained by GoPro on how to get the most out of your camera.
We'll be launching our competition with GoPro this season with the best edits onto our platform in to win a chance of a free holiday in 2021. Get stoked, get riding, get filming and stay #ONEPEDALAHEAD
Take a lap with Morzine legend Lee Huskinson down Le Pleney black. Shot on a GoPro Hero 7 with a chest mount and karma grip attachment.