Is Morgins Bike Park open? Yes, it is, for 2024 Morgins Bike Park will have a brand new lift which will catapult the bikes and riders from the bottom to the top in a matter of minutes. The new Morgins Gondola will have 38 cabins which can take 10 people at a time (in winter) to the top. Summer MTB numbers are yet to be confirmed but we believe it will be in the region of 2-4 people.
There will be a new high-speed gondola for the Morgins 2024 summer MTB season in the Portes du Soleil and we could not be more excited. The Bike Park was closed during the summer of 2023 where work started on the new lift system to replace the original lift built in the 1960's. After 40 years of loyal service, Switzerland's first detachable chairlift is giving way to Switzerland's second autonomous gondola lift! The new lift is planned for Christmas 2023 so it should have plenty of time to warm up before the 2024 MTB season.
The start of a new chapter at Morgins Bike Park
We hope this new lift will be the start of a new journey in the lift of Morgins Bike Park and its surrounding resorts within the Portes du Soleil MTB area. Hopefully in the years to come we will see a much better link from Morzine/Avoriaz and Chatel over to Morgins utilising the lift systems already in place to get there and back. In the past, there was a link both ways but due to lift closures, this no longer works and the best way now to ride Morgins is using the Atlas Ride Co Morgins Day Trip Shuttle Service!
Facts and figures of the new Morgins Gondola lift
38 cabins spanning the line of the gondola
10 people capacity in each Gondola
Automated system with reduced staff
One of only three in Europe
Park of the new Peak to Peak vision
Why should you visit Morgins
Morgins Bike Park, located on the Swiss side of the Portes du Soleil and about an hour's drive from Morzine is a local rider and tourist favourite. With it's super fast swooping trails, some of the best berms in the world and jump/drops that flow from top to bottom you will struggle to find a bike park as good as Morgins.
Morgins Bike Park has hosted several Swiss IXS Cup races and is famous for it's Bike park edits which flood Instagram and YouTube each summer season with riders from all over the world taking to the park to use and abuse its incredible trails. Managed by the same trail-building crew from the famous Champery Bike Park which hosted arguably the most famous Downhill races of all time in 2007 with Sam Hill and 2011 with Danny Heart putting down insane runs in the wettest weather ever! Morgins has a great MTB scene with a pump track and bar at the bottom of the trails and a few local bike shops.
morgins has some of the best mtb trails in the Portes du Soleil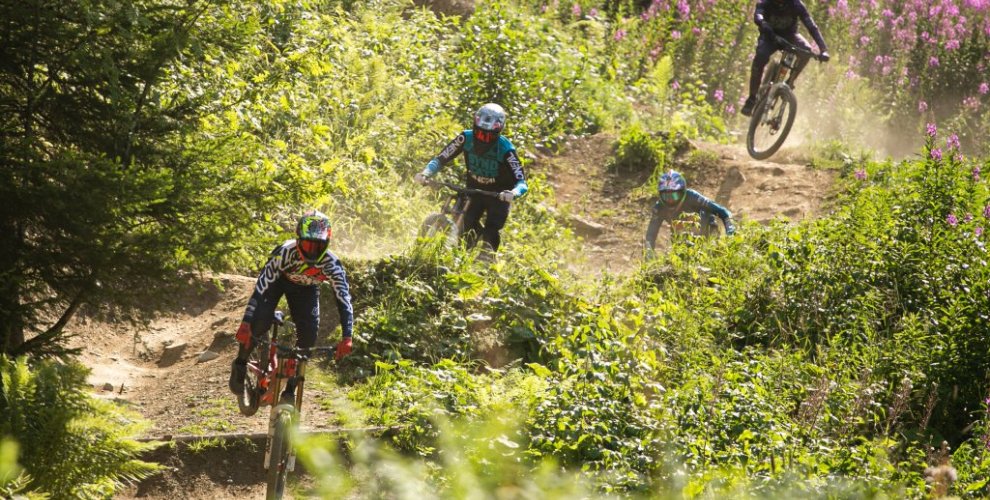 Design and technology at the forefront
We have been doing some extensive research into the new Morgins ski lift and it looks like they are using some crazy new technology so that the Gondola is automated and will not require staff to operate it to some degree. This will be the second Gondola in Switzerland to operate this way, the first was in Zermatt in 2020 and one in France opened in 2007! The new Morgins Gondola is part of the new apparent "peak to peak" project in the area. We will update you on this once we have more information.
There are super exciting times ahead and also reassuring that these resorts are putting so much effort and money into new infrastructure despite the concerns over global warming, the worsening ski seasons and warmer temperatures.
It is 100% not something to celebrate in terms of global warming but if the summer season is starting to become more and more important to these alpine resorts that we work and live in it can only be positive for the development of Mountain Biking in these destinations also.
The Bike Park
Morgins Bike Park is liked to Champery Bike Park. There are 10 tracks across the two bike parks including the following
Morgins Bike Park Tracks
La Çarigole
La Madze
La Tobogane
La Noire upper
La Noire

Champery Bike Park tracks
Chevreuil
Coupe Du Monde
Crosets
Grand-Conche

Morgins is a hidden gem in the mountain bike world, not many know about it and even fewer ride it but that is what makes it so special. Tucked away in the far reaches of the vast PDS mountain bike and ski area it takes a lot of effort to get here. But be assured once you are you can expect perfectly maintained and well-built trails that offer something different to the rest of the PDS.
Morgins makes you feel like you are in your own private bike park and have been invited here to ride for one day and one day only. You respect and care for the trails like you built them and that's what makes it special. You don't get to do 40 laps a day here like you can on the Pleney in Morzine. You get 5/10 and you relish every moment, go home tell your close friends and come back the next year for that next hit!

Get in touch
If you would like to know any more information about the new Morgins Gondola Lift or enquire with us to join one of our or Morgins MTB day trips then please use the contact form below and one of our team will get back to you ASAP.