7
Our Trans Liguria Mountain Bike Tour takes you on an epic journey across Italy and France riding some of the very best Singletrack and natural Mountain Bike terrain in the World. The Maritime Alps are part of the Southwestern Alps and descend down towards the Mediterranean sea. We start in Finale Ligure and head deep into the Ligurian hills, then West towards the French border and the Roya Valley riding trails that you can only dream up in your sleep!
A true multi stop enduro mountain bike tour with the spirit of adventure in the back country, amazing riding mixed with local culture, experienced guides and logistics taking care of your experience.
These ancient trails and valleys are truly spellbinding from peak to valley floor. You will be supported by our 4x4 Land Rover Defender vehicle we can go anywhere. We will stay in more remote B&B / Mountain Refuges throughout the trip, alongside 5-star riviera hotels! This trip is truly bucket list stuff!
Unique accommodation ranging from 5* hotels to Mountain refuges
Return airport transfers from Nice with bike carriage. *(Please enquire before booking as there may be an increased charge for certain pick ups.)
Amazing, locally sourced food and drink
Six full days of guiding in the Maritime Alps from Italy to France
Local culture, knowledge and food delivered by local, professional guides
This tour is all about bringing the Atlas Ride Co vibe to the Backcountry. Every trail, every climb, every shuttle, every coffee, every lunch, every hotel, refuge and beer has been ridden and tested, by us and our partners at Backcountry Finale, no shortcuts. At each and every point we've thought, is there a better trail or a better spot to sip that post-ride beer, a better view to wake up to....
This trip has 7 days of action-packed riding from the day you arrive. There will be no let-up on the action as this tour packs in the best trails of Liguria and even dipping your toes into France and the Roya Valley. It's assisted by a Land Rover Defender, though we'll need you to put in the effort on occasion, we'll make sure it's worth it with mind-blowing trails, epic adventure and a cold beer to finish the day on. We wrote a little more about the tour on Pinkbike.
To secure your place on the Trans Liguria Tour A 30% per person, booking deposit is required. Deposits are non refundable and the full balance is due 8 weeks before your arrival in Italy.
Day One - Arrival
We'll ask you to book flights that land before our shuttle leaves Nice airport, midday on the day of arrival. This is in order to get you up to Finale Ligure in good time and have your bikes built up. We'll do this at our base for the Atlas Ride Co Finale Ligure Uplift Adventure Tour, Villa Arcelli, with our workshop and mechanic onsite to fix up any last minute issues.
There will be shakedown uplift runs on the Saturday afternoon, using some classic Finale Ligure trails to check you and your bikes are in full working order, before a trail to your accommodation for the evening, where we'll be briefing you in detail of the riding and what to expect from the trip.
Day Two - Peaks
The first day of the tour proper takes you into the peaks behind Finale Ligure in the morning, for some of the regions best singletrack to get the stoke going on the first morning, before driving and hiking your way up to Monte Carmo, the highest peak in the region, for a late lunch over looking Liguria. From here you'll be able to see nearly every peak you'll tackle in the week while munching on a quality locally sourced picnic.
An absolute epic singletrack in the afternoon runs all the way down into the valley floor where you'll have a moment to take in a beer before shuttling to your accommodation for the evening, time allowing we'll be able to squeeze in another trail!
Day Three - Traverse
The morning brings a short climb, enough to wake you up and get ready for one of the most exciting days of the tour. You'll spend the morning descending and shuttling your way across the map to a final ridge line trail to end the day on, epic is not the word for how good this trail is...
Your accommodation for the next two nights is a beautiful B&B. We'll use this as a base for two days, to dip into France and back and give you a chance to decompress a little after riding all day.
This will be a point to wash some kit and have it dried before you head off again
Day Four - Border Hopping
On this day you'll don the beret's and take a long shuttle and short pedal in the morning to the Italian French border and the stunning peak of Marta and the Roya Valley. You'll spend most of the day in France riding the amazing terrain of the area, it all feels a little different to what you've been riding so far, with it's more open landscape and twisty turns and switchbacks.
We'll finish with a drive back to Italy and a few classic trails before a beer in the beautiful old town of Triora, with one more trail all that stands between you and a barbeque cooked by your host and guide Alessandro using meats sourced from his famous Osteria del Cantoniere at your B&B.
Day Five - Looper
You'll pack up the B&B in the morning and begin the journey back to Finale Ligure. The first peak you'll hit is the same one you descended from on your way over, but this time we'll be hiking up to the very top of the ridge we passed underneath. After the 40 minute hike we will head across a plateau, a little more pedalling up before a trail Alessandro regards as his favourite of the trip, be careful not to let him get too carried away down here! For the afternoon we will ride this valley area before taking the Defender to a camp site for a night under the stars.
Day Six - Shuttles
From the campsite in the morning we take a shuttle to a zone with some long, flowing single track to wind down the bike and body before the intense final day. The trails here are great fun, varying in length and is designed as a fun 'shuttle exploring day' as we continue to circle back to Finale Ligure, detouring into the amazing trails of Pietra Ligure in the afternoon will eventually take us back down to Bardinetto and some of the coolest single track of the week.
There is no rest day on this trip, it's go from the start. This day is built in as a complete day of riding, but the tempo and the trails are a little more laid back, flowing and fun.
Day Seven - Enduro
A special day, the last of the trip and it's possibly the most technically demanding. You'll be riding some of the best and most famous trails in the Ligurian region, many of them having been used in Enduro World Series Events over the last 8 years. A highlight will be the last trail before lunch, Bric Tampa.
Speaking of lunch, it will be at Alessandro, your guide's Osteria in the hills above Finale Ligure, in Melogno. For the last afternoon you'll face some of the most challenging terrain you'll have ridden all week, culminating in Men's DH, the infamous run that has ended all but one of the last 8 EWS seasons.
With it's finish mere metres from one of the most beautiful beaches in Italy, you'll have your swim gear and a cold beer waiting for you, take your time to unwind before a short transfer (we'd like you to pedal to really finish the trip off right but the van will be there....) to your hotel over looking the Mediterranean for a relaxing last night on the coast.
Day Eight - Home
Wake up, pack, we're taking you home. Book your flight out of Nice airport anytime you like on the departure day and we'll drop you to the airport for high fives and hugs.
Or, stay for another week and shred Finale Ligure with Team Atlas Ride Co in our Finale Ligure Uplift Adventure Tour at Villa Arcelli!
The accommodation on the tour varies from Refuge's, Osteria's, hotels and 1 nights camping. The rooms will vary from twin share, to bunk room to triple rooms. There is a single supplement option the final nights stay, for an extra £75. The camping night is a two man tent, though we allocate 1 tent per person.
Advised bike - 150mm - 170mm aggressive enduro bike

Fitness - 4*

Skills and Technical ability - 4*

Riding Style - All Natural / Spirit of Adventure
See our Ability Assessor guide
This tour will involve work and effort on your end. You will have to pedal up some climbs, hike your bike up rocks and be able to operate a bike with skill when fatigue is setting in. We've assessed everything with Alessandro and tested it ourselves. We know there will be times when maximum effort is being applied, we want you to feel exhausted, spent, and above all stoked on that.
The tour runs on a schedule and though no man or woman will be left behind, if it is necessary for your safety and of that of the group, you may be asked to sit out trails or even entire days if you cannot handle the terrain or keep up with the pace of the group in a reasonable time. This is entirely up to the guides discretion, no refunds will be applicable. We want this to be the trip of a lifetime, so be honest with yourself and ask us any questions before booking on so we can deliver it for you.
This tour is unique in our offering and warrants some extra research. Where we say something is obligatory, be it from ability, fitness or kit, we mean it.
Our goal is to make sure you have the best trip possible.
Please read the FAQ and guide below, in doing so you will help us make sure we can deliver it for you.
It is a condition of booking that you have adequate insurance that covers you in the event of an accident. The insurance should cover you for extreme riding conditions outside of a bike park, on a mountain bike tour in Italy and France. You must be fully covered in event of needing assistance from the mountain, including a helicopter in a worst case scenario. An E111 or similar National Health form or card from your country of residence is not enough to cover this. If you cannot present insurance documents to us before travel, we cannot allow you to ride on the tour.
We also strongly recommend you have insurance on your bike and belongings in the event of damage. Though theft is extremely unlikely given where we will be riding and staying!
This cover could also assist you in the event you could not ride due to injury or an resolvable bike issue such as a snapped frame.
We highly recommend Yellow Jersey and you will receive a discount code on booking.
How much pedalling will there be and how fit should I be?
You will be pedalling between 500m and 750m maximum each day. We use the defender to shuttle any road where it can be driven up and makes sense for it to drive up. The logistics of the mountains mean it is not always possible to use it. You should be comfortable riding long days, all day, with particular attention to your fatigue levels over the course of such a trip. We need you to safely navigate technical descents at the end of a long day when you have completed long ascents. You should be able to repeat this over the course of the week.
How much kit do i need to bring?
The Defender will have a roof rack installed that will be carrying all of your luggage. You should bring with you one kit bag, with several changes of riding kit and riding shoes, several changes of casual clothes, shoes and toiletries. Each accommodation will have towels. There will be a chance to wash your kit as we do stay two nights in one location.
You should also bring spares for your bike. We advise a full set of pivot bolts, a spare tyre, a spare derailleur hanger, a spare derailleur, 3 tubes and any bike specific spares you would normally
You will also need to bring a pack for riding in. It is essential to carry this with you on all trails. In this pack you will need to bring at a minimum;
A strong bike specific riding pack that can ride with all day, able to carry the following;
Hydration (unless you carry a water bottle)
Multi-tool
Tyre levers
Tube
Mini pump
CO2 cannister x 2 and a valve to be able inflate them
Tubeless tyre noodles/dyno plug
Basic medical kit - Bandage, sling, plasters and antiseptic wipes.
A light rain jacket
Your phone, fully charged and able to accept calls
NB* Though we highly recommend and use bike carry systems such as OneUp EDC tools and straps for pumps, you still need to carry a pack for the other spares, jackets and kits. There will be some runs where a pack is not essential, Alessandro can advise on these occasions and you leave it in the Defender.
What can i do to my bike to make it ready for the trip?
Get your bike setup tubeless. Easily the most important and time saving thing you can do. This should be done before arrival and setup with at least double down or equivalent tyres. DH casing would also be fine and advisable over EXO or similar. The terrain is natural, not ridden much and rocky. this type of riding means tracks have not always been cleared and debris or loose rock is often found in a trail.
Freshen up disposable parts. Tyres, brake pads, disc rotors and grips would be advisable to bring fresh and new. Add to this list shock bushes, the suspension itself, frame bearings and any other part part you have not had recently changed or serviced is worth being fixed and fitted before travel.
Change any parts you are not used to or get used to them before coming. This is not the trip to try that new telescopic fork, clipless pedals, shock wiz, a new brake system or even a new bike unless you have extensively ridden it before hopping in the uplift van. The same applies to kit such as knee pads or gloves that may rub and cause discomfort if ridden all day.
Do you have a list of riding kit I should bring? *Essential
An open face helmet / helmet with detachable chin guard / enduro full face / DH full face*. Bring what you are comfortable wearing all day. Two helmets are not advised.
Knee pads*
Proper bike specific riding shoes such as Five Ten*
Eye protection* goggles with a clear lens recommended
Riding Jersey x 6
Riding Shorts x 2
Jacket that can be ridden in the rain
Gloves as preferred
Elbow pads, spine protector as preferred but you should be aware it will be hot most days
Chamois if you use them
What will the accommodation be?
This will vary, from Trattoria's, a campsite and Rifugio's to 4 star hotels and and boutique B&B's, we have planned the trip to give you comfort when you need it, and to give you the sense of adventure and fun when you crave it. You will spend two nights in one location to avoid fatigue. There will be one night sleeping in a tent. There will be a hotel with a pool and balcony over looking the ocean. Each location has been tested, they all have the facilities we need to stay safe, clean and dry, with weather plans in place for all of them.
There is not a single occupancy option on most of the nights. However if you would like your own room, where we can we will. Please advise us and we will make the necessary arrangements. There will be an additional cost for this.
Is the trip fully catered?
Yes, breakfast, lunch and dinner is provided. The breakfast will be provided at accommodations or will be rustic style when camping. We will be in Italy, you will never not find a coffee in the morning. The lunches will vary from rustic sandwiches using amazing local produce eaten on mountain tops to Osteria's with fresh handmade pasta. In the evenings the food will be a highlight with restaurants and hosts showing you the best of their local regions specialities.
NB- Dietary requirements will be difficult to cater for on this tour. Please advise us of the specifics and we can advise.
Property gallery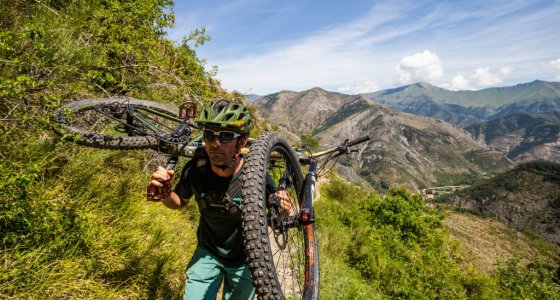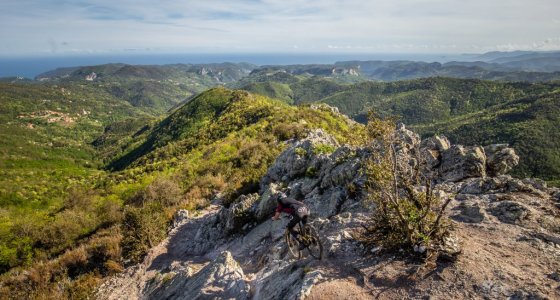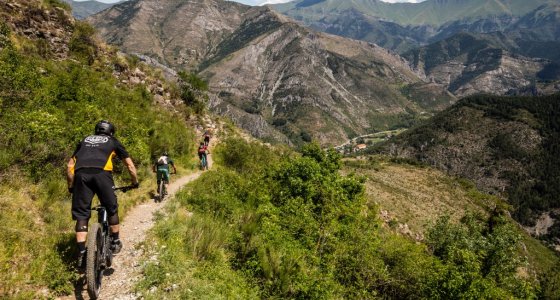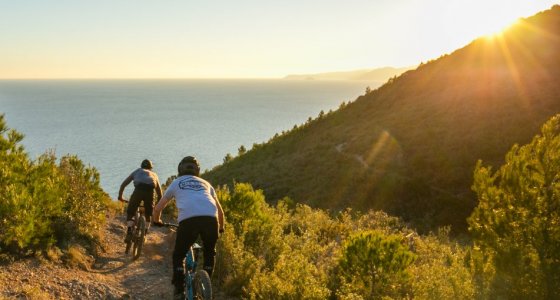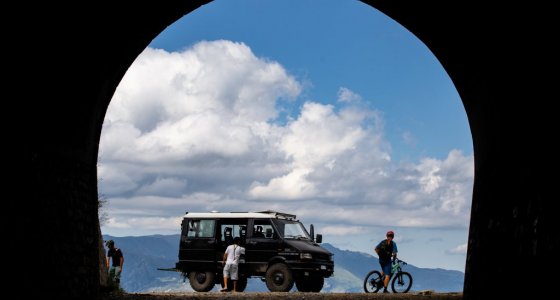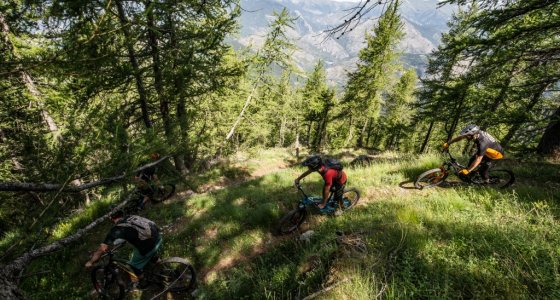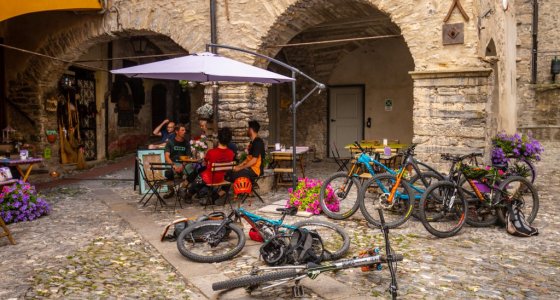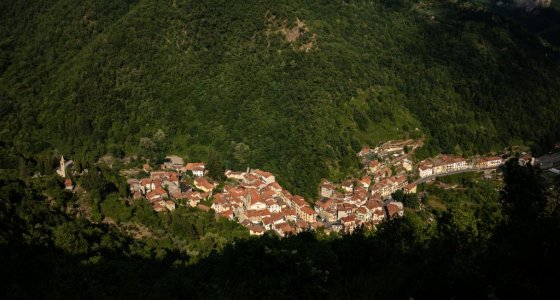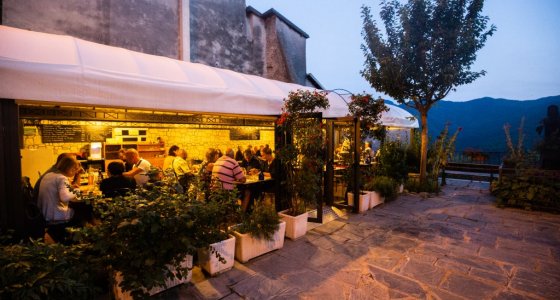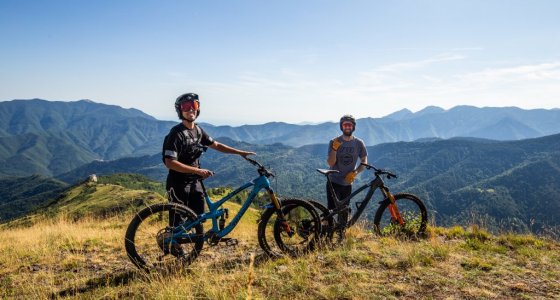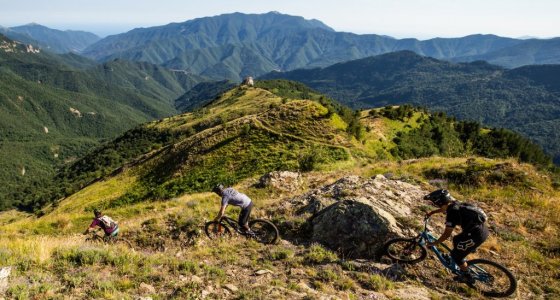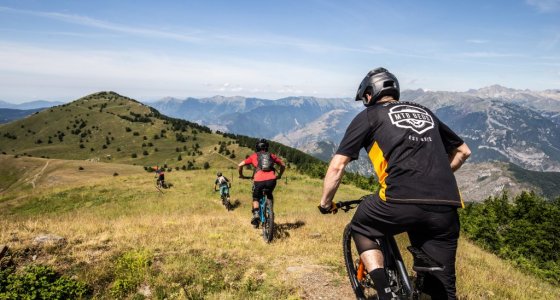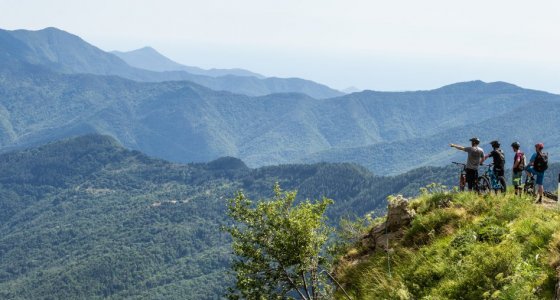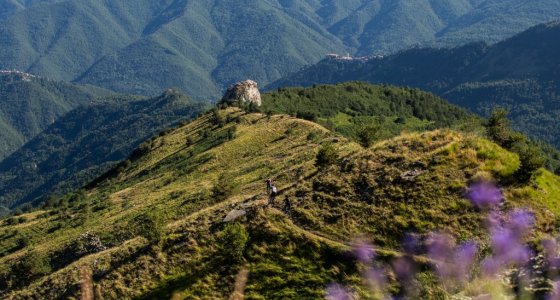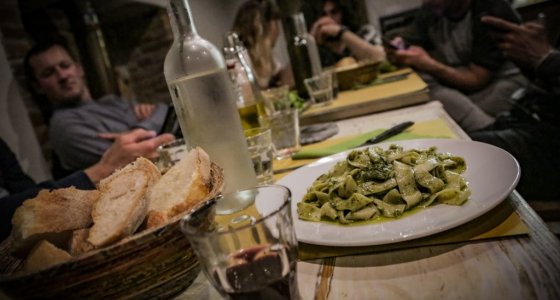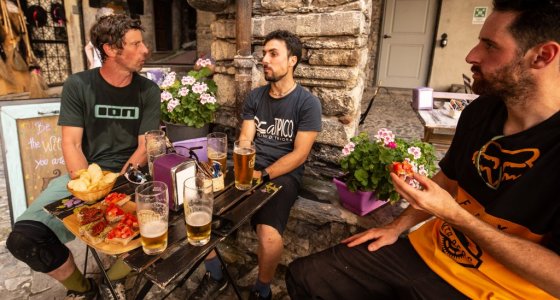 Booking and Availability
Please select your preferred date below or use the enquiry form to start the booking process. Please feel free to contact us to discuss any elements further before booking if you need to. Once your booking is made you can always make amendments at a later date if you so wish.
PRIVATE GROUPS - please contact us for a custom tour on a specific date and one of our team will get back to you ASAP!
2023 dates TBC but all enquiries are welcome for now!
Rob Brown
Mon, 09/13/2021 - 17:29
Amazing trip in the Tweed Valley, 4 days of brilliant trails and expertly guided by Craig. Great location as well based from the Glentress Hotel.

Ben Plenge
Mon, 08/30/2021 - 13:54
I have just got back from a week at Chalet Chappelle in Morzine and I was blown away by the MTB Beds experience and their team. It is insane value for money when you consider the quality of accommodation, food and facilities. Everybody there was super friendly and full of useful local knowledge and positive energy. The whole holiday was very slick and well run and it helped us all to have an awesome time. I will certainly be coming back to MTB Beds for my next trip. Ben