So you've booked a holiday to Morzine for the first time.
And now it comes to packing. If you're driving, you can afford to be more liberal with the baggage allowance, but if you're flying, you've got choices to make. What helmet do you take to ride Morzine Bike Park
We bet most of the time in the UK you ride in a trail lid and maybe don a full face for bike parks like Dyfi or Bike Park Wales. This is generally the rule in Morzine too, but with the hot weather and the sheer variety of trails on offer, you might be unsure which helmet is the right one for you.
A helmet is the most essential piece of gear that you need to invest in when hitting the trails. However, the type of helmet you choose can make a significant difference in your comfort, protection, and overall experience.
Trail Helmets
Sometimes called half-lids or p*ss pots, trail helmets are the most commonly used helmets for mountain biking. These helmets are designed to be lightweight and provide maximum ventilation to keep you cool during hot summer rides. They are perfect for cross-country and trail riding, where flat-out speed is not the main priority. Trail helmets offer adequate protection for the head but do not provide full coverage like full-face helmets.
There are several levels of trail helmets, each with slightly more coverage. Entry-level trail helmets generally don't extend as far down the rear of the head and neck, and you can also opt for helmets that cover the ears and cheeks, offering another layer of protection.
Look at these helmets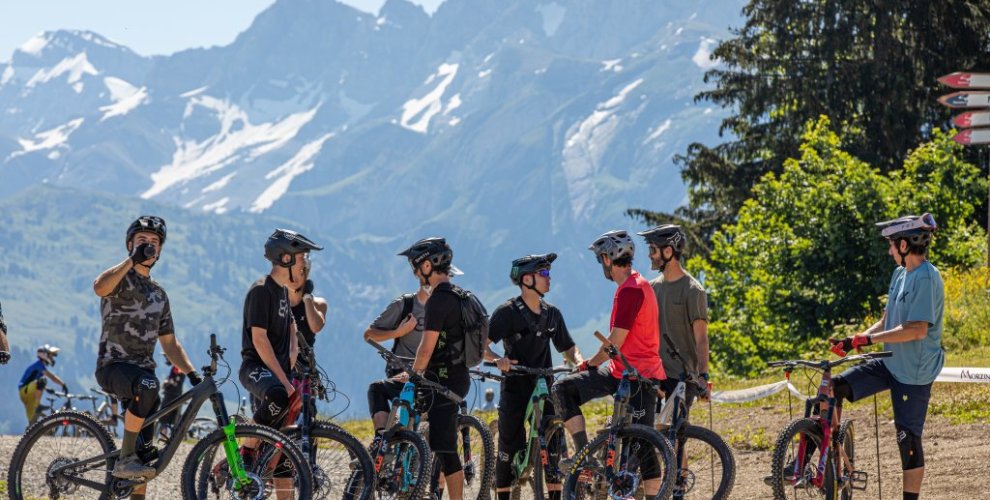 Full-face helmets - for the gnarly
Full-face helmets, on the other hand, offer maximum protection for the entire head, face, and chin. They are ideal for downhill or freeride mountain biking, where speed and technical skills are necessary. Full-face helmets are heavier and bulkier than trail helmets, making them less comfortable to wear for extended periods. However, they offer superior protection against serious injuries in high-speed crashes and collisions.
Seen on the heads of the fastest racers and free-riders in the world of mountain biking, the full-face helmet shouldn't just be the helmet of choice for Red Bull Hardline or Rampage. Any time things get a little steeper, technical, fast or rowdy (and this is relative to the riders' ability), play it safe and put on a full-face. Your pearly whites will thank you when you dive headfirst into a rock garden...
And then look at these helmets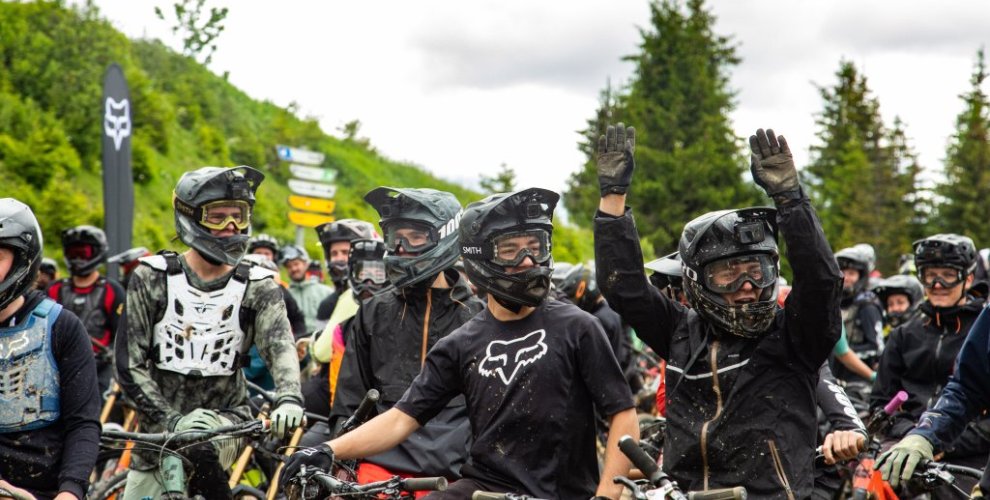 Which helmet for Morzine?
When it comes to choosing between a trail helmet and a full-face helmet, there are a few factors to consider. The first is the type of terrain you will be riding on. If you are planning to ride on cross-country or moderate trails, a trail helmet is a good choice. However, if you will be riding on steep and technical terrain or downhill trails - which is the majority of riders in Morzine - a full-face helmet is necessary.
The second factor to consider is your personal riding style and skill level. If you prefer a slower pace, a trail helmet will suffice. Want to cruise the fire roads and take in the views? Trail helmets all the way. However, if you enjoy pushing the limits on the steeps, a full-face helmet is essential.
Lastly, consider your preferences for comfort and ventilation. Trail helmets offer better ventilation and are generally more comfortable to wear for extended periods. Full-face helmets are bulkier and can cause discomfort and sweating during hot weather conditions. This is probably the main reason we see people in trail lids and believe us, we get it, but there are always the chair lifts to take your lid off and get the breeze through your flowing locks.
We understand why people would want to ride in Morzine in a trail helmet - it does get hot after all - and there are certain trails where a trail helmet would be ok, but with how steep and rough the bike park stuff can get, let alone the off-piste, the trails of Morzine definitely lend themselves to full-face helmets.
And if you find full-face helmets really that uncomfortable, maybe you just haven't found the right one. If you have the budget, consider super lightweight carbon helmets such as the Fox Rampage Pro Carbon. You could also consider enduro style full face helmets, such as the Fox Proframe helmet, which are less bulky than the full downhill style with more ventilation, but still strong enough for the likes of the EDR (formally known as EWS) boys and girls. Check out Morzine summer lift pass prices here.

What else should I consider when buying a helmet?
Safety First
The most important thing to consider in all of this is to buy as good a helmet as you can afford. Consider MIPS, breakaway visors and easy-access cheek pads amongst your buying criteria, and of course, make sure it fits well as there's no point having a helmet that wobbles around!
Had a big crash? Check for cracks, but to be safe, buy a new one. You don't want to find out that you actually had a crack you just couldn't spot when you next hit the ground.
Luggage Allowance
As we mentioned at the start, if you're driving, this issue is largely solved by having more luggage allowance. If it were us driving, we'd take both. There are certainly reasons why you would want both - fancy a quick pedal and dip in Lake Montriond? Get that trail lid out. Want to spend day 1 cruising the easy slopes as a warm-up, consider the trail lid. Setting hot laps on Pleney Mainline to claim King of Pleney? You better have brought that full face.
If you're concerned about baggage allowance preventing you from bringing a full face, you shouldn't be (and we don't mean just wear it for the flight). In our experience, a helmet bag can be brought onto a flight without eating into your cabin bag allowance. This is also the perfect place to store your goggles and gloves. While airline policy may state otherwise, so always check and satisfy yourself, we haven't ever been stopped for carrying a helmet alongside a backpack.
Silly Superstitions...
And finally, bought a new helmet? Remember to drop it for the first time before riding. Always best to get that first impact with the ground out the way before your head is in it. Yes we know, it's just superstition, but we're creatures of habit at Atlas Ride Co - and we never say "last one" either!