Morzine's busiest months for the mountain bike season are July and August. The hub of mountain biking in Europe is one of the finest places to ride during the peak summer months, the resort brings together a unique mix of riders from all over the world, to experience some of the best lift accessed trails and mountain bike culture to be found anywhere. Bustling bars, bike shops and cafes attracting everyone from beginners to World Cup pros make it an atmosphere that's hard to replicate.
The first lifts to open in the Portes du Soleil are in Les Gets, at the end of May for the final bank holiday weekend of that month. Morzine Bike Park, Chatel, Champery and Morgins all begin opening at the start of June. A lift system that includes Super Morzine, Les Gets, Le Pleney is open by mid June and the full Portes de Soleil network opens all the summer mountain bike trails by the end of June. You can find the full lift opening dates for every resort, every year, HERE.
Even if all that is open is Le Pleney, Les Gets and Super Morzine, that is still a huge amount of riding on offer and more than many other resorts have access to all year.
Le Pleney opens full time for the Summer by mid June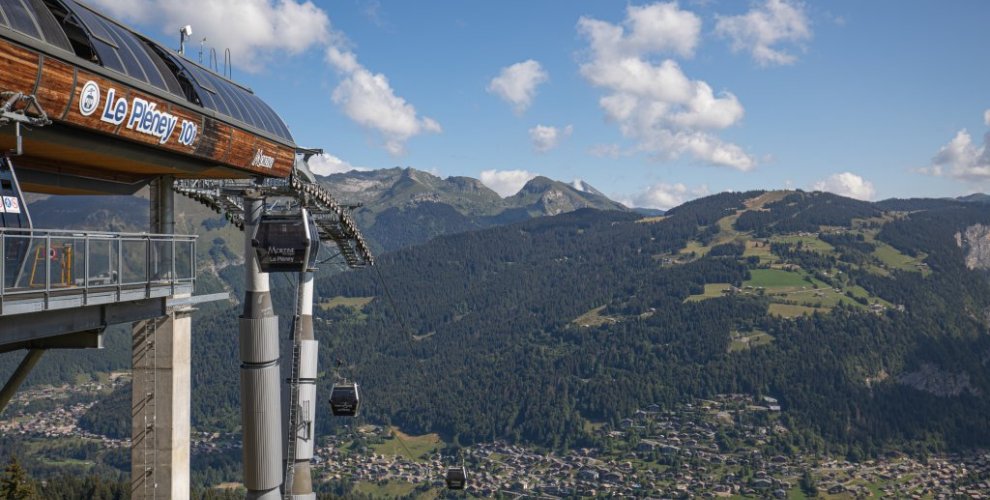 But is July and August really the best time to visit? It depends on what kind of holiday you are looking for, sometimes the early bird does get the worm, read on to find out why we think June should not be overlooked for a mountain bike holiday to Morzine.
LIFT QUEUES
The queues to get on the lift when peak season hits in Morzine can be big in the mornings, there are ways to try and avoid them, but there will always be a few bottle necks in the height of Summer.
Coming to Morzine early season in June, means those lift lines will be shorter and you'll get more time on the trails you love. A good tip is to head to Le Pleney if the line for Super Morzine is big, even if the queues are big here, the lift is so fast you'll rarely wait more than 15 minutes, unless you are trying to get to Chatel of course!
Fresh hits on 10% are a rare treat!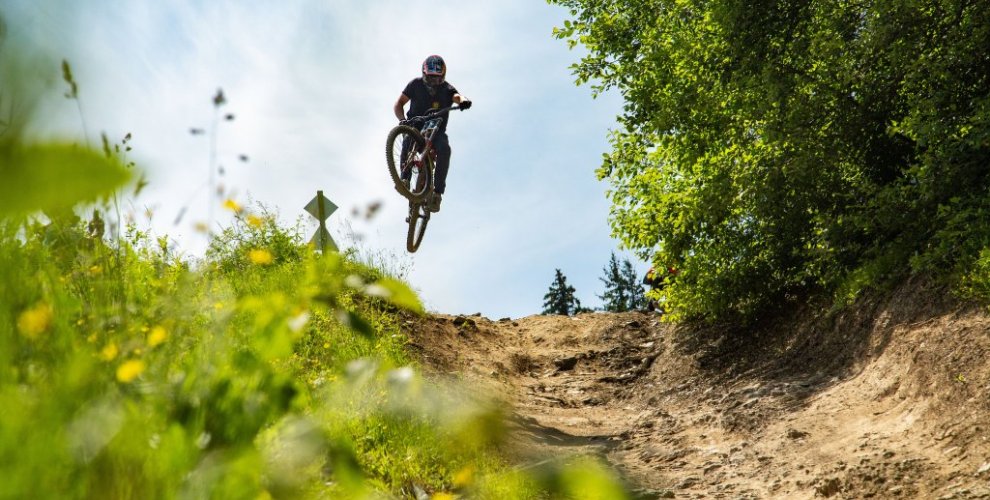 TRAILS
The trails at the beginning of the season are fresh from their work from the previous Autumn and Spring. Will we'd never say Morzine is buttery smooth, there really is no better time to rail the berms of Tutti Frutti on Super Morzine or make that leap into a braking bump free 10%.
It's a great time to hit the new features with them all prepped and ready to go. While you may not be able to access the full Portes du Soleil and therefore Chatel and the Swiss resorts maybe out of reach, there is still more riding to be found in Les Gets, Morzine and Super Morzine than you'll find in any other resort in peak season.
BARS
Ever struggled to find a chair at Bar Robinson or a deck chair at Le Tremplin for that post ride beer? You'll always find a spot in June, it's a great tile for the staff aswell, everyone is fresh and eager to serve, get the season started and hit the ground running after their Spring break.
Have a beer with locals, it's a great time to meet the people of Morzine who are often slip away into the resort once everything opens full time, if you're in Morzine for mid June, you're either ahead of the game, on a season or living there.
BREAKS THE FAST
There is no doubt you'll be eager to get away after the mud and slop of the winter. If you haven't managed to ride much over the cooler months or been able to get away to somewhere like Finale Ligure, this is your first real chance to get a proper mountain bike holiday in.
Even if it for a long weekend, it's worth it. Dial in to us for some great ideas for hotels around Morzine such as Les Fleurs des Neiges or Le Tremplin.
NO KIDS & PLENTY OF LOCALS
While this may not be a plus if you are fixed for school holidays to make the mountain bike trip to Morzine, in June there are no school holidays. Meaning everyone here is out for the riding, locals to Morzine, seasonnaires and early bird tourists are all out making the most of it.
Remember though many people are lucky enough to call Morzine home, the opening of the lifts is definitely something to celebrate for residents as well, who have all been hunkered up over Winter, itching to get the bike out in amongst the days out skiing or boarding.
Fresh new lines, constructed over Autumn are unveiled the following Summer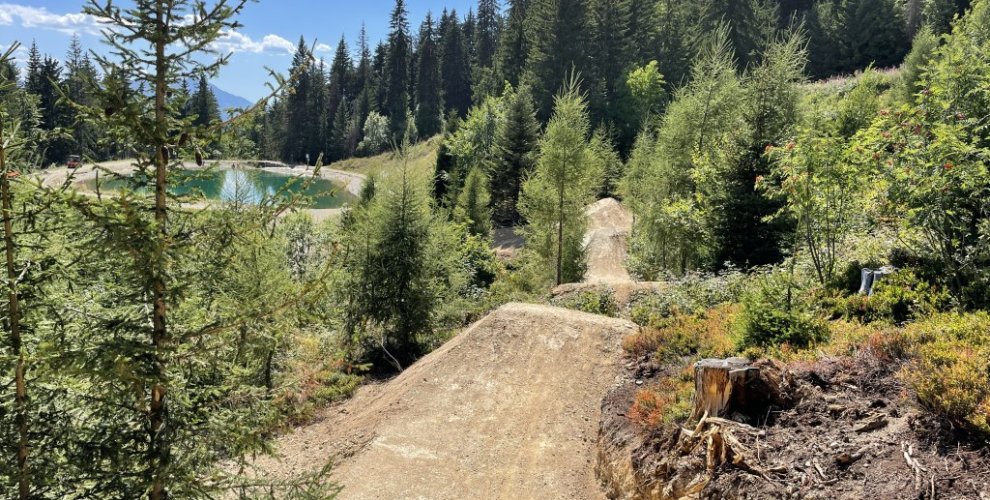 THE WEATHER
We are often asked when the best month to travel to Morzine is, for the weather. The simple answer is we don't know. We've had amazing conditions in June, July and August, as well as the complete opposite.
What is true is that the dirt is softer, Spring rains and the winter thaw leave their mark, making hero dirt rather than thick dust common place, and the temperatures do not hit the highs of mid summer, where it can be too hot to ride a gondola some days.
IT'S CHEAPER
While the lift pass and the price of a beer is the same, accommodation rates are cheaper, whether self catered or catered you'll find plenty of options early season.
Atlas Ride Co Riders Week Catered Packages start at £629pp in June, nearly £100 per person less than peak season.
Self Catered properties are up to 30% cheaper in the first week if the season, meaning you can take a mountain bike holiday to Morzine on a budget if your dates are flexible.
Any questions, drop us a message on the contact form below or on info@atlasskico.com and we'll do our best to answer them as best as we can.
#ONEPEDALAHEAD