Morzine and the surrounding bike parks of Les Gets, Morzine, Chatel and Champery-Morgins are incredible destinations to ride, world class. There is enough riding here to keep anyone happy. The sign posting is great, the community is friendly, it's a paradise for mountain biking.
Is there more to it though? Of course there is. The Portes du Soleil is full of hidden gems for the downhill and enduro bike, it doesn't matter how well you think you know this part of the world, we guarantee there's trails you don't know about.
We also believe in the idea of a holiday being just that, a break. To some people that means getting lost and arguing with your mates over which way is East, to others that's valuable ride time down the drain. It's a guides job to maximise your experience, show you where to ride and if you want the advice, how to ride is best.
We've known and ridden with Stevo for years, he's a gentlemen with a soft spoken manner, full of fun and cheek but with the steadfast professionalism when it counts. He's one of the few Brits working with a full French mountain bike guide and coach qualification, a notoriously long and hard goal to achieve. He's now head of Les Gets Bike School and a go to man in the area.
We can't think of anyone in the area better placed to guide and coach our clients on their mountain bike holiday in Morzine. We sat down with the lad before he begins his busy winter program as a ski monitor so you can get to know him a little more;
Stevo! How old are you and when did you move to the Alps?
37, I came here on holiday in the summer of 2000 and did my first season 2004. I've been a permanent resident since 2006.
What bikes do you ride?
Specialized Demo and a Santa Cruz High Tower LT.
How long have you been a mountain bike guide and coach?
9 years, since 2010.
All in France or have you worked elsewhere as a guide?
Mostly in France, a little in Switzerland, but never in Finale (even though many people think I have for some reason).
How difficult is the French guiding test and process?
It's fairly difficult, although it's changed a fair bit since I did it. The hardest part for me was the written French exams. When I came into the teacher's office to get my mark and discuss my test, he was laughing, I asked why and he said, "Well I understood what you wrote but I wouldn't call it French".
What's the number one do and don't that you'd love to let clients know before a session?
Do wear a proper fitting and suitable helmet and body armour. Do use flats use and don't use clips.....unless you're racing!
What do you think is the most important skill a mountain biker can master?
It really depends on the rider, but probably cornering, if you can corner well you can place the bike where you want it.
If you were asked to take an expert group riding anywhere in the Portes Du Soleil, where would you go?
Does starting in the PDS and finishing elsewhere count? If so I would start in Les Gets and ride the Bourgeoise to Sameons: there are 2 completely different routes, both are amazing, one finishes on a Stage of the EWS (Enduro World Series).
Stevo bringing the style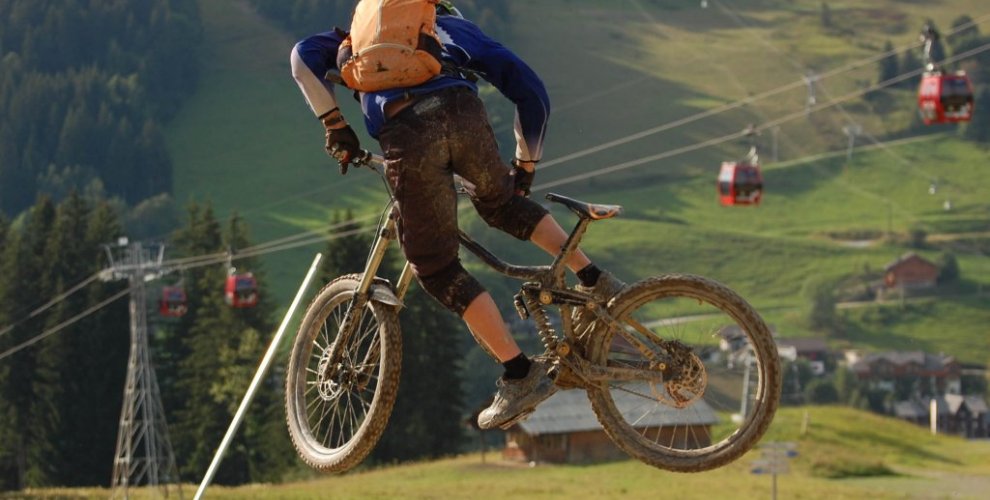 Favourite cake?
Granny's Dundee cake.
What does a typical mornings coaching look like for a beginner?
Depends on how much of a beginner they are. I've coached people that could barely ride a bike. First thing generally is we talk and I try to gauge their level and what they are looking to learn. We then ride to the lift and I can quickly see if they are capable of riding a bike. If not, we don't get on the lift and instead practice braking, standing up on the pedals, and gentle slopes.
If people can ride a bike we get the chairlift up. At the top I will discuss hand position, feet position and body position on the bike. We would then try squashing the suspension while rolling, and some braking and hard braking. After that, some cornering, which often takes the rest of the lesson. If not, we can move onto lifting the front wheel using manuals as a technique.
An expert?
You'd be surprised how many experts need some basic things corrected. I won the Scottish series in senoir class with poor body positioning and bad technique (jumping, manuals, etc).
With experts I get them to brake hard and see how they position themselves on the bike. I then watch them do a few corners and discuss cornering technique and correct anything I think could be improved; I'd then move onto drifting/cutties. I also do a fair bit of jumping with experts.
I've coached a young expert racer who could already corner and jump really well. We looked at line choice and other racing techniques, such as: where to conserve energy, line speed, using jumping styles, using video analysis to compare speeds of different lines and smoothing out his riding, among many other aspects of professional racing that would improve his strategy, speed and stability.
He went on to race the French National Series, finishing 2nd in the youth category. Stoked.
Sometimes you just gotta show em how it's done!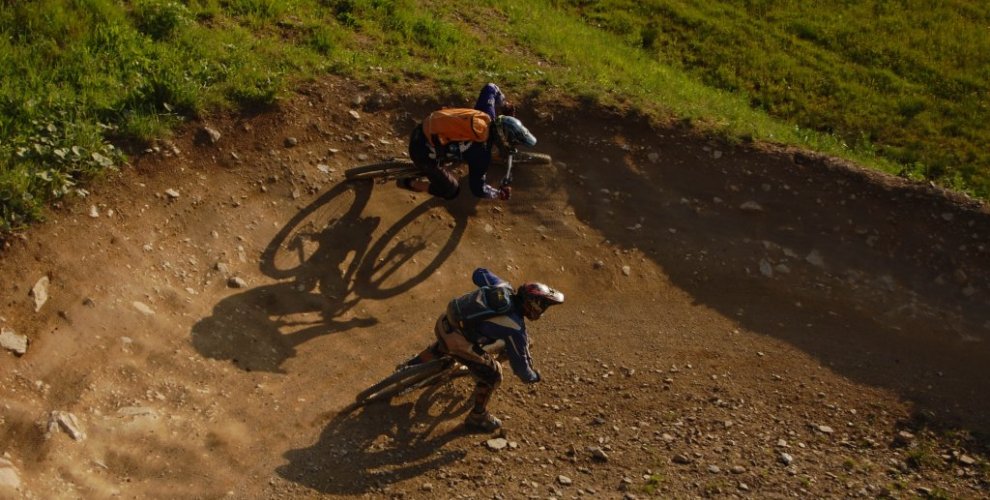 Give me a good reason why guys would call you in to show them around the area when everything is already so well laid out?
There are many marked trails in the area, but some of the best trails are unmarked and not easy to find - those less travelled, leading you to some amazing places in the mountains that you might otherwise never reach.
I've been on biking holidays myself and it's nice to switch off, not have to think about where you're going and still ride the best trails in the area. When you're on holiday you don't have time to explore and end up wasting a day, so hiring a guide can get you to the best stuff quickly.
You've got one trail left to ride, anywhere in the world before satan makes you hand in your bikes forever, what trail?
Right now the trail I want to ride most in the world is a new one I've only ridden once with a friend, in Semnoz, above lake Annecy, I don't know what it's called and probably couldn't find it again without my mate! But it had one of the longest natural gullies and some of the flowiest corners for a trail that has no built features.

Want some info on how a guide can help make your holiday in Morzine even better? Drop a message below.