Heartbreak Ridge Mountain bike trail, most people have heard of it and a lot of people want to ride it but where and what exactly is it? Located in Ballater in Aberdeenshire, HBR it is 17 kilometre loop with the main trail being 4 kilometres long with 349 meters of descending with a couple of short climbs mixed into the top section of the descent before the real fun begins. It takes an average time of 29 minutes to get down, although it can and often is done a lot quicker than that.
There is so much more to this classic Scottish mountain bike trail than just stats though, it is more the whole experience of the day in an amazing part of the world. The route starts from Ballater, which is often referred to as the Gateway to the Cairngorms and its proximity to Balmoral makes it very popular creating quite a nice buzz about the place. Ballater has a town square, which is surrounded by bike shops, pubs, cafes, a great pie shop and is a great place to just chill on a nice day. You ride HBR as part of our Cairngorms E-MTB Tour
Ballater in Royal Deeside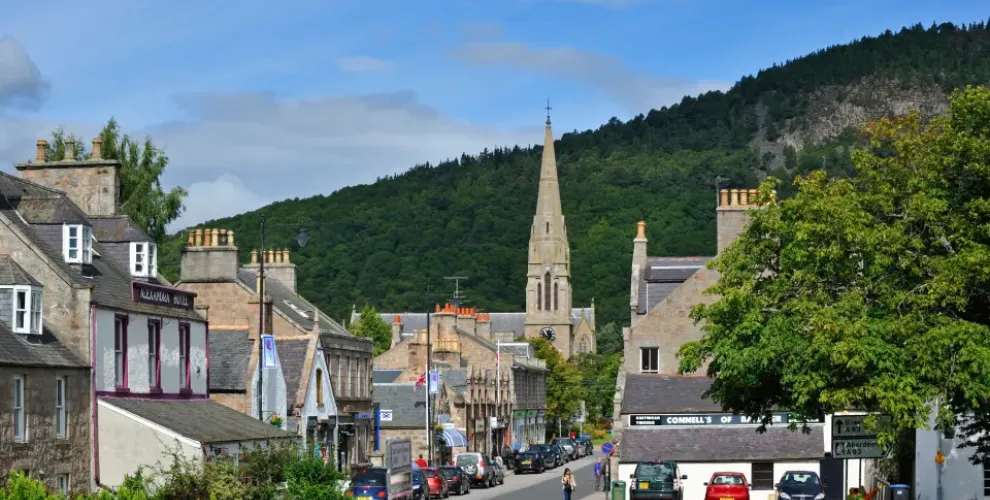 It's all about the planning
Free parking is available in a designated car park beside Cycle Highlands and Glenmuick Church or there are plenty of spaces around the square. It is a very relaxed place to start a bike ride. People sometimes ask what is the difference between the north and south Cairngorms. It is just nice in the south. It might be the Royal connections and influences, but everything is just pleasant, the houses, walls and hedgerows are well-kept. The north is amazing and has some of the best scenery in Scotland and a network of trails all easily accessible without the need of a vehicle but there are subtle differences.
Riding Heart Break Ridge is a good 2-3 hours on normal bikes. You can complete the route on most bikes but for comfort and letting the bike go a 160mm Enduro bike is what a lot of riders use. If you are very fit or on an Ebike then it is possible to do the whole route in under an hour. The route starts and finishes from the centre of Ballater. One question that needs answering before leaving is do you need that pie during or after the ride? Depends on the time of day but any time is pie time. Seriously though taking fuel on this route is highly recommended. It is a steady climb for 40 minutes so get the pie or other food from the many shops around the square. That wee bit of extra energy will make the descent so much better.
Time to start the ride
As you leave Ballater head over the Royal Bridge on the south side, opened by Queen Victorian in 1885 and with great views of the mighty River Dee. Looking straight ahead you are faced with the hill that forms the start of the trail but you don't want to go that way! That is unless you want to ride Storm, which is a great trail but with a ridiculously steep sustained climb and will not take you to Heart Break Ridge. Taking the right turn at the end of the bridge is a better idea and along a quiet road for 400 meters. This is the start of the fire road climb that will take you around behind Cairn Leuchan. The climb isn't particularly steep and starts with a very awkward gate, you will see what that means when you get there.
The climb twists its way through the contours with amazing views over to Lochnagar, which has an amazing ridge line of red granite and boasts 11 summits over 914 meters / 3,000 feet (Munro height) with the highest at 1,154 meters. check out our Cairngorms MTB tour here
After about 4 kilometres there is one short nippy ending to the climb then you arrive at a wee hut. It is not quite a Bothie as there is no sleeping platform but there is a resident mouse who chews on anything left behind. It is a great place to lunch with a table and two benches presumably used by the estate for shooting parties. It can get a wee bit windy, so this Is a welcome stop to shelter and eat the snacks that you remembered to buy.
Keep on climbing
Beyond the bothy there is a rambling double track for another 4 kilometres that takes you over a few rises with a couple of short fun descents. You then get to the final 40-meter climb to top out at 601 meters and the cairn of Pannanich Hill, also the start of the trail. Take in the views and look north, the trail is obvious and follows the shoulder dipping out of the site almost a kilometre away.
Heart Break Ridge of old was a walker's path that mountain bikers adopted over 10 years ago. It was a ribbon of gold and a local secret until word spread. The number of riders inevitably increased and eroded the trail to the point that it needed some attention, so in 2021 Aberdeenshire Trail Association stepped in and did some much-needed maintenance. It did change the nature of the trail as a lot of places needed armoured with a lot of stone and rocks. That's the thing about natural trails, they evolve and grow over time and change character with the weather, it is how the world of natural trails works.
The first half of the descent is a roller coaster with great rock sections followed by gentle climbs. You get to a point where you can see the forest starting to edge its way up the hill. No more climbing from here! The trail changes nature now with slightly more challenging technical sections where speed is your friend, letting the bike go and find lines you might not have previously thought about. It then flows into an area of natural slabby rock with lots of potential lines. There are some strategically placed rocks to guide you through the maze and a brilliant flowy section as you descend ever closer to the tree line.
HBR starts and finishes in the village of Ballater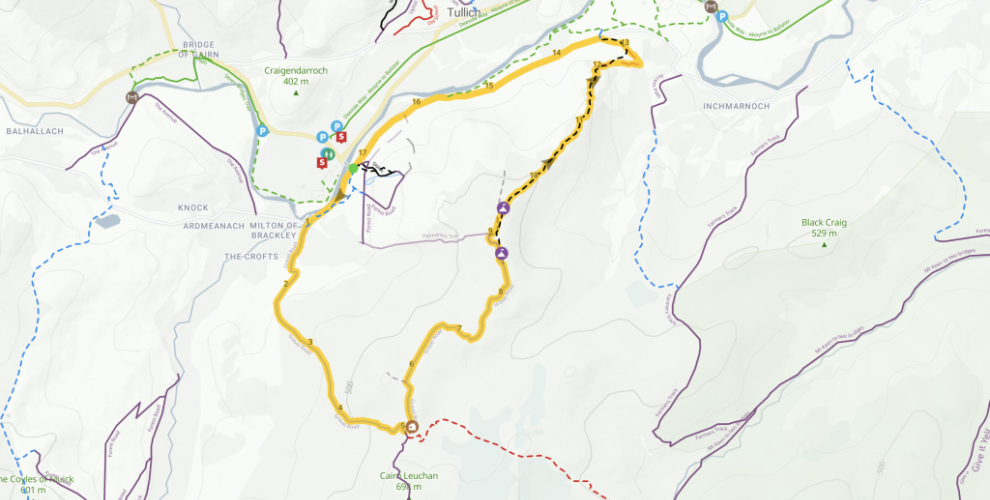 It's rock and roll all the way from here
There seems to be a natural flat spot just after a small drop-off as you reach the first trees, that allows some great photos of riders coming down the trail. This is where the terrain takes a dip with a brilliant open and exposed big rock slab that allows the trail to meander its way down the face. It is quite a feeling looking left or right down a rock slab that just disappears out of site below you. After a few contours, the terrain dips again down a rocky shoot. The rock is like sandpaper and great for tyre adhesion, so speed control is an option. Riders love a photo on this section as there are some great views of riders coming down. There is a B line off to the left of the shoot which provides a great vantage point or if you aren't in the right head space this is a much easier option.
From here you can see the tree line but before you get there is the last technical section, which has a reasonable drop which is rollable, honest, this also has a B line to the left.
The tree section is great and smile-inducing with its fast, flowy, bermy, jumpy sections taking you through some amazing Pine Forrest. There is nothing technical just stay off the brakes and let the bike do its thing. A brilliant end to a great trial. When you exit the gate to the road you have two options left along the road back to Ballater or straight over the road down a wee bit of single track. At its junction you can follow the path for a couple of kilometres until it rejoins the road to Ballater or go right and over the ET and Rollercoaster, another couple of great trails at Cambus O' May.
Whichever way you go you will get back to Ballater and the relaxed atmosphere of the town for a beer and a swim if its roasting, there are a few spots near the Royal Bridge. Good times in a great place with amazing trails. Heart Break Ridge is just one trail in the area and with Aberdeenshire becoming an emerging mountain bike destination there are better times ahead in an already brilliant biking area.
Contact us for any more info
If you have any questions about the Heartbreak Ridge trail or any of our guided mtb tours in Scotland and the Cairngorms please use the contact form below and one of our friendly team will get back to you ASAP