Morzine maybe the cultural home of mountain biking in Europe but it's not all about shredding the Pleney or catching sweet air on Super Morzine. There's so much to do in this beautiful corner of the alps, from activities you know like paddle boarding or tennis to ones that you may not like hydro speeding or taking on a Via Ferrata.
The majority of our clients wouldn't realise abundance of things to do beyond the bike in Morzine. If we're honest we wouldn't blame them as we're more often found on the bikes in the woods than at a lake or golf course, but we all need a rest from time to time and we've all wondered what it would be like to bring the family, the kids out on a holiday to this alpine paradise....
Paddle Boarding or Kayaking on Lac de Montriond - €15 per hour
Lake Montriond (Lac de Montriond on signs) is an area of outstanding natural beauty just a short pedal or drive out of Morzine, or infact on the way home if you heading down the valley from Les Lindarets after a ride. Most mountain bikers know it as a place to chill and take a dip after a day on the hill, but from 9h - 16h everyday in the summer months you can also rent a paddle board, kayak or canoe from the office based in the structure at the Morzine end of the lake.
Never been paddle boarding? It's genuinely rad. Not in a 'just hucked 10%' kind of way, think more along the lines of getting to know nature, the water and yourself. Floating around the peaceful lake looking on the cliffs littered with waterfalls and sun hitting your back. The staff at the office are super helpful and will guide you through if you haven't done it before.
Lake Montriond at sunset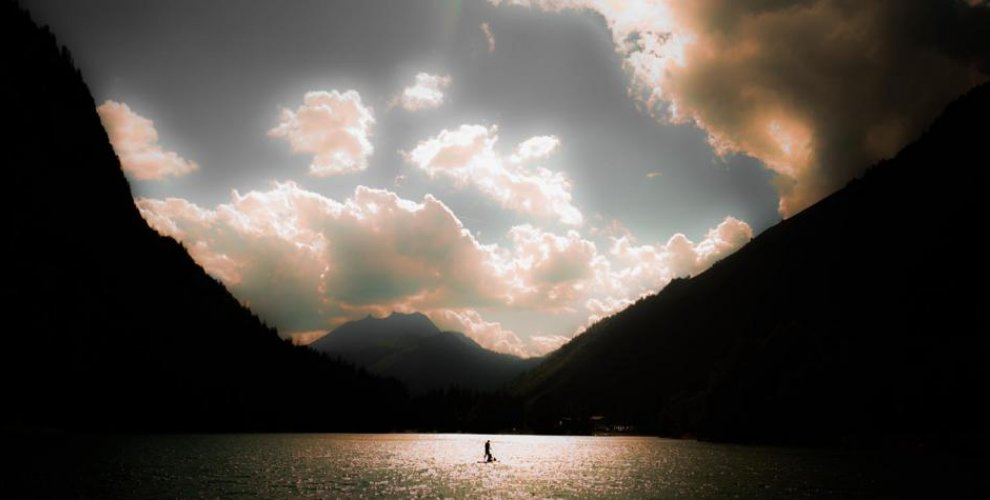 White Water Rafting - From €40 - €60 per person
We've all seen the photos, rafting in Morzine is a helluva good time. Negotiating the rocks, dropping through the rapids and pushing your mates off the side. Our partners at Frogs rafting will kit you up with everything you need for the day, including an English speaking guide who knows all the best spots to stop for a good size cliff jump to practice those back flips.
You'll be away for a good 2 hours on the water, and you can take it as easy or as rough as you like, it's gets better in the heavy rain so a great detour if you're in a Morzine wet week and want to do something rad for the day instead of getting muddy.
It's for up to 8 people, or 16 if you can fill two boats. Check our blog here to find out more about a day out on the river Dranse
Hydro Speeding - From €50 - €65 per person
Hydro Speeding is white water rafting, without the raft. You are equipped with fins, a reinforced wetsuit, helmet and a body shaped foam board which allows you to steer through the rapids just like boogie boarding. With your body immersed in the water and your head at ducks eye view of the rapids, it's am awesome rush.
The guides from our friends at Frogs Rafting are brilliant and you'd be surprised how manoeuvrable the little boards are and the fun you can have duck diving and riding waves for a couple of hours with your buddies. You have to be over 14 years old for this activity.
Canyoning - From €50 per person
Best described falling down cliffs and into deep water pools, but with style. Canyoning is a form of hiking where you scramble over rocks and into natural shoots. The difference being if you tried it without the guide and gear the likelihood of broken ankles within 2 minutes is certain, with our friends at Evolution2 it's safer than Tutti Frutti on Super Morzine.
All the guides speak fluent English so you'll have no problems taking instruction on the abseiling and jumping elements of the trip, where you essentially follow the River Dranse from Nyon into Morzine. They'll provide with all the kit, except the shoes, you'll need a sturdy pair of trainers.
Caving and Potholing - From €55
Enjoy crawling around tight spaces in the dark with absolutely no idea where you are going, with nothing but a headtorch and a Frenchman to guide you? Potholing could well be for you! Avoriaz has a pretty extensive cave system that the guides at Evolution2 know like the back of their hands. This takes around half the day as it takes some setting up with all the gear, briefing and and transportation to the start. A good shout for one of those overcast days!
Via Ferrata - from €45 per person kit and guide included
Scared of heights? Best stick to the bike if so. If you're not this is an incredible way to view the mountains surrounding you. With multiple tours of varying length and difficulty surrounding Morzine in both Avoriaz and St Jean D'Aulps, it's one of the best ways to get a new profile pic or get some adrenaline off the bike.
A Via Ferrata is best described as mix of rock climbing and walking, you rope in and scale precarious ledges and drops, with use of climbing frames and ladders. It may not be the Hilary Step but it's high and it feels it every step of the way.
We've teamed up Evolution2 to offer you this unique experience, complete with guide and all the kit you'll need to scare yourself silly.
Parapenting - From €65 for kids and €85 for adults
If you've ever visited Morzine or anywhere the Alps before, no doubt you've looked up and seen people gracefully flying around the skies with what would have to be one of the most insane views of the area you could have. Sure, you'll need a dose of courage strapping yourself to your experienced pilot, and jumping quite literally off a mountain!
What sounds relatively dangerous is actually quite safe, it's what these guys do everyday for a living. Your guide will be English speaking and well versed in riding the thermals that keeps your parachute in the air, riding them around around the mountains, taking in the landscape before landing back in the centre of town.
Parc des Dereches
The Dereches is the name of the park that runs through the valley in the centre of Morzine. If you want a quick walk in the woods without getting up into the hills, this is where you'll come. Morzine has packed alot into this small little area with a leisure complex, outdoor gym, Adventure Park and more....
Pool and leisure complex - Entry included with Multi Pass or from €4.50 for kids and €6 for adults
Yes, you'll need budgie smugglers (Speedos) if you're a guy, you can buy them onsite if needed. There's a lap pool, a public outdoor pool and a separate kids plays area.
Tennis courts - Entry to hard courts included with Multi Pass or from €12 per hour court rental
With hard and clay courts available and a wall to hit up against if you don't have a tennis buddies around.
Embrace your inner Nyjah Huston or Phil Atwill in the skatepark. Funded by a film project Morzine residents put together, it's a cool way to spend the evenings. Respect each other, if your bike has mud on the tyres don't ride in there, you'll ruin it for the skaters. Be nice to the scooter kids, we all gotta start somewhere.
Football and Hockey pitches - Free
Roll on down with your mates, a ball and if they are available, crack on! FOOOOTBAAALLL
Paintball - €28 per person, 100 balls €5, 1000 balls €30, 2 hours & 10 person minimum
Ride all day with your buddies and then go shoot at them for cutting you up on Le Pleney? Best day ever? Paintball is actually just outside of Morzine, a short 2 minute drive or 10 minute ride.
Indiana Adventure Park - From €11 - €23 depending on age and height
Pretend your 10 again (unless you're actually 10) with rope swings, zip lines and high balance obstacles to run around and fall off. Great fun with the family.
Horse and Pony riding - From 10€ for a pony and from €25 for a horse per hour
From the kids who want a little roam around the Dereches to adults who want all day out in the back country, there's a fully functional and dedicated horse riding facility in the centre of the park.
Point to Point Hiking
Morzine is a truly special part of the world. It's stunning landscapes and mountain views are actually fairly unique even in the Alps. Though we are surrounded by mountains the topography is such that taking a good old fashioned hike around them is relatively easy and yet still rewarding.
Popping up to the Mont Chery mid station and either walking to the brilliant restaurant at Mont Caly, or making your way to the very top of the mountain, either giving you one of the best uninterrupted views of Mont Blanc outside of Chamonix.
You could also take on a mini PDS tour, with the lift system allowing you to get yourself from Morzine, all way over to Champery and back within a day quite easily. Take the Super Morzine lifts, make your way to Avoriaz and download on the Lindarets chair. Break for a coffee in the village below, then follow the river up the the Mossettes chairlift, selfies at the stunning waterfall below it obligatory. From here up and down this chair system, up Les Crosets and wlak across the ridge to the Champery teleperique. If you have the time you can take the GR5 route from the top of the Mossettes peak back to Lindarets.
Salmon Ridge as it's known as a famous mountain bike trail to those that ride. It's legality to ride now is highly questionable, put it this way you wouldn't want to get caught on it by the Swiss authorities. It remains however one of the most picturesque walks in the region. Get there by walking up through the Vallee de la Manche past Nyon and keep heading up.
You can check out all the info you'd need for the region in the brilliant booklet here. Ask any of our amazing staff or visit the Morzine Tourist Office.
The Portes du Soleil is full of stunning scenery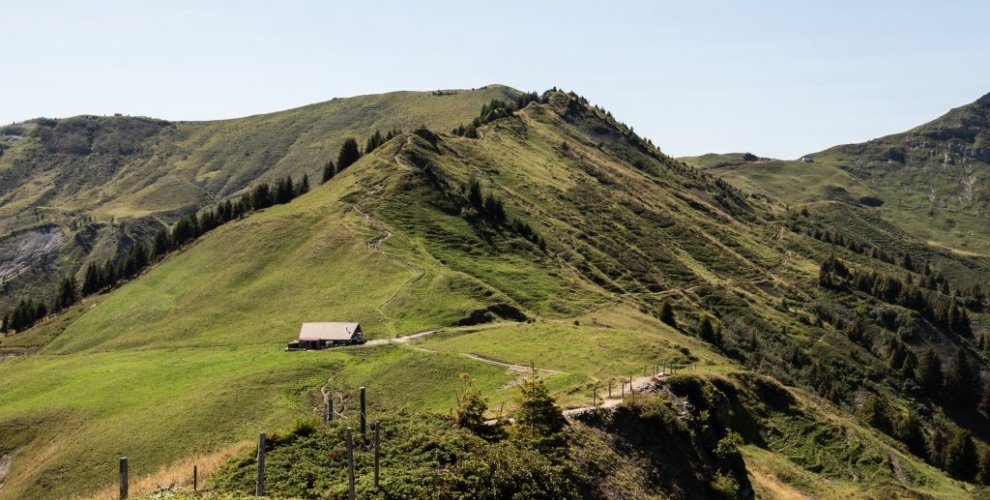 Wakeboarding from €35 each - €175 p/h exlcusive boat hire
If you fly into Geneva you'll pass directly over the stunning Lake Geneva. A vast expanse of clear, crisp water that is just incredible on a hot summers day. You could spend the afternoon at one of the many beaches near Thonon or Evian Les Bains, soaking up the rays or you could get your mates together and hire a boat, driver and all the toys from our partners at Pool Snap and shred some H20!
With modern boats and all the equipment you'd need for a good time on the lake, think wakeboarding, wakesurfing, kneeboarding, wake skating or they can even show you how to rip barefoot too! Open till 20h and even later on Thursdays, you can still get that time up the hill and make it down to the lake for dusk for maximum holiday!
Wakeboarding on Lac Leman
Golf - Green Fees in Avoriaz from €30 Les Gets from €39
Golf. Before you say something negative, have you ever played? It's a genuinely fun and a relaxing way to spend an afternoon, in the alps or not. If you do play? Well, ever teed off with Mont Blanc in your sights? Thought not. The immediate area around Morzine boasts two excellent courses. The 9 hole Avoriaz is a relativley straightforward course with amazing views across the valley. The far trickier 18 hole par 70 Les Gets course throws up plenty of challenges so if you're a bit rusty, bring plenty of spare balls.
Both courses require booking and you can rent equipment, even a golf cart! Dress codes are fairly relaxed (yes, golf courses have dress codes, lets be honest you've dressed up to get into a night club so what's the difference). You can also make late reservations for either and get a good day riding on the hill. If it's just a quiet swing you're after there is a driving range at either.
Les Gets Wibit Water Park - From 10€ per person
Remember Wipeout when it was on TV? Well have a crack at the real thing in Les Gets. Inflated on the lake toward the bottom of Les Chavannes and open from 11h - 20h, it's a hoot! Entry to the lake costs 2€ and sessions start from 8€. You do not need to reserve a place, but if there's 15 of you or more you can book the whole thing to yourself!
Wibit Waterpark in Les Gets
Aquariaz - From €3 for a toddler to €11 for an adult
A fully fledged swimming centre on top of the cliffs in Avoriaz. Best with the family than with the bikes. Though swimming trunks rather than Speedos are allowed, it's very much a family hangout rather than all about the lads 'sending it' down the slides and bomb dropping the deep end.
Aquariaz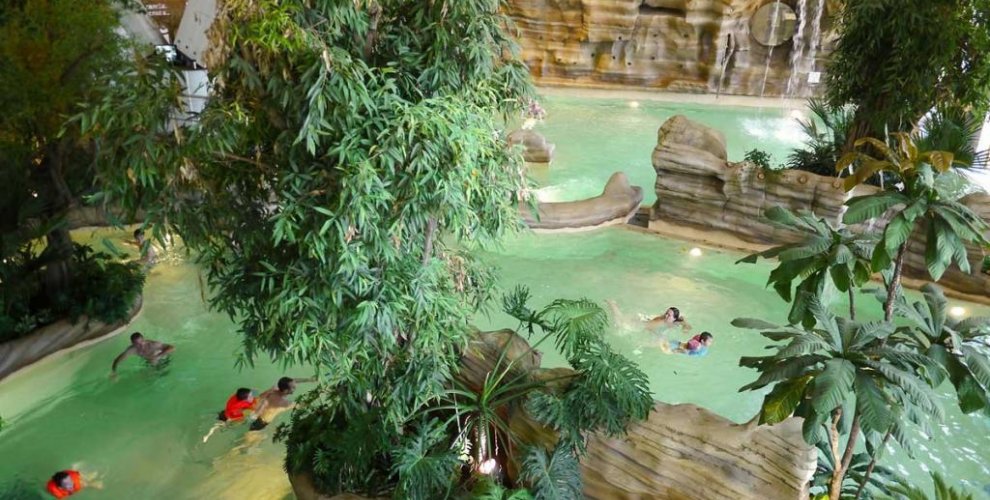 Nyon Adventure Park - From
If the small adventure park at the Dereches is for the kids, this setup, nestled in amongst the trees around the cascade de nyon is for the bigger ones. Great to bring the family to, especially if Mum is a bit uneasy with heights! It's not mean, the park is extremely safe and well managed, but there are afew higher zip lines and jumps that mean getting fully harnessed up and letting out a little yelp as you step off the ledge. Great fun!
Summer Luge - €5 a pop
An absolute sure fire way for a group of mountain bikers to sustain at least one injury, to concrete luge running down the Pleney is a barrel of laughs. You can manage your speed easily with the luge's controls, so nice and safe for a parent and child combo. However if you want to get wild just lay off the brakes and before you know it you're hitting warp speed. You've been warned.
Buy your tickets from the Pleney lift office during opening hours.
Summer luge on Le Pleney, hands down more dangerous than mainline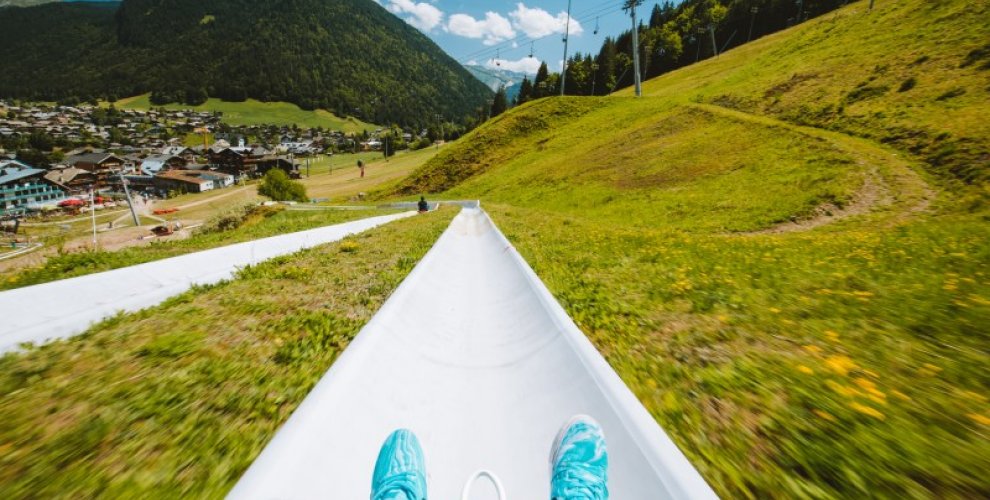 Our staff will always be on hand to book you onto any of these adventures or answer any questions you may have. Check out some properties below and don't hesitate to contact us if you'd like more information before booking!