What is more annoying? Getting a puncture or trying to set your bike up so you don't get them? I'll tell you, both annoy the hell out of most people. But at least one of the grievances can be alleviated by following afew simple steps, and we don't mean avoiding the rough stuff on the trail.
It's not really a mystery as to why we still run air in our mountain bike tyres. There simply isn't a better method of keeping the wheels rolling while maintaining the grip, cushioning and rolling speed of rubber filled with air, so far. Despite advances like live valve suspension and electronic dropper posts, we still get on the pump. Formula 1 cars still have air (nitrogen gas but you get idea) in their tyres, so looks like we are sticking with this for a while.
The inner tube was long considered the best way to keep our tyres up, despite it's failings on reliability it is usually easy to replace and clean. Some still swear by them, particularly those on 26" bikes that might have little other choice, or those that love a corner schralp. The first signs of tubeless coming into the mainstream market were in the World Cup scene, now it's fair to say most riders both professional and amateur are using tubeless setups, it's benefits on the trail and in time saved are definitely worth the switch.
Tubeless systems have only gotten better and easier with the development and improvement of new sealants such as Peaty's Products developed by the man himself and his team of industry pros and scientists. It's a funny subject to bring up with most mechanics and especially racers, they'll all have an opinion on which sealant is best! We've been using Peaty's across our hire fleets and personal bikes with zero issues, other than occasionally getting some degradeable glitter in our hair.
Tyres have also improved with new tubeless specific models being developed to hold air better and create a more secure seal with the rim. With ticker sidewalls and armour we are getting close to solving the puncture pandemic.
Tyre inserts have added to the puncture puzzle. A fairly simple idea derived from Motocross that not only protects the rim on big impacts but also helps to prevent pinch flat punctures, with added benefit of being able to ride home on the insert if you do puncture, rather than your expensive rim. From it's conception this was not a cheap option with the first in its field the Schwalbe procore, retailing at an eye watering £155rrp this was anything from cheap and a nightmare to set up.
There are many brands with creative new solutions to inserts, Rimpact, Cushcore flat tire defender and Nukeproofs ARD to name a few. These were not only easy to fit but if the dreaded occurred on the trail they could be easily removed and a tube replaced allowing you to continue you ride to the end of the day.
Rimpact Tyre insert in Finale Ligure
To go tubeless or not to go tubeless?
| | | | |
| --- | --- | --- | --- |
| Tubeless Wins! | Tubeless Fails | Insert Wins! | Insert Fails |
| Hassle free riding with more commitment in the rough | More expensive than a tube at first | Protects the trim | Messy when you have to take it out if installing a tube mid ride |
| Weight decrease over a standard inner tube | Can be messy to setup | Protects the tyre | Extra weight |
| Cheaper once setup, once you have the valves and tape, tubeless is very efficient | Messy when you do puncture | Helps when holding a line | Can effect tyre feel |
| Can re-seal small punctures | When a tyre is split it's done | Can ride to end of a trail after a puncture | Can be hard to install |
| Increased rolling speed over an inner tube | You have to start over to replace a spoke | Be more committed in the rough | Many setups are expensive |
| Far more puncture resistance | Setup has ended relationships | | |
The Guide, what you'll need to avoid the issues
Kit Required:
Wheels. Ideally this will be a tubeless ready set up but is not necessary provided you use the correct tape and tyres. Excessivley dented rims will be hard to setup.
Sealant. Loads of choice, afew good ones out there. We run Peaty's sealant, it's got a bunch of research behind it, the micro pellets (glitter) not only help to plug holes but allows you to easily find the hole in the tire should you get one, it's also environmentally friendly in that the fluid (water based) and pellets (derived from tree bark) bio-degrade easily and the packaging is low impact and re-usable.
Tubeless tape. This is crucial to an optimal set up. Measure the width of your rim and then choose a tape to match this. duct, Gorilla and electrical tape can work but none of these are specifically designed to prevent spoke damage and also leave a sticky residue on the rim. Many wheel manufacturers will provide your wheels with tubeless tape already set up but in case you need to buy a new tape, Peaty's have the Rimjob.
Tubeless valves. Don't skimp here. They'll last for years. Again Peaty's are a solid choice with the clever valve cap acting as a valve core remover. Loads of colour choice to match kit up, AND they have a lifetime guarantee. WIN.
Tubeless tyres. Usually this is clearly written on the tyre with some for of code or marking. Get a tyre suited to what you are riding on. Exo casing tyres are useless on rocks but roll very well, DH tyres may lose rolling speed but are far stronger.
Tyre insert. As mentioned there are many on the market but for us there is one that is easy to fit, does it's job and is at an appropriate price point, the Rimpact

#sendnoodz. Cheap and simple.

Pump. Some people will tell you that a compressor or airstore pump is necessary. Sure it's a little easier, but a good set of arms and a decent track pump will get most setups going if it's been done right.
*Peaty's also sell a complete one stop shop conversion kit!
Make sure the rim tape goes on properly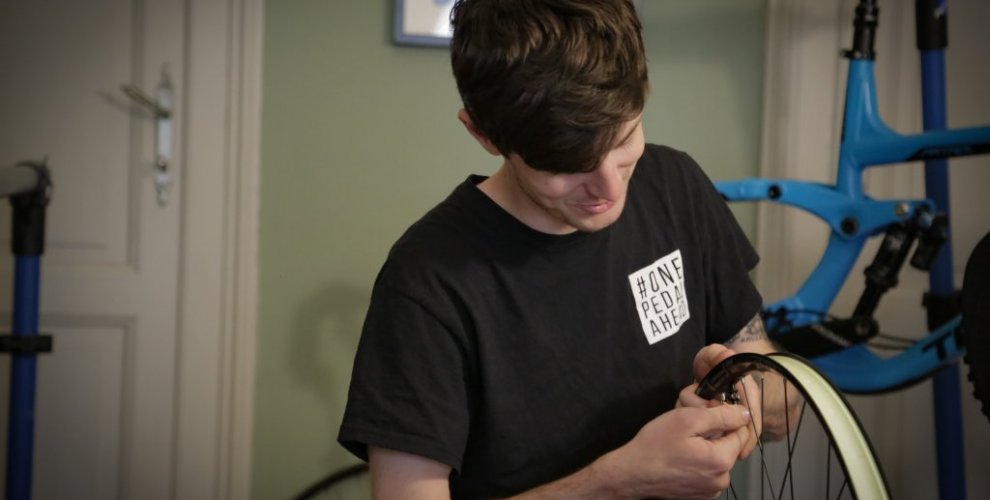 The Setup
If the wheels and tyres are used,

thoroughly clean them of all residue. It's a smart idea to remove your disc rotor aswell.

Applying rim tape

. Starting at the valve hole wrap the tape tightly around the rim either once or twice depending on how flat the rim profile is. Make sure the tape overlaps the valve hole. Be fastidious and take your time here, it's the number one cause of tubeless setups not holding air. A wheel jig helps, if you don't have one, do it in the bike, so you can get good grip on the wheel and tension on the tape.

Pierce the tape where the valve hole

is with a safety pin and push the tubeless valve through the hole (don't make the hole too big or air will escape). Once through screw the valve collar on, this usually includes a rubber seal so be sure to put this on first.

Removing the wheel

from the bike or stand, seat one side of the tire onto the rim. Do yourself a favour and make sure the tire is the right way round, and if you have OCD or want to be factory, get the writing on the sidewall to match up to the valve.

Place your insert

into the tire and seat around the rim, this should be quite snug but not too difficult to do.

Seat the tyre on the other side

of the rim with the insert inside, this could be tight and may require tire levers to fit. Fully seat the tyre, we'll do the sealant after.

Once fitted, you have a choice.

If the tyre was a ball ache to get on, add sealant to tyre through the valve core. If it was a doddle, unseat a small section and pour it in through there. This is the preferred method, it's less messy and you know exactly what's gone in. Do this at the bottom of the tyre, by the floor.

Pick the wheel

up from the bottom and re-seat the rim, if you need to use levers, gently move the wheel around to be comfortable,

and tilt it so sealant doesn't go everywhere.

Now Pump!

at around 15-40psi you'll start to hear the sidewalls popping as they fit to the rim, it'll be loud. If there's hissing and no air is going in, you've got an issue. Sometimes rotating the wheel round, or horizontally will get sealant to where it needs to go. Keep pumping to around 45-50psi. Once up, check for any air leaking. Dents in the rim, valve and valve core not being tight, leaking sleant or air from nipples meaning incorrect rim tape application are common issues here. Leave for around 15 minutes or so. It's normal for some setups to lose some pressure but still be good, ride up and down the street before getting too stressed that it hasn't worked.

Set your pressure and go shred!
If all of this sound too hard, don't fret. Your local bike shop will get this sorted for you, or if you are on holiday our man on in the workshop can get you setup in no time with all the parts require in stock!
Stay #ONEPEDALAHEAD