You don't want to fly and and you don't want to drive. How else can you get the the Alps? Unless you are going to ride your bike there a train is the alternative. It's something different and has quite afew benefits over driving or flying to Morzine.
You're probably only going to take this option if access to the Eurostar service from London Pancras is easy for you. It's here you'll need to set off from, first hitting Paris Gare de Nord, then onto Paris Gare de Lyon then onto Geneva or Cluses, then Morzine.
Quite an adventure! The main advantage over other options is the cost, if you are planning on driving by yourself it's around £100 cheaper to travel by train, and dependent on what price your air fare is over flying it can save you afew quid there aswell. It's also more environmentally sound, with emissions far less than that of car or air travel by comparison. It's chilled, you can sit on the laptop, check out Pinkbike or send some last minute emails, grab a bite to eat, watch the countryside roll on by.
These are the views that await you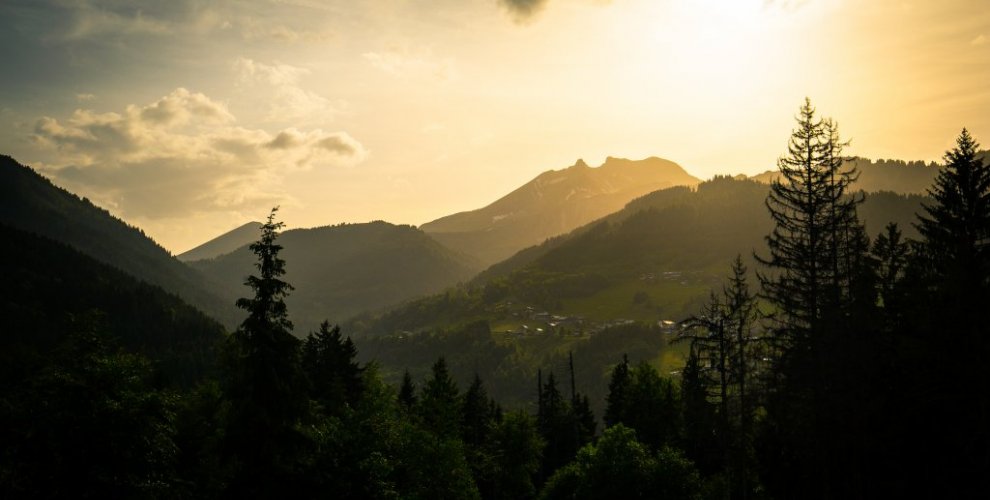 THE PARIS CHANGE
However, you are looking at changing from train to train with a decent trek across Paris, and you'll still need to take a transfer to Morzine wether you end up in nearby Cluses or further down the valley in Geneva.
The Paris change, with a bike bag in tow is the biggest issue. You must cross 4.4km across Paris by foot, around an hour, or take one of several public transport options. If you're hiring a bike or simply travelling without one, easy. Travelling with a bike can pose issues as though your bike is allowed on the trains, it might not fit in the taxi or subway or through the city turnstiles to access them.
Riding your bike across Paris isn't really an option, as the TGV will only take bikes on board if they are boxed or bagged up securely.
You can grab a train, book a specifically sized taxi or take a bus to make the change. A decent list of options with links can be found here. Whatever you choose, time it well, don't miss that train to Morzine!
EUROSTAR - GENEVA - MORZINE TRAVEL TIME / COSTS
Eurostar London to Paris takes 2 hours 20 minutes
High-Speed TGV-Lyria from Paris to Morzine taking 3 hours
Transfer from Geneva to Morzine 1 hour 15 minutes
£70 (London - Paris)
£5 - £30 Transfer across Paris
£21 (Paris - GVA)
£30 - £40 Transfer to Morzine
TOTAL APPROXIMATE COST / TIME - £126 - £161 / 7 HOURS
Your bikes will have to be boxed up to travel to Morzine on the train
POSITIVES | NEGATIVES
Positives of taking the train to Morzine
Adventure
When you're on the train it's relaxing, time to watch movies or finish a bit of work
In touch with your kit the whole time, no baggage handlers
Environmentally positive
Negatives of taking the train to Morzine
If you're far from London it's a fair hassle on the UK side
Trekking across Paris could be a drama
You change method of transport at least 4 times
A group may find issues storing bikes on a TGV
See more information on FLYING and DRIVING to Morzine.
We'll be there, ready to welcome you with a cold beer in hand however you choose to travel, our team can't wait to introduce you or welcome you back you to Morzine.