Finale Ligure Hotels, located in Italy's Liguria region, is a renowned mountain biking destination that attracts riders from around the world. The town offers a range of bike-friendly hotels that cater to the needs of mountain bikers. We have been operating and working with some of the very best Mountain Bike specific hotels in Finale Ligure for several years now. These hotels provide essential bike-friendly facilities like tools, laundry services and a dedicated area for storing and drying cycling clothing.
Booking a Hotel in Finale Ligure for your MTB trip gives you the ultimate flexibility but ensures breakfast is served each day giving you the fuel for some serious riding on the world-famous trails. The food in Italy and Finale Ligure is incredible and we strongly encourage eating out in many of the town's superb restaurants, you can find anything from the seafood catch of the day to stunning pizza and pasta dishes.
Finale Ligure is divided into two main areas, the New Town (Finale Marina) and the Old Town (Finale Borgo). Most of the Bike Hotels in Finale Ligure are located in the Finale Marina. The seafront promenade in Finale Marina is a bustling area filled with shops, gelaterias, bars, and restaurants. It's a vibrant hub where locals and tourists gather to stroll, shop, and dine while enjoying views of the sea.

Finale Borog is a stunning medieval gateway to some of the best trails on earth
Finale Borgo or the Old Town is the historic centre of Finale Ligure and is known for its picturesque medieval architecture and narrow, winding streets. It is a pedestrian-only area, allowing visitors to explore the town's rich history and preserved buildings at a leisurely pace. The main square in Finale Borgo, Piazza Vittorio Emanuele II, is a lively gathering spot with cafes and restaurants. Finale Borog is also located very close to the majority of the bike shops in Finale Ligure and several of the mountain bike uplift companies and shuttle van pick-up points.
The square is surrounded by historic buildings and leads to the imposing Castel Gavone, a medieval fortress that offers panoramic views of the town and the coastline. If you choose to stay in a Hotel in this area of town you won't regret it! If you book a Finale Ligure mtb hotel in the old town you have quick access to the uplift vans, and the bike shops but you do sacrifice the easy access to the beach.
You really can stay this close to the beach in Finale Ligure.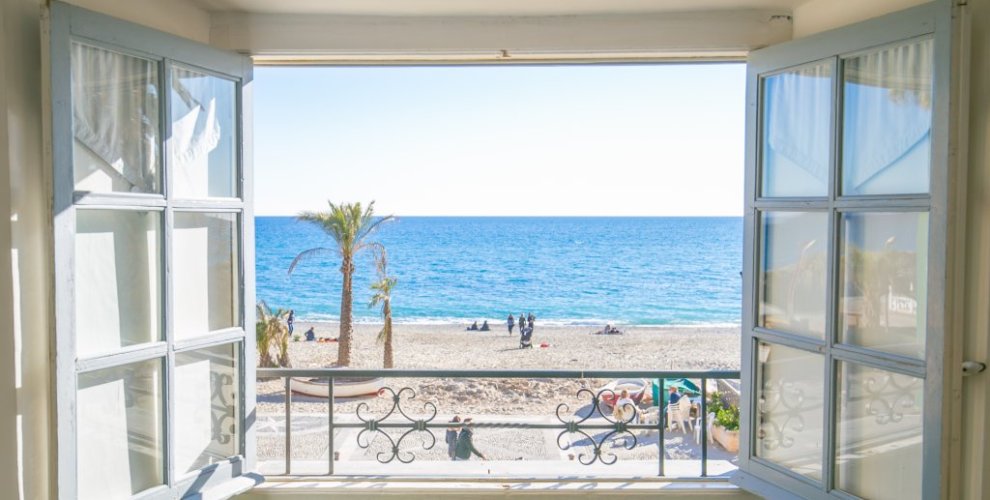 Mountain Biking has been fully embraced in Finale Ligure and its shows
Mountain bike-friendly hotels in Finale Ligure understand the importance of secure bike storage also and we ensure all the hotels we work with have excellent dedicated storage areas equipped with bike racks, hooks, or lockable rooms. These facilities ensure that our guests' bikes are stored safely during their stay, minimizing the risk of theft or damage. Always ensure you have taken out bike and travel insurance when traveling to Finale Ligure for your MTB holiday.
Bike maintenance and repair facilities are also available in all our Hotels in Finale Ligure, often you will find bike maintenance and repair facilities that cater to the specific needs of mountain bikers. These facilities may include basic tools, repair stands, pumps, and access to bike wash areas. Guests can perform most minor repairs and maintenance tasks and seek assistance from the hotel staff if needed. If you can not fix your bike on-siteO there are many local bike shops in Finale Ligure and we can strongly recommend Odonno Bici in Finale Ligure Marina.
Local knowledge in Finale Ligure is vital to a successful holiday
Local Knowledge is vital to a successful mountain bike holiday in Finale Ligure and the fact that most of the Finale Ligure Bike Hotels are family-owned means they are staffed with knowledgeable and experienced individuals who are familiar with the local trails, riding conditions, uplift providers and bike shops. They can provide guests with valuable information on trail maps, difficulty levels, and recommendations based on riders' skill levels and preferences.
Our team are permanently based in Finale Ligure during the Spring and Autumn seasons, between April - June and September - November and we are always on hand to provide and help with your hotel accommodation booking or any other element of your mtb holiday in Finale Ligure. We also have our Specialized hire bike fleet and offer airport transfers to external clients.
If you are planning to visit Finale Ligure please do get in touch with our friendly team if you have any questions on the contact form below.