How to travel to Finale Ligure: There are a few options to get to Finale Ligure from the UK, Europe and the rest of the world, although flying is what we would suggest in terms of cost & ease of travel.
Driving from the UK and within Europe might be smart if you are in a large group, or if you fancy a road trip taking advantage of some riding on the way in amazing riding destinations such as, Evo Bike Park, Chamonix or if you time it right even Pila or Morzine! Driving also allows you to bring more gear, bikes and spares should you have them.
There is a train station in the centre of Finale Ligure, meaning you can also take advantage of Europe's excellent rail network to get you to the Mediterranean.
The most popular method of travel by far is flying, with two airports within 2 hours of Finale Ligure. The transfer services used to pose some difficulties, though now Atlas Ride Co has begun offering transfers to the public under our operator's license it is a little more straightforward. Read on!
Finale Ligure and the stunning Mediterranean are not far away!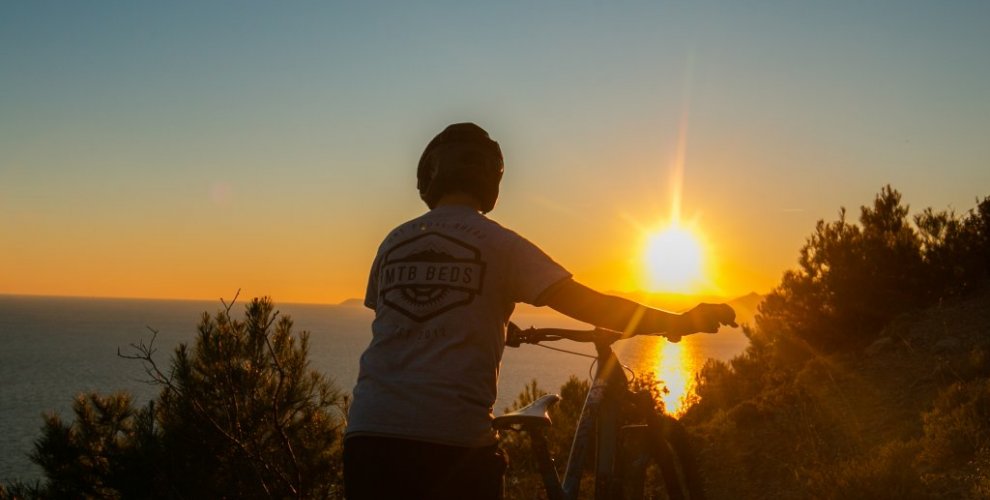 FLYING FROM THE UK TO FINALE LIGURE
When flying to Finale Ligure there really are two airports in proximity to the town, Nice and Genoa. Malpensa Airoport in Milan is an option but the logistics of your onward or return journey to Finale Ligure make it less appealing. In terms of frequency of flights Nice Airport has plenty of airlines and flights each day for all over Europe. However recent routes have opened up from Manchester, Bristol and London with Easyjet to Genoa.
It's about a 1 hour transfer from Genoa Airport to our Villa in Finale Ligure. To travel from Nice to Finale Ligure it is about 1 hour 40 minutes by car.
Costs - Nice - £270
With flights costing an average of £75 each way with £35 each way for your added bike this comes to £220 return. Depending on how lightly you pack another £50 return for an extra bag brings the total to £270.
Transfers are included with our Finale Ligure MTB holiday packages however if you are staying in our partner hotel, Hotel Medusa our suggestion would be the train from either airport to Finale Ligure, the cost of this is around €20 each way and takes around 3 hrs from Nice and 2 from Genoa. If you are not fond of trains then a Taxi costs around €360 return. To book a train check out https://www.trainline.eu.
Costs - Genoa - £220 - £250
With flights from British Airways coming in at around £75 - £85 each way and then your added bike costs this comes to about £220. However with British airways you get a bag of 23kg in with your flight so this could work out cheaper depending on how much baggage you bring. As mentioned however the flights are more infrequent so you would have less choice in timings.
GETTING FROM THE AIRPORT TO FINALE LIGURE BY TRAIN
Nice
Journey time - Average 3 hours
The easiest airport to fly into from the UK with regular flights. There are regular trains almost every hour and usually with one change, some are direct. It is inexpensive and you can take your bike with you, though if you are in a group it will be worth contacting the provider to ensure you do not need to upgrade to first class tickets to ensure bike carriage. Tickets start from as little as €10 each way.
To get from Nice airport to Finale Ligure you will need to leave the airport and go to St Laurent du Var station, a walk of around 25 minutes or a 5 minute taxi, it's very simple.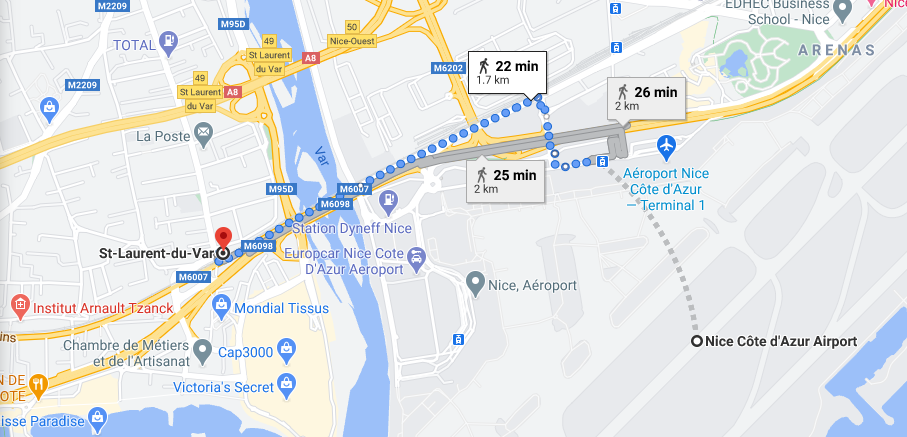 Once on the train, you may need to change at Ventimiglia, this an Italian town bordering France and to be honest it does not feel particularly safe at the train station. We have not heard of any issues but as with most border towns crime is a factor you should be wary of.
The train station in Finale Ligure is in the centre of town.
Genoa
Journey time - Average 1 hour
The quickest and easiest airport to access Finale Ligure. The train station, Genova Sestri Ponete, is 1 km from the airport and direct trains to Finale Ligure are regular.
DRIVING FROM THE UK TO FINALE LIGURE
Hotels en route
We assume you would want to take the fastest route, which takes on the exact same road toward Morzine, before heading up the mountain you will continue on the motorway toward Chamonix and the Mt Blanc tunnel. and then onward through Aosta toward Genoa and Liguria.
Alternatively you can drive directly though France to the south and turn toward Nice, or you can go through Belgium and Germany and continue down through the North of Italy. Both of these are longer journeys.
Should you wish to stop overnight before making your way to Finale Ligure, two good hotel stops, just off the motorway can be found just outside Reims (Tinqueux), See here and Dijon, See here.
Both of these options allow you to leave late before your day of arrival, check into a hotel for rest before the 9 hour (Reims) and 6 hour 30 min (Dijon) drive onto Finale Ligure.
Costs of Driving - £680 (Return)
Journey time - At least 13 hours from Calais
The Drive
Based on a £1.21 per litre Fill up cost and averaging 40mpg the cost in fuel will be approx £120.22. This when added to the £120 in tolls to get down to Finale Ligure means the total cost for driving would be £240. The advantage to taking a car is you are not restricted on the amount of luggage you bring nor the amount of bikes and should you be into road riding there are some incredible climbs and descents to be done in the surround areas of Finale Ligure.
You can save the Mont Blanc tunnel pass fee by either driving directly to the south of France and across to Finale Ligure via Nice, or you can also take the Grand St Bernard pass into Aosta by coming in via Switzerland and the Swiss Valais region.
Crossing the Channel
There are two options for crossing the channel by car, the ferry or the channel tunnel. Principally, the difference is one costs a little more, but is much faster, one costs a little less, and is slower. Whether or not you get excited by boats or trains is down to the individual. There are multiple crossing options though even from the North, however Dover or Folkestone remain the most popular. Overnight ferries from Newcastle or Portsmouth are often used.
THE CHANNEL CROSSING
Channel Tunnel
Journey time - 1 hour
The crossing itself takes 35 minutes, however the real speed in the tunnel crossing is in the check in. Your car registration is noted electronically on arrival, and you will usually be offered an earlier train if it's available. They like move the cars through the terminal quickly, get them onto and off of the trains efficiently. There are several platforms meaning you do not need to wait for inbound rain to empty, before embarking the outbound. Folkestone is likely to save you half an hour from the trip on the English side, as it is further inland from Dover.
Costs - £150 return (standard car with bikes on the roof)
A return trip on the tunnel can cost considerably more depending on the time of day you travel. The terms and conditions do stipulate that the same day return loop hole, where a ticket will be considerably cheaper, can carry a penalty should the return trip not be taken.
Ferry
Journey time – at least 3 hours
The journey time for the ferry is approximately 1 hour 45 minutes. It does however take much longer to load, as you have to wait for the inbound ferry to fully disembark. The wait at the terminal in both your car and on the boat will usually be up to an hour. The timings are less flexible so you will most likely be on the ferry you have booked. They can also run into timing difficulties due to rough seas.
Costs - £100 return (Source dfds.co.uk)
The ferry is a cheaper alternative to the tunnel, and you have the benefit of a break from the car. How much you spend on coffee and the questionable fish and chips on board is up to you!
The first thing you need to do however is book that holiday in Finale Ligure. Some of the best mountain bike trails in the world are out there, from Mountain to Sea with dust, sun and beer in-between. Finale Ligure is home to the Enduro World Series and has some incredible riding, a week is never enough. It's not all about the riding out there however as the food, wine and culture make a great riding holiday also an amazing adventure.
See you in the dust!!