Since beginning operations in 2016, Finale Ligure this iconic destination has been a second home. Years of ground work before setting up, developing relationships and doing our upmost to integrate into the community have given us a profound sense of feeling welcome and part of the amazing bike scene.
However, a mountain bikers thirst for adventure is never quenched. We will always look to the hills and think what may lie amongst them. New possibilities and new adventures. The excitement of hitting a new trail for the first time, the feeling of fresh dirt under your tyres and the stoke that comes from your buddies at the end of the line.
We could ride Finale Ligure all day, every day. Between our own exploration and that of our friends and partners Ride On Noli, we've shown our clients the best that this amazing area has to offer and more. Pietra Ligure is a part of that story and a zone we love to shred.
A taster of the trails on offer
Dropping into Ligurian singletrack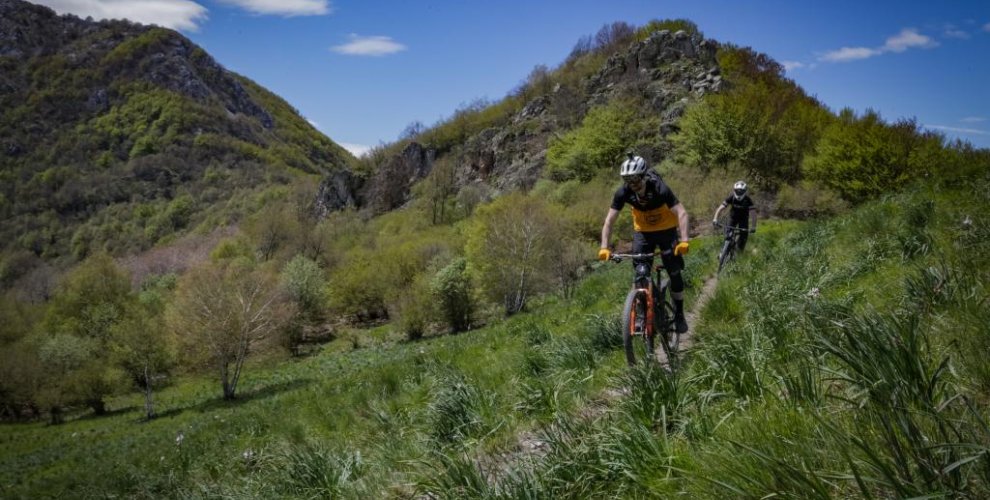 Pietra Ligure is the next major town along the coast from Finale Ligure, in the direction of France. around 10 minutes driving and 30 minutes on the pedals, it's a pretty town, perhaps less instantly charming than the cobbled streets of Finale Ligure, until you get into the back streets, it has plenty of Instagram backdrops and of course great Ligurian hospitality.
The majority of the riding is nestled below the Monte Carmo, the tallest peak in Liguria, with trails running into Pietra Ligure itself and to the neighbouring town of Loano, home of Party Paolo Zunino, one half of Ride On Noli and a man who puts in alot of the hard work to make these trails possible.
Pietra Ligure is not a new destination for riding. The trails here have existed for some time, many initially built by the same crew that made trails such as Fast & Furious and Isallo Ecstacy in Finale Ligure (Infact these famous trails sit within the Pietra Ligure trail crews juristiction).
The trails have a natural vibe to them, full of flow and features. For the most part, they do not descend a great deal in altitude. They follow the fall line gently and move you up and twist your round to pack the riding in. You keep your speed through short pinch climbs and traverses that are on almost every line. Ducking in and out of trees, through sweeping turns you feel enclosed by the vegetation.
Twisty turns and flowy trails in Pietra Ligure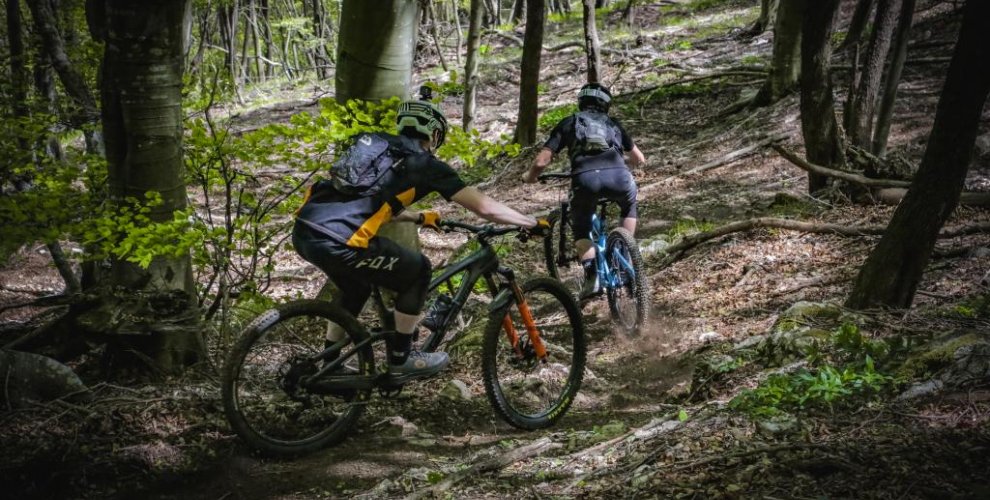 Often the trails will open up where some logging has taken place, or the forest expands to reveal a little glimpse of your surroundings. If you've ridden Finale Ligure before you'd liken the trails here to longer, faster and more open versions of Margot or Ori Bago, especially in the instance of Hiroshima Mon Amore and Dog Eat Dog.
This lack of of vertical drop in the trails is by no means a negative, it's absolutely something to embrace because it means you have less work to do to get back to the top! By your own steam or an uplift, Pietra Ligure is worth the effort!
There are three ways to ride Pietra Ligure
With an uplift service from us, our partners Ride On Noli and Back Country Finale
A partial uplift and pedal tour
With an E-Bike (We know, but hear us out!)
Full Uplift Service
If you want to tackle Pietra Ligure without turning the pedals much, you're going to need a rugged 4x4, a trailer, a guide and a driver, all with the permission to shuttle these narrow, rough fire tracks criss-crossing the hillside. Lucky for you guys we have the hook ups with Ride On Noli and Back Country Finale to get you there. They are the best in the game, their trusty Land Rovers Defenders are well equipped for the job and the guides well versed in these routes, some of which they have dug themselves!
As part of our package on the Finale Ligure Exclusive Tour, you can experience these trails in an all inclusive package, read more here!
Partial Uplift and Pedal Tour
If you were to ask us the best way to experience these trails, we'd be inclined to say it's worth a bit of pedalling. Riding Pietra in this way means using the height gained from the first uplift to traverse around the trail network. The layout is such that you can ride 3 - 4 trails with only around 1.5 hours of pedalling total, much of which is at a gentle canter. Sure, you've got to put in the effort and sure, it does mean you don't ride the every trail top to bottom and no doubt you'll cuss the guide under your breath at least once if you've had a beer too many at the previous nights aperitivo...
The mountain of Monte Carmo and the trails that lie beneath it are a peaceful place. You'll hear the holla of a steep section nailed and the schralp of a tyre on a turn, it's natural here, quiet. It's a beautiful thing to be up the mountains and to be perfectly honest as much as we love big engines a 2.5 TDI roaring around you does not bring you closer to mother earth. Sometimes, that beer quenches the thirst that much more when you've had to work for it!
We make this possibility available to those keen to take on a day of adventure on our Finale Ligure Riders Week Package.
E-Bike
We know, well at least we thought we did. E-Bikes are without doubt one of the most polarizing features of the mountain bike world. Until we'd ridden a decent E-Bike our minds were fairly closed to the concept, heavy, awkward and with dated geometry and components. Not so now as the industry has taken these bikes as serious options to get some serious riding in, here in Pietra Ligure you get to see what these ore aggressive bikes are being made for.
The trails in Pietra Ligure were designed and cut in with E-Bikes in mind. The uplift roads are often too narrow for a 4x4, so the simple way around that is to pedal up. Pietra Ligure's riding scene is also far quieter than that of neighbouring Finale Ligure, there are less uplift options and less people to hit up the trails here. It makes sense then that you'd try and get yourself up there and riding as many trails as possible in the easiest way possible.
You can hire a solid E-Bike from our friends at Oddone Bici, Ultimate Bike Shop or at Hot Bikes in Pietra Ligure itself.
Post ride in Pietra
Though it may not have the plethora of bikes, bike shops and bars of Finale Ligure, Pietra does have it's own growing scene and the locals are more than welcoming to the mountain bike community. Our friends at the newly opened Hot Bikes are dealers of our partners Transition and will be ready to help you out with parts, trail advice or even an E-Bike rental, see Matteo and mention us!
Beers and aperitivo are readily available all along the seafront, the Mediterranean sea welcoming as it always is and we'd even make a claim to the beach here being that little bit sandier, call it blasphemy but maybe even better than Finale!
Pietra Ligure hosted it's first round of the Enduro World Series in 2020, with riders stoked on the variety of terrain and difference from Finale Ligure, but with the same classic Ligurian hospitality. Every client and friend we've taken here have come back full of smiles and stoke. It's a trail area on the up, somewhere to put on your must do list, let us show you how to get there and we'll be the first to cheers you at the beach!
Well earned beer at the beach!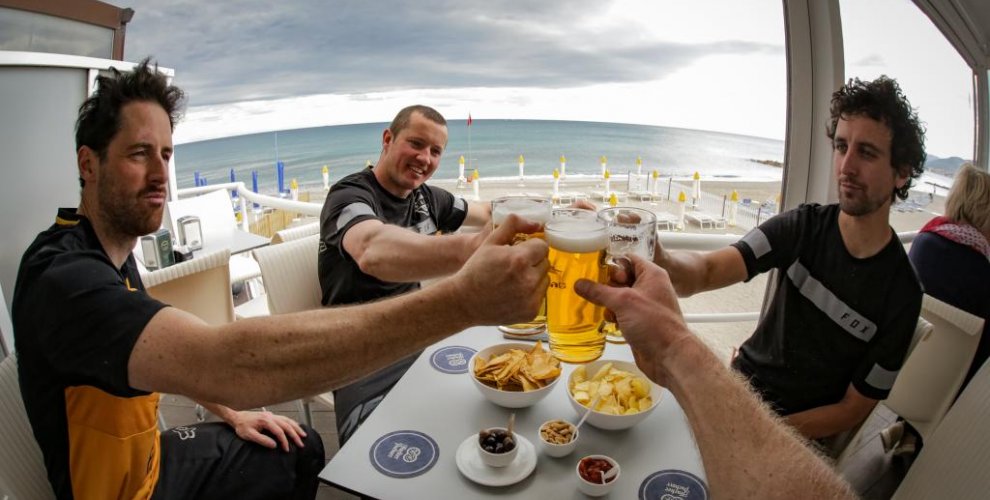 Not much left to other than get yourself booked up in Finale Ligure with MTB Beds and let us do the rest, check the options below, from our fully catered Riders Weeks to our Exclusive Custom Tours, we got your back!